SALT LAKE CITY — A comprehensive plan offering a blueprint for use of public lands in one of the state's most prized — and conflicted — recreational areas was approved Thursday by the U.S. Department of the Interior.
The master leasing plan, covering nearly 800,000 acres in the Moab area, received generous praise by environmental and conservation groups, which say the first-ever plan adopted in Utah provides a sensible approach to land management.
"Hunters, anglers and Westerners from across the spectrum are working together on natural-resource issues because of their great love for wildlife and the outdoors. The Moab MLP is an example of what can happen when people sit down, talk and work through their differences to find common ground," said Joel Webster, Western lands director with the Theodore Roosevelt Conservation Partnership.
"MLPs are a smart way of doing business on public lands, and we support this process that recognizes the importance of our outdoor heritage while allowing responsible oil and gas development," Webster said.
Interior Secretary Sally Jewell said the plan strikes a balance among competing uses of the land.
"This plan takes a landscape-level approach to balancing the protection of the iconic scenery in and around Moab with access to the rich energy resources found there," Jewell said.
"As the first master leasing plan in Utah, the collaborative process is a model for how communities can work together to support thoughtful development while protecting world-class environmental, cultural and recreational resources," she said.
Environmental groups said the plan steers energy development away from sensitive areas near Canyonlands and Arches national parks, and appropriately guides future potash development.
"The (plan) gives industry certainty where leasing and ultimately development can take place, and also makes plain the terms and conditions for those activities," said Stephen Bloch, legal director for the Southern Utah Wilderness Alliance.
"Likewise, the public as well as local communities and businesses now know that many of southeastern Utah's stunningly beautiful canyons and mesas won't be marred by the sight and sound of drill rigs and pump jacks," Bloch said. "We appreciate (the Bureau of Land Management's) hard work to engage all stakeholders is this historic effort."
The master leasing plan process was initiated in 2010 as part of sweeping oil and gas reforms announced by then-Interior Secretary Ken Salazar. The reforms came in the wake of a national controversy stoked in Utah with an unorthodox protest launched by environmental activist Timothy DeChristopher.
DeChristopher, a young University of Utah student at the time, posed as a bidder at a BLM auction, driving up prices on oil and gas leases being offered. His actions earned him time in federal prison but also served as a basis for a national review of whether those leases were appropriately offered by the federal agency.
DeChristopher and his supporters asserted the land that could be drilled was located too close to iconic and scenic places in Utah, such as Arches National Park.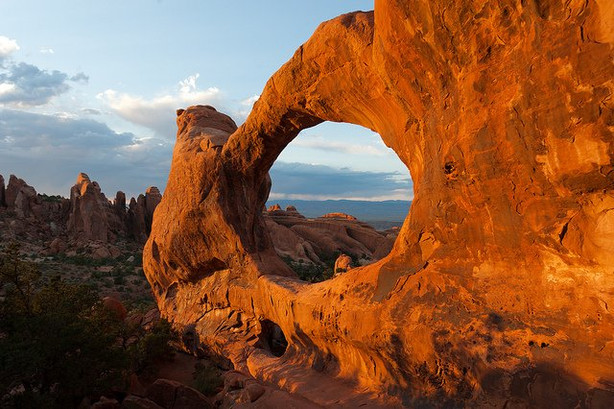 The Interior Department said the intent of the landscape, master-leasing approach is to deliver more certainty upfront to industry and reform a system that had become bogged down by community and environmental protests.
The finalized plan either closes or prohibits surface disturbance on nearly 450,000 acres adjacent to the two national parks, which the National Parks Conservation Association said makes a clear statement that the Moab region wants to "insulate its $262 million tourism from incompatible energy development" on adjacent lands.
"Energy development on public lands does not have to come at the expense of protecting our national parks. Local communities and other stakeholders should have a say in how their economies develop," said David Nimkin, the association's southwest regional director.
"After this comprehensive process, it's clear that citizens and businesses in Moab support prioritizing the protection of two of America's most famous national parks, Arches and Canyonlands," David Nimkin said.
A draft of the plan released last summer was criticized as too restrictive on energy development by Gov. Gary Herbert's office.
The completion of the Moab plan marked the release of preliminary alternatives for the San Rafael Desert master leasing plan initiated earlier this year.
The alternatives, which the BLM said were developed from input during the public scoping process, will also provide a roadmap for oil and gas development in the area, which covers 525,000 acres in Emery and Wayne counties.


Photos
Related Stories
0 Pending Comments
Sorry, we are not accepting new comments on this story, but if you have more to contribute please email
newstip@ksl.com
Showing of 9 comments
Sorry, we are not accepting new comments on this story, but if you have more to contribute please email
newstip@ksl.com