HERRIMAN — A growing number of Utah families are using smart home technology to help their children who struggle with autism. Some, like the Baker family, say their security system helps relieve everyday stress.
"We've gone through lots of different challenges with seizures and running away," said Amy Baker, whose 12- and 10-year-old sons both have autism.
"This is kind of what we've grown up with, but it's always; I feel like I'm always on high alert," the Herriman mom said.
Baker said things started to change a few years ago when the family had Vivint Smart Home security system installed. With alerts on the exits and cameras around the house, she doesn't have to be everywhere.
Baker said she first used the security system to monitor 10-year-old Braden's seizures but discovered something else. Surveillance video showed Braden getting out of bed, leaving his room and coming back with one Hershey's chocolate bar after another.
"He's just, like, (making a munching sound) and stuffing it under the bed," Baker said, laughing.
More important than catching a young "chocolate thief," Baker said her security system also gives 12-year-old Bryson a taste of independence.
Normally, leaving Bryson in charge would bring a little bit of extra anxiety, but with cameras throughout the house Baker can leave and still keep an eye on what's going on back home.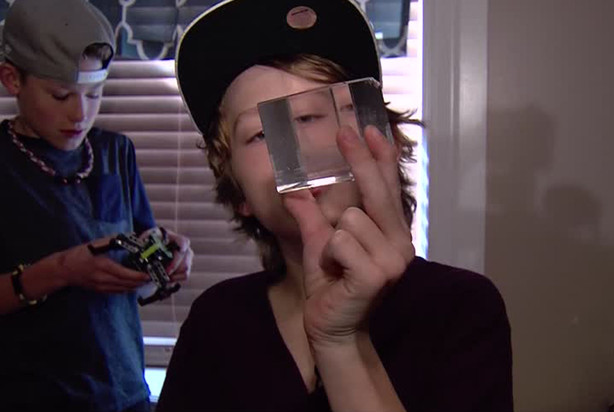 "I can go to my neighbor's house for half an hour or so, and video them from my cellphone, so I can make sure they're not burning the house down," she said.
A chance to help kids grow while reducing stress is something many parents take for granted. The security system, Baker said, is building her son's confidence.
"The cameras just help give him that, kind of like … 'I'm 12. I can do this,' you know, for a little bit," she said.
The boys are pretty understanding too.
"It's more important to our mom that we're safe," Braden told KSL News.
Vivint, the company that created the Baker's security system, is giving large discounts to families like the Bakers.
"We're really focused on making an impact for families that have a child with an intellectual disability, like autism," said Holly Mero-Bench, director of Vivint Gives Back.
With April as Autism Awareness Month, the Bakers want more families to know that this help is out there.
"This is a part of his life, and he's going to have tools that he needs to use to be able to be successful and to be safe," Baker said.
For information on the Vivint Gives Back discount, and to see if your family qualifies, visit www.vivint.com/company/gives-back.
Photos
0 Pending Comments
Sorry, we are not accepting new comments on this story, but if you have more to contribute please email
newstip@ksl.com
Showing of 13 comments
Sorry, we are not accepting new comments on this story, but if you have more to contribute please email
newstip@ksl.com