LAYTON — Tre Murphy had just finished praying at a vigil held for one of his best friends when another teenage boy walked over and hugged him.
A third friend joined the embrace, and then another. Spontaneously, more than a dozen teenagers, several of the them crying, embraced each other in an enormous group hug.
Just feet from the crosswalk where 17-year-old BaiLee DiBernardo was hit by a vehicle and killed Monday morning, her friends were overcome with emotion as they honored her with candles, flowers and stories about her life.
BaiLee, a junior at Layton High School, and 42-year-old Adam Brimhall, of Clearfield, were both killed in separate auto-pedestrian crashes in a deadly morning in Layton, police said.
"It's a somber mood here at the school," said Davis School District spokesman Chris Williams. "It's an absolute tragedy."
BaiLee was hit and killed just before school started in a crosswalk near the school.
About 7:25 a.m., BaiLee and Eric Baarz, 17, a senior, were in a crosswalk at 199 N. Fort Lane, about 75 yards away from the school, when they were hit by a Ford pickup truck, said Layton Police Lt. Travis Lyman.
BaiLee was hit by the truck, then a Dodge Durango behind the pickup also ran over her, Lyman said. The family of the Durango's driver says the driver actually stopped in front of BaiLee to prevent other cars from hitting her. Lyman said detectives were sticking with their original information Monday afternoon but said the investigation was continuing.
BaiLee was taken to Davis Hospital and Medical Center where she was pronounced dead. Eric was taken to McKay-Dee Hospital in Ogden in serious condition with undisclosed injuries, Lyman said.
The driver of the Ford is an adult man, Lyman said. Possible charges were pending Monday as the investigation continued.
Troy Horne, BaiLee's father, spoke softly as he remembered his daughter and described her as a confident, happy person.
"(I'll remember) just how bright she was, she had a great personality and sense of humor, loved life and loved herself," Horne said. "She was just a very unselfish person."
Horne also grew emotional as he thanked the hundreds of people who attended the vigil to remember BaiLee. He called the outreach to his family "truly amazing."
"She will be missed," he said. "I'm just flooded with memories."
Murphy, who knew BaiLee through several mutual friends, said he grew to see her as a sister. He offered up a prayer on behalf of everyone at the vigil, thanking God for putting her in their lives.
"Please take her into your arms openly," he said.
Williams said BaiLee was "a really delightful student — fun, friendly, great sense of humor. She had lots of friends."
BaiLee also had a soft side, the spokesman said, and helped tutor special needs students.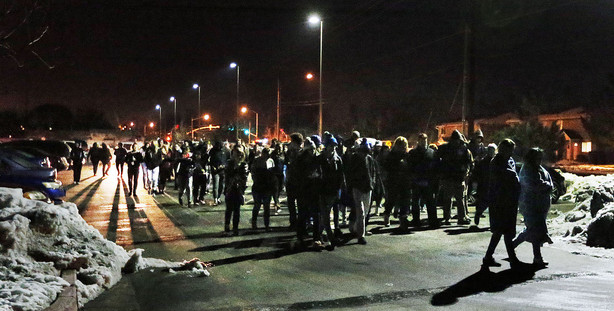 "We have a crisis team here at Layton High. The students are being communicated with now regarding what happened, and the crisis team will be available for anyone who wants to talk to these professionals," he said.
Williams said many students met with crisis counselors on Monday upon hearing the news.
"Everybody is really quiet and it's really depressing. Even people that don't know her are really upset. It's not a great day," said Kierra Moss, 18, a senior at the school.
Moss said BaiLee was a "super bubbly, outgoing" girl.
"She had a lot of friends," Moss said. "She was a really cool girl."
Several students noted how dark that crosswalk was in the morning, some believing that jaywalking down the street was safer than using the crosswalk.
"It's so dangerous. It's super dark there in the morning. I'm really sad that it happened, but I'm not surprised at the same time," Moss said.
Another fatal crash happened in Layton just before 7 a.m. at 2080 N. Main, where Brimhall, who was in a wheelchair, was hit and killed. He was not in a crosswalk and it was dark in the area at the time, Lyman said.
Investigators took a blood sample from the driver per protocol, but Lyman said, "There's no indication of impairment or anything like that. … I don't expect the driver expected to see anyone there."
No charges or citations were issued to the driver Monday pending the outcome of the investigation.
Contributing: Sandra Yi, Mike Anderson, Ben Lockhart, Jed Boal
Photos
0 Pending Comments
Sorry, we are not accepting new comments on this story, but if you have more to contribute please email
newstip@ksl.com
Showing of 55 comments
Sorry, we are not accepting new comments on this story, but if you have more to contribute please email
newstip@ksl.com