MURRAY — The West Valley City, Murray and Unified fire departments participated in swiftwater rescues, something they know they will need to do sooner or later.
Utah's rivers and streams can become dangerous this time of year.
"You can be a very strong swimmer and still get beat up by friendly, little old stream," Murray Deputy Fire Marshal Pat Killion said.
For several days this week, crews trained on the Jordan River, where the water is still extremely cold.
"Water rescue calls, they're a real critical call," Murray Fire Capt. Scott White said. "You don't get a lot of time, so time is of the essence to where we can get in, get them rescued as quickly as possible."
With the shot of a rope gun, the rescue begins. Firefighters quickly inflate a boat and drop it into the Jordan River near 4800 South in Murray.
"The scenario today would be to have a victim in the low-head dam recirculating," White said.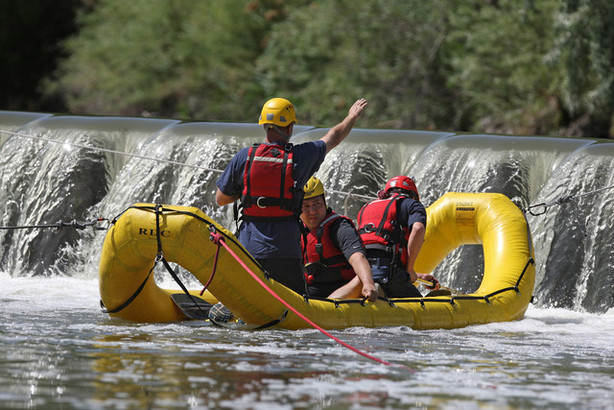 It's an area where someone can very easily get trapped.
"You've got a certain area that's totally unstable and unpredictable," Killion said. "It will take you and spin you and dunk you and beat you up until you're done fighting."
White said the crew on the boat have the easier job. It's the crew on the shore who have to fight much of the drag, pulling the boat in every direction.
"We time our training so the water is very aggressive," Killion said. "Every time we have an alarm that states there's a problem near a waterway, we're real hopeful that it's going to be a rescue, but a lot of times it becomes a body recovery."


Photos
Related Stories
0 Pending Comments
Sorry, we are not accepting new comments on this story, but if you have more to contribute please email
newstip@ksl.com
Showing of 1 comments
Sorry, we are not accepting new comments on this story, but if you have more to contribute please email
newstip@ksl.com