John Hollenhorst Reporting
Three dozen kids in San Juan County are about to have their business smarts recognized in Washington. They dreamed up a way to earn spending money and turned it into a full-fledged and very yummy business.
If you like things gooey and delicious, you'd love the Lickety Split Chocolate Factory.
If you like stories of inspiration, where kids use effort and imagination to pull themselves out of poverty, you'd love what Lickety Split's C.E.O. has learned.
Andrew Dayish/ C.E.O. of Lickety Split: "Keep reaching for the sky. Don't stop trying."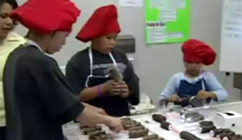 The kids are mostly Navajos and Ute Mountain Utes. These Willie Wonkas of White Mesa are making luscious treats, decorating them with tribal designs, marketing them far and wide.
Oh, they're making big bucks, too.
Elaine Bland/ Vista Volunteer: "We will probably do between 15 and 20 thousand this year. Last year it was between 10 and 15."
Vista volunteer Elaine Bland got the ball rolling. In one of the nation's pooorest counties, some kids came to her door to borrow money for a movie. She suggested they find a way to earn it.
Elaine Bland/ Vista Volunteer: "Someone came upon the idea of maybe let's start a chocolate factory and maybe the product could be a Navajo basket made out of chocolate."
Somehow it grew from there. The kids run the business themselves with marketing meetings, product planning, all that boring stuff. But they get to make the candy. And sample it too.
Elaine Bland/ Vista Volunteer: "I think it was probably the energy of the children that really kept it fueled."
The kids will soon open their own retail store. Their future's looking a bit sweeter now that they've learned the ingredients of success.
Several of the children will accompany Elaine Bland to the State Department in Washington on Wednesday. The Vista worker is being honored as Minority Small Business Champion of the Year.
Related Links