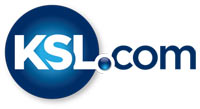 DIY: 6 amazing furniture projects using KSL Classifieds items
December 14, 2017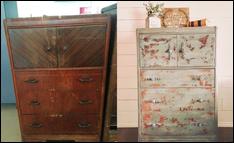 You can find virtually anything you're looking for on KSL Classifieds — from airplanes (yes, actual airplanes) to certified plumbers who can fix your faulty water heater. And with a little persistence, it's not hard to find incredible deals while browsing through our 300,000+ listings.
So if you need something for your home, why not start by taking a look at our furniture section? You might find a couch that is perfect for your living room and your wallet. To show you just how much value can be found on Classifieds, we hosted a contest on Facebook where we asked all local DIY'ers to find a piece of furniture under $50 and turn it into something amazing. Here are our favorite entries:
Amanda Nielson (Classiflip winner!)
Cost of project: $80
Dresser: $25
Hardware: $30
Paint: $20
Topcoat: $5
Other supplies: sander, sand paper, etc.
I loved flipping this dresser! It needed some work on the drawers and the door. I fixed those then went on to painting. I chose milk paint because I wanted a chippy old finish. This one was stubborn though! I ended up having to paint it twice, because the first time almost ALL the paint chipped off. This can happen sometimes with milk paint. So I used some liquid sander, a bonding agent and tried again. Second time, it turned out perfect! It took me around 4 hours (purchasing, hauling, prepping etc. as well).
Hilary Heffron
Cost of project: $0
As a small business owner, my Etsy store — I wanted to find another way to make more money. So I started scouting out free furniture items on KSL — I've found that a lot of people just give things away! So upcycling furniture is a way to make money, indulge my creative desires and work on craft projects with my mom.
I loved how the first desk turned out so much (I got it for free on the KSL Classifieds Free section and sold it for $100) so I found a second desk and painted it the same way! I enjoy turning someone else's junk into treasure and giving new life to these great pieces of furniture. I also take custom requests.
Valerie Henrie
Cost of project: $24.25
Side table: 10$
Wood inlays: 4$
Crystal knobs: 4$
Printable wallpaper: 0.25$
Primer & paint: 6$
The nightstand was $10 on KSL. I knew it would be a quick and easy project.
First, I took off the hardware on the drawers and hand block sanded the entire piece. I then added some pre-pasted paintable wallpaper to the front of the drawers, carefully matching the patterns to connect the two drawers and give it visual interest.
After that, I sprayed the entire piece with gray primer and added some rope twist wood to each side of the piece and scroll wood inlays. I used spray metallic paint, drying completely between two coats. In order to bring out dimension in the piece, you want to accent it. I did this with a black glaze that would then get in the crevices of the piece outlining and accentuating lines and curves, and sealed with an acrylic topcoat.
The project only took me about four hours and I think it turned out beautiful. I am all about classy, easy & simple!
Amy Rowbury
Cost of project: $50
Piece: $30
Supplies: $20
For this project, I wanted to participate in the Classiflip contest, so I went looking for something that I thought had really great shape and structure to it. I loved the curved lines and spindly legs on this piece. I wanted to update it but still keep a classic look.
I chose to do a combination of dark blues with a black stain over the top to give it a rich look with some depth to it. I loved the result and others did too, as it sold within a day or two! I love creating something beautiful out of a piece that was no longer wanted, which is why I love to refinish furniture. More of my work can be found on my Facebook page.
Billy Ross
Cost of project: $23
My wife saw a sphere planter at the mall that cost about $170... a little out of our budget. So, I decided I would try to make her one myself. I used a fitness ball that I bought on KSL Classifieds for $10 and two bags of 50lb. fast set concrete mix, which cost me about $13 total. It took me a couple of tries to get the mixture right so the cement wouldn't fall off the ball and this is how it turned out. She loves it so much that she wants me to make a smaller pot for next year.
Alexi
Cost of project: $40
I wanted my new vanity to look incredible but not cost an arm or a leg. When you're renovating your entire home one room at a time, it can get expensive quick. I searched long and hard to find a side table or used cabinet on KSL to use, but the dimensions were so tricky to fit my sink onto. Luckily, my sister was more creative than me and found the solution of using a vintage school desk!
I would have never thought of that solution if it hadn't been on KSL Classifieds, but it ended up being the perfect solution for my needs. Not to mention it was only $40. Taking a vintage school desk and upcycling it to a modern sink is one of the cooler things I've done to my house since renovating. And everyone else loves it too!
Inspired to start your own DIY project? Browse over 34,000 furniture items or find a hidden gem in our free section, flip it, then share it with us on Facebook or Instagram using #classiflip for a chance to be featured.