Estimated read time: 2-3 minutes
This archived news story is available only for your personal, non-commercial use. Information in the story may be outdated or superseded by additional information. Reading or replaying the story in its archived form does not constitute a republication of the story.
MAGNA -- Police are trying to figure out why a driver hit a 14-year-old girl on her way to school in Magna Monday morning. The girl is in extremely critical condition.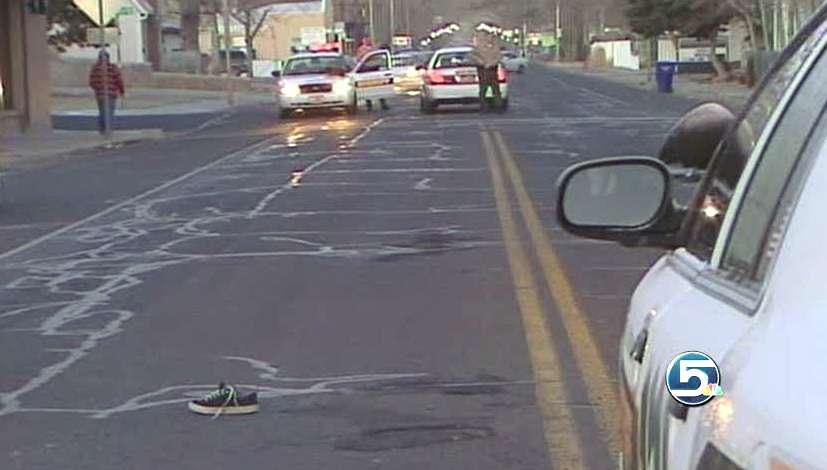 Shoes lay in the road 30 feet from the crosswalk where the 14-year-old girl had been walking when she was hit. It happened around 7 a.m. near 8500 West and 2700 South. Lt. Don Hutson with the Unified Police Department says investigators are not sure why the car hit the girl.
"We don't believe the sun was a factor, as far as visibility. The car clearly had been scraped - the frost from the car. But there is a possibility there could have been some fog inside the car," Hutson explains.
Hutson says the 20-year-old driver immediately stopped and stayed at the scene. She was obviously distressed.
"We don't have obvious evidence that there was any braking or skid marks prior to the intersection," Hutson says. "It appears it's one of those circumstances where the driver of the car just did not see the person as they were walking across the crosswalk."
Hutson says the car hit the girl with so much force that her shoes were knocked off. One of them landed about 30 feet down the road. Investigators have taken routine blood samples from the driver and were at the scene for hours to make sure they did a thorough investigation.
After the investigation is completed the county attorney will decide if charges will be filed.
E-mail: mrichards@ksl.com
×
Most recent Utah stories