Estimated read time: 4-5 minutes
This archived news story is available only for your personal, non-commercial use. Information in the story may be outdated or superseded by additional information. Reading or replaying the story in its archived form does not constitute a republication of the story.
CEDAR CITY -- After a tough start to begin Summit League play, Southern Utah will look to correct its season-high four-game losing streak with a pair of upcoming non-conference tests.
The Thunderbirds (3-6, 0-2 Summit League) will embark on a trip to Ogden and face in-state rival Weber State Saturday before returning to the Centrum Arena and hosting no. 18 UNLV on Tuesday.
Tuesday's game against the Running Rebels will mark the first time a team has stepped onto the Centrum Arena court with a national ranking in men's basketball.
SUU played both teams last season and lost both times in close contests. The T-Birds played host to the Wildcats on Dec. 13 last year and lost 66-62.
After the game, several role-players on SUU's squad received suspensions for off-the-court issues prior to the loss; guard Eules Thompson was dismissed from the team.
The T-Birds also played the Running Rebels last season, losing in Las Vegas 73-60 in a close match. The T-Birds played without its second leading scorer from last season, Tyler Quinney, who sat out with an injury, but kept within pace of UNLV for the majority of the game.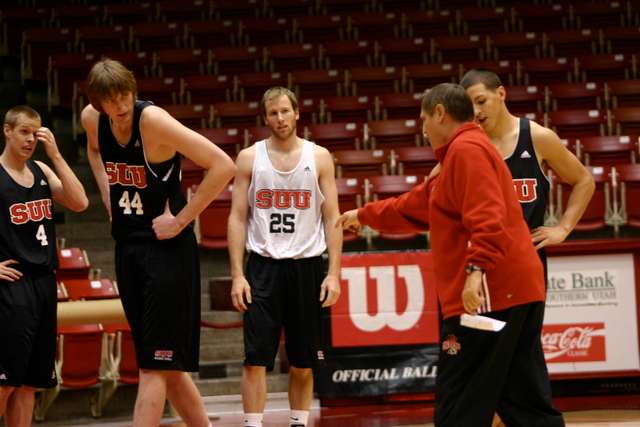 SUU Head Coach Roger Reid said there is some confidence heading into both games because they were able to compete last year.
However, only four players on this season's roster are on the team this season and eight new faces are on the squad this season.
Reid said he has high hopes and expectations for his young players and is pleased with the team's progress.
"This is just a young team, so our attitude is just improving every day and I think we're making great strides," he said. "I think we've still got a long ways to go, but we're just looking forward to the next game and that's what you have to do when you have a young team trying to learn how to play."
With a young team, mistakes and forced passes are expected, but not wanted. The T-Birds enter this week average 19.9 turnovers per game, which is the sixth most committed by teams in Division I this season.
Although SUU has been able to cut down the amount of turnovers committed recently, it has still struggled holding on to the ball. The T-Birds are coming off their best game of the season, in regards of throwing the ball away against Division I teams. SUU turned over the ball 17 times in a 68-53 loss at Oral Roberts.
One of the main concerns is the freshman point guard duo of Damon Heuir and Scott Friel. The young pair is still learning and grasping Reid's offense and schemes.
Last season, the T-Birds had three different players, who were able to run out of the point, but all three did not return this season.
In the game against Oral Roberts last Saturday, Friel was unavailable because a foot injury, which put Heuir in the starting line-up for the first time all season. However, Heuir got into foul trouble early, which forced senior guard and Co-captain Drew Allen into the point guard spot for the first time all season.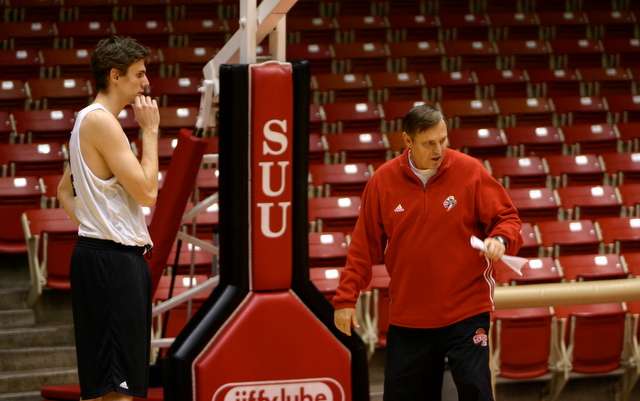 Allen, a primarily 3-point specialist at shooting guard, played 18 minutes in relief of Heuir and struggled a little bit before settling in and picking up two assists.
"We put a guy that hadn't even played (point guard)," Reid said. "I respect Drew, who tried to play point guard, which is one of the toughest positions on the floor and never played it all year."
Although Friel practiced on Wednesday, Reid said he did not practice on Tuesday and said his injury was "day-to-day."
"It's a day-by-day situation and depending on what the trainer says," he said. "We're hoping he'll make some improvements."
The T-Birds will wrap up their four-game road trip Saturday against Weber State with tip-off against the Wild Cats slated for 7 p.m. in Ogden.
SUU will then return home to play host to UNLV on Tuesday; tip-off is scheduled for 7 p.m. inside the Centrum Arena.
"We're trying to be consistent and play 40 minutes of basketball and not have mistakes offensively and defensively, but it's what young guys have to learn," Reid said. "We have to learn how to play through different situations and be consistent all the time."
×
Most recent Sports stories