Estimated read time: 1-2 minutes
This archived news story is available only for your personal, non-commercial use. Information in the story may be outdated or superseded by additional information. Reading or replaying the story in its archived form does not constitute a republication of the story.
President Obama made a visit to Capitol Hill yesterday to try to rally Democrats behind health care reform. ABC's Political Consultant Steve Roberts talked to Grant and Amanda this morning about what he acomplished. Steve does not think there is any way health care will get done before the holidays. Steve also commented on what happens to the TARP money that we didn't have to spend for its intended purpose. Does it go to paying down the deficit, or does it go to creating jobs? Click here to hear more from Steve.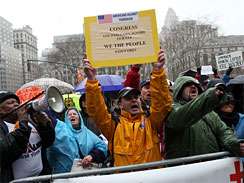 There was a big rally in New York City over the weekend to protest the Attorney General's decision to try the 9-11 co-conspirators in New York City. 9-11 Families for a Safe and Strong America founder, Debra Burlingame, talked to KSL this morning about what her organization hopes to accomplish. She said that if the goal from trying these men here is to show we have a good legal system, Eric Holder should realize we don't have anything to prove. She also said, interestingly, that she does NOT think the AG knows something she doesn't that informed his decision regarding jurisdiction. Click here to hear the interview.
×
Most recent News stories