Estimated read time: 2-3 minutes
This archived news story is available only for your personal, non-commercial use. Information in the story may be outdated or superseded by additional information. Reading or replaying the story in its archived form does not constitute a republication of the story.
Tonya Papanikolas Reporting For many high school kids, volunteering and public service don't always weigh in as top priorities. But one Ogden high school student has turned it into a hobby.
Amy Ormond began knitting hats for kids who needed them earlier this winter. Since she started, many of her friends have now pitched in to help. When her teacher contacted us about the story, we thought it definitely deserved a 'hats-off'!
Some members of the lady's basketball team at Ben Lomond High are spending their lunch knitting inside a classroom.
Amy Ormond, knitting children's hats: "A hat this size takes about an hour."
The girls say the activity is Amy Ormond's idea, who was volunteering in an Ogden elementary school when she recognized a need.
Amy Ormond: "I was working in the kindergarten classroom and just kind of noticed that as it got colder, they really weren't dressed warm, so I started thinking what I could do to help them."
She decided she would knit 25 hats for the kids. But she didn't think she could do it on her own.
Amy Ormond: "I said, 'I'm gonna need more yarn' and 'I'm gonna need people to help me.'"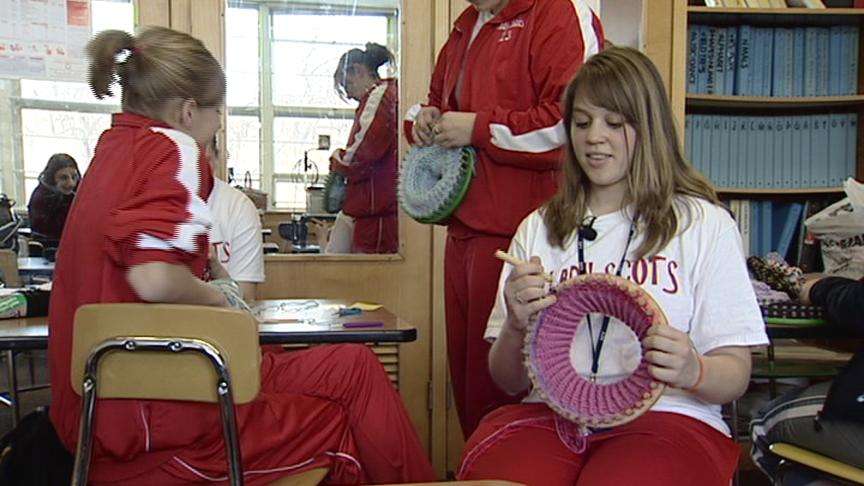 And she got what she asked for! Teachers and friends donated yarn and 30 kids showed up during winter break to help her knit!
Shaelynn Barnett, knitting for children: "I like making them, they're really fun. And I like the thought that they're going to children who really need them."
With all the extra hands, Amy surpassed her goal and left that day with 108 hats! And she hasn't stopped since. She's still recruiting her friends and keeping her own fingers busy on her loom.
Shaelynn Barnett: "On our way to our games, cause I'm on the basketball team, we would make them there. And we would work on them until the game started."
Amy Ormond: "I take it to my brother's basketball games on Saturdays, and I'll make about a hat a game while I'm watching them play."
Amy has already donated 100 hats to local elementary schools. She's also donated some to foster children at the Christmas Box House and given baby-sized hats to the hospitals.
Amy Ormond: It's really just a wonderful feeling to give them the hats…I've been so much happier knowing that I can help other people."
Amy has put in 200 hours of knitting to make 97 hats on her own. In all, she has almost 200 now. And she doesn't plan to stop making them or giving them away until her yarn runs out!
×
Most recent Utah stories