This archived news story is available only for your personal, non-commercial use. Information in the story may be outdated or superseded by additional information. Reading or replaying the story in its archived form does not constitute a republication of the story.
Keith McCord Reporting No, they weren't UFO's in the sky in Weber County this morning. Actually, it was several moose dangling below a helicopter!
The deal is, we have too many moose in Utah, or at least in northern Utah. There are about a thousand living in an area that can only handle about 650. So, Utah is sending some of the moose to Colorado!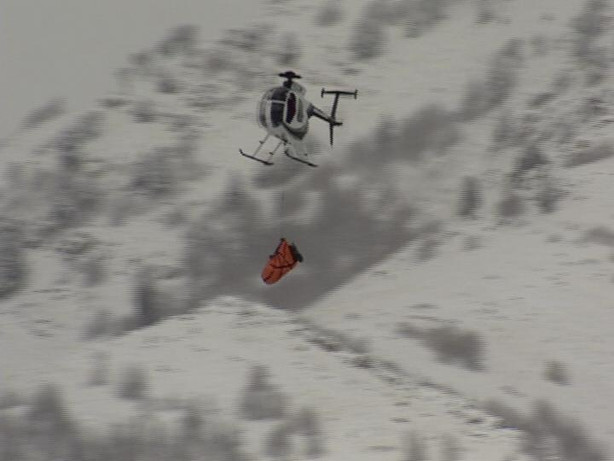 You have to wonder what the moose is thinking about when he takes a ride like this!!
Wildlife officials from Utah and Colorado worked together in Weber County today to capture, hook 'em up to a special harness, and fly them to several waiting trailers.
Justin Dolling, Utah Division of Wildlife Resources: "They fly up into the hills, locate the moose, they'll shoot a net over it and tangle it up, and have folks get out of the helicopter, immobilize it..."
With blinders and earplugs, the moose then take a short chopper ride. Once in the trailers, wildlife biologists do a health check, administer antibiotics and attach a radio transmitter.
Justin Dolling: "We have too many moose in this general area, and their densities are pretty high, and we're starting to see some habitat destruction, so this is a logical place to remove them from..."
Besides habitat preservation, as the moose population increases, the animals begin wandering into residential areas more often, creating safety issues.
Wildlife officers are hoping to capture about 25 female moose today and tomorrow.
Statewide, Utah has about 41-hundred moose, and most of the population growth has taken place in the north. Now, part of the population will move to a spot east of Grand Junction, Colorado.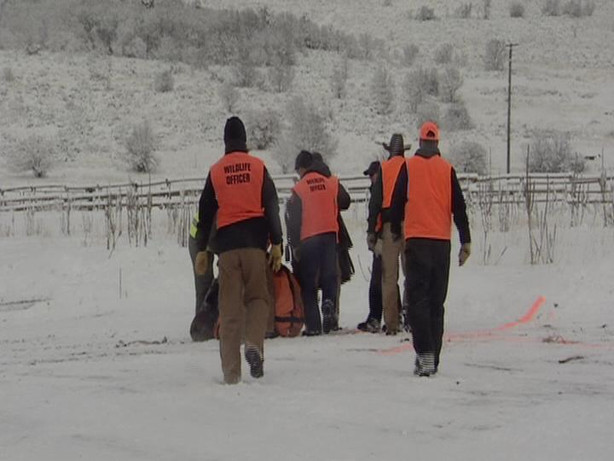 Dean Riggs, Area Wildlife Mgr., Grand Junction, Colo.: "We're taking advantage of the surplus moose population that you have here, and building the population in an area where we don't have moose, or at least we haven't had in the last couple of years. It's a reintroduction for us historically. We've had moose in the area, and now we're trying to bring them back."
In exchange for the moose, Utah will receive some bighorn sheep from Colorado later this year.
×
Related Links