Estimated read time: 3-4 minutes
This archived news story is available only for your personal, non-commercial use. Information in the story may be outdated or superseded by additional information. Reading or replaying the story in its archived form does not constitute a republication of the story.
If you've ever burned your skin, you know how painful it can be. But imagine if you had second-degree burns over 90 percent of your body. That's what happened to former Juan Diego hockey player Andy Hill. It was a terrible ordeal for the star goalie but one that has an amazing ending.
Andy Hill was born to play hockey. The recent high school graduate began the game when he was just 8 years old. He says playing hockey has always been his dream.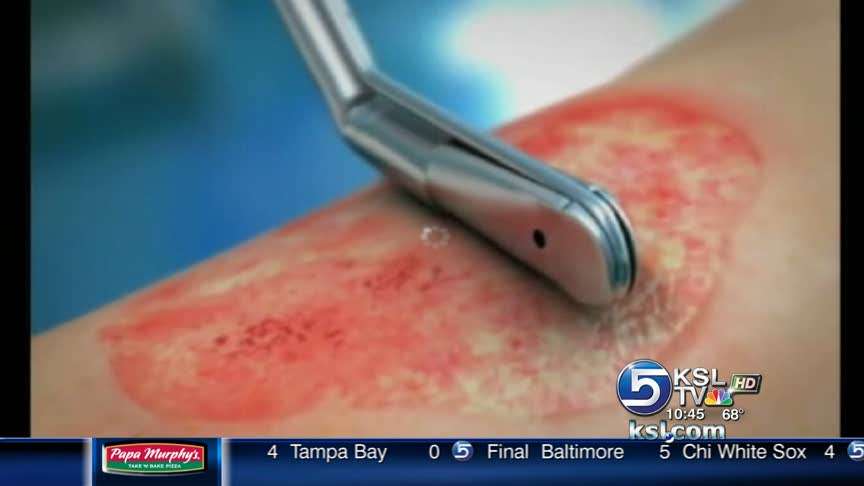 "Just getting out there every day. It was a great experience, and now I'm going to the U of U and playing on the team there," he said.
Andy technically is a great player and a great leader, out there as well for the younger kids. He gave it all he had.
But he had to give up hockey for awhile. The star goalie recently suffered a severe reaction to acne medication.
"I went to my dermatologist and he prescribed medicine called Bactrum. He told me there could be some side effects up to three weeks, and all of a sudden the third week hit and I had a huge fever and my body turned red. I thought it might be a sun burn, but even in spots I had clothes on earlier in the day had turned red, and that was the red flag," he said.
After his skin began to blister, he was admitted to the burn unit at the University of Utah Hospital.
"Basically, I didn't know, but I was allergic to sulfa, and that was in the medicine. And basically that built up in my body for three weeks. I had taken it twice a day for three weeks, and basically my immune system started attacking itself," he said.
Shawn Theobald, a registered nurse at the U burn center, said, "You could see it was going to be a painful process and a long process for him. But you could tell he was very determined to overcome it."
Because of the allergic reaction, Andy had to overcome what was similar to second-degree burns over 90 percent of his body. The reaction to the medication caused his skin to literally peel off and separate from his body, as if he were burned.
"The first couple of days I almost don't remember. I remember they were doing procedures, removing the first layer of skin where the blisters were," Andy said.
They put over his body what they call Biobrain, which acts as a skin layer since he doesn't have one to prevent infection. That skin layer is a breathable plastic that comes in sheets. Each sheet had to be stapled to Andy's body--over 200 staples in all.
"It was one of the most painful experiences of my life. When I was a baby I cut my pinky off but, and I've broken my legs, broken bones, this tops them all, this is very high on the charts," he said.
What was supposed to be a very long stay ended up lasting just two weeks.
"I'd say it's a miracle. When I was first in there, they were worried about organ failure and many other things and my skin would never be the same. But it's a miracle and I've been healing better than expected," Andy said.
As expected, his medical bills were huge. So several of his former teammates from Juan Diego High School organized a benefit hockey game, many of the players he grew up with. An estimated 1,400 people attended, and nearly $16,000 was raised to help with costs.
Because of the huge success of last week's hockey benefit, it will now become an annual event with all proceeds going to the University of Utah burn unit.
Thanks to what he calls a miracle, Andy Hill will play on the hill next season.
E-mail: kaiken@ksl.com
×
Most recent Sports stories