Estimated read time: Less than a minute
This archived news story is available only for your personal, non-commercial use. Information in the story may be outdated or superseded by additional information. Reading or replaying the story in its archived form does not constitute a republication of the story.
A new poll says Americans are losing faith in President Obama. Less than half of Americans now - 49% - say they believe the President will make the right decisions for the country. That is down from 60% at the 100 day mark of the presidency. Director of Polling for ABC, Gary Langer, joined Grant and Amanda this morning to talk about the poll. The poll also shows that more than half of Americans say the war in Afghanistan is not worth fighting. Click here to hear the interview.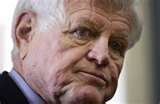 Senator Edward Kennedy wants the Governor of Massachusetts to be able to appoint an immediate successor to him when he vacates his seat. He is concerned about the vote on health care in the Senate. ABC's Aaron Katersky reported on KSL this morning that there is some opposition to the idea because of what they're calling "the law of unintended consequences." The request also makes some statement about the Senator's health. Click here to hear the interview.
×
Most recent News stories