Estimated read time: 2-3 minutes
This archived news story is available only for your personal, non-commercial use. Information in the story may be outdated or superseded by additional information. Reading or replaying the story in its archived form does not constitute a republication of the story.
For some people, severe food allergies make it nearly impossible to eat normally without help from a special, nutrition-rich formula. Right now, Utah insurance companies don't have to cover that essential formula, but legislation being considered may change that.
The representative sponsoring this bill was inspired by a constituent's 2-year-old son who had to be fed this formula through a tube. Since then, that family moved to Texas, where the formula was covered by insurance.
Today, we talked to another family in Orem that is going through the same thing. For Ashley Zundel, every day starts with getting breakfast through a tube. "The name of the disease is called eosinophilic gastroenteritis," Ashley explained.
The disorder makes it nearly impossible to eat regular foods. She usually eats 6 ounces of this formula for breakfast, lunch and dinner and sleeps with it at night.
Ashley's gotten so comfortable with her feeding tube. She'll put it in at school in front of her peers, who sometimes have questions. "I just say, 'It's my lunch. It's how I eat. I can't eat regular food like you guys can: pizza, potatoes, ice cream,'"
Ashley's been on the formula for a year. Before that, regular food would cause vomiting, diarrhea and her throat would close up. She lost a lot of weight, her skin was gray and her hair dull.
"Without the formula, there is nothing left for her to eat. Water. She would probably be dead," Dallyn Zundel, Ashley's father, said.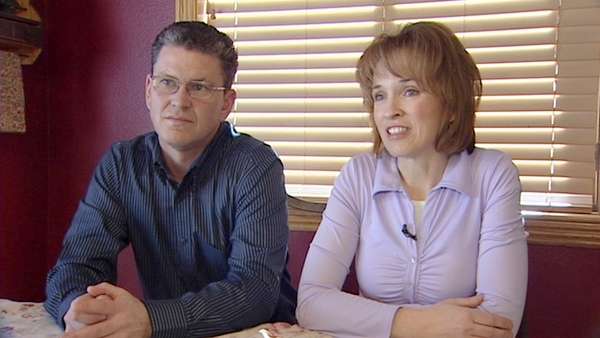 That formula costs about $1,500 a month. Dallyn's insurance, Blue Cross Blue Shield of North Carolina, categorized the formula as a food product similar to baby formula and wouldn't cover it.
"It's not the same. This is only given to children and adults who have nothing left," Ashley's mother, Tammy Zundel, said.
Dallyn was laid off in December. Now the family qualifies for Medicaid, which covers the formula.
Rep. Christine Johnson, R-Salt Lake City, says her bill would require insurance companies to do the same. "The 11 other states that have already passed this sort of insurance mandate have not found there's even a small increase in premium costs," she said.
Ashley has been trying to integrate real snacks into her diet, like turkey, rice and apples. But now all she really wants is kid food! "Ice cream with my friends," she said.
Blue Shield Blue Cross stated they worked very hard with the Zundels but couldn't give them what they wanted. Rep. Johnson says only about 1 in 2,000 Americans have food allergies, but less than 1 percent of those require the formula to survive.
E-mail: ngonzales@ksl.com
×
Most recent Utah stories