Estimated read time: 11-12 minutes
This story is sponsored by KSL Cars.Your next car is waiting. Search Utah's largest selection of new and used cars.
When you think of big, capable, family-hauling SUVs, few names carry as much recognition as the Chevrolet Suburban. This brute of an SUV has been around since 1935, making it the oldest surviving nameplate in America, according to MotorTrend. It's undergone a number of changes and facelifts through the years, but the newest version is the most spacious yet.
From soccer moms to government officials, many drivers still prefer the 'Burb over other more luxurious cars — and after spending a week with it, it's not hard to see why. If you're in the market for a large SUV that can tow plenty of passengers plus almost everything you own, the 2023 Chevrolet Suburban High Country trim offers an upscale and comfy ride that's hard to beat.
Price and value
The 2023 Chevrolet Suburban comes in six trims, with an MSRP range of $58,795 for the base level LS to $77,445 for the top-tier High Country trim, which was our tester. Each trim comes with a 10-speed automatic transmission and a V8 engine, though a 3.0-liter Duramax turbo diesel engine is also available on all but the Z71 trim. Some of the major differences in trim levels are noted below. All prices listed are for the two-wheel drive option except the Z71, which only comes in four-wheel drive.
18-inch alloy wheels
Rain-sensing wipers
Remote start
Hands-free power rear liftgate
Heated front seats and steering wheel
Bose 9-speaker audio system
22-inch black-painted alloy wheels
Perforated leather seats with red stitching
420-horsepower, 6.2-liter V8 is available
Four-wheel drive is standard
Hill descent control
Front and rear tow hooks
Premier: $72,195
20-inch alloy wheels
10-speaker Bose surround-sound audio system
Blind-spot monitoring and rear cross-traffic alert
22-inch alloy wheels
Super cruise is available
Surround-view camera with 360-degree views
The price disparity between lower to higher trims may tempt buyers to opt for the base Suburban LS. However, drivers looking for maximum comfort or additional safety features shouldn't discount the higher trims. Our High Country tester came with the Max Trailering package and the High Country Deluxe package, which included a power panoramic sunroof, air ride adaptive suspension and power-retractable assist steps with perimeter lighting. Combined with the rear seat media system, the total cost was $86,250.
While you could shave a few thousand dollars off the price by removing the optional packages, the silky smooth ride offered by the air ride adaptive suspension would be a hard thing to pass up. Parents of carsick-prone children might find the additional cost to be more than worth it in the long run.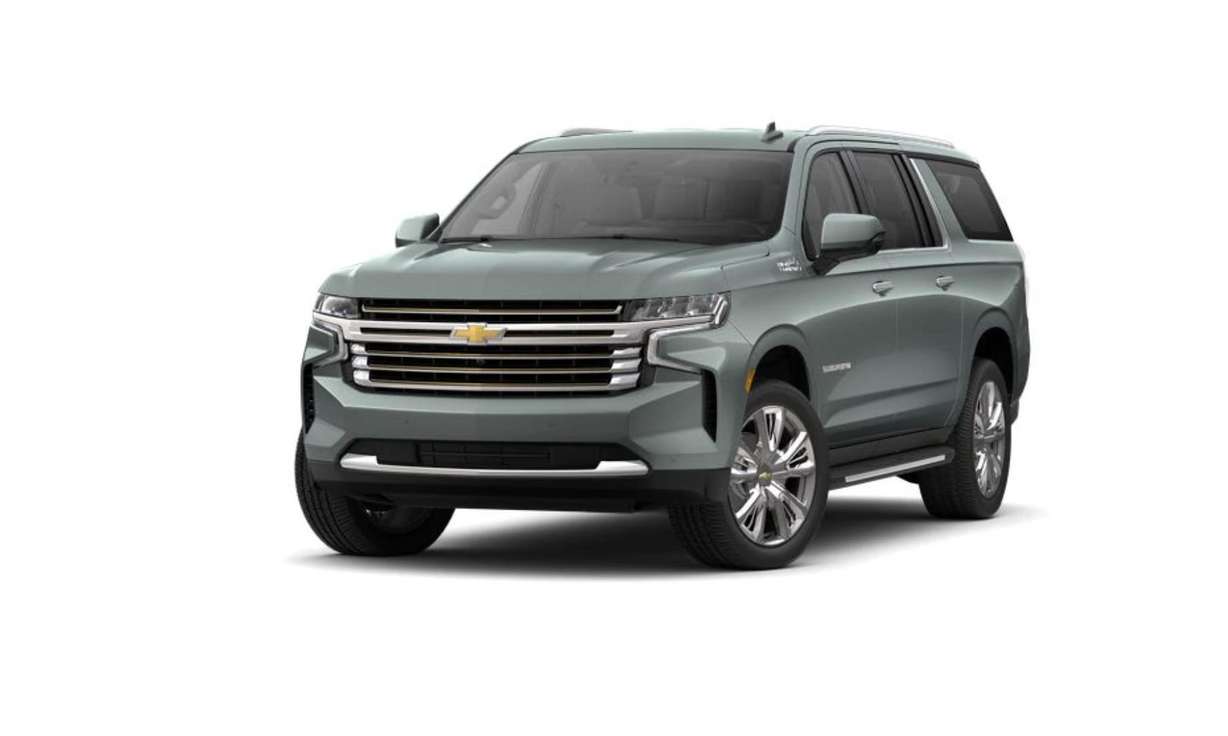 Performance
One of the best surprises of the 2023 Suburban was how easy it was to drive for its size. It delivers all the punch and power you might expect from a big, burly SUV but still manages to offer a comfortable ride. The High Country Deluxe package with air ride adaptive suspension proved to be a favorite feature as it smoothed out all the bumps on the road. You can throw it into Normal, Sport, Off-Road or Towing mode with a twist of a knob, though the difference between Normal and Sport modes was marginal.
Engine
Depending on the trim level, there are three different engine options: a 5.3-liter V8, a 6.2-liter V8 and a 3.0-liter turbo diesel engine. Our High Country tester came with the 420-horsepower 6.2-liter V8, which is standard for that trim — and lots of fun to drive.
Fuel efficiency
No surprise here, but if there's any category where the 'Burb might fall a bit short, it's fuel efficiency. The Environmental Protection Agency gives it a 14/18/16 mpg rating for city/highway/combined. Our tester ran slightly below that, most likely due to driving around in a hilly area for most of the week. Chevrolet's optional turbo diesel engine could save you a bit on gas since its fuel economy jumps to 20/26/22. However, given the current diesel fuel shortage, that may drive up your prices at the pump for a time. You'll have to weigh the pros and cons yourself here.
Drivetrain
As previously mentioned, two-wheel drive is available on all trims except the Z71, which is four-wheel drive only. Our tester was four-wheel drive, which was a welcome feature on snowy Utah streets and icy mornings. A 10-speed automatic transmission is standard on all trims.
Acceleration and handling
The Suburban is an imposing car, but luckily the handling doesn't feel like an imposition. Chevy equipped this big boy with all sorts of features to make you forget how large it is. The standard magnetic ride control, as well as the air ride adaptive suspension that comes in the optional High Country Deluxe package, were definite highlights. We heard bumps on the road more than we felt them. As for acceleration, it gets moving pretty fast on the freeway. Car and Driver tested the High Country trim and found that it went from 0 to 60 in 6.1 seconds.
Braking
Our High Country tester came with automatic emergency braking and pedestrian detection, which was just slightly on the touchy side. It interpreted a parked car on a curved road as a potential crash. The brakes effectively brought the SUV to a halt with no trouble at all, which should bring peace of mind to anyone worried about its size.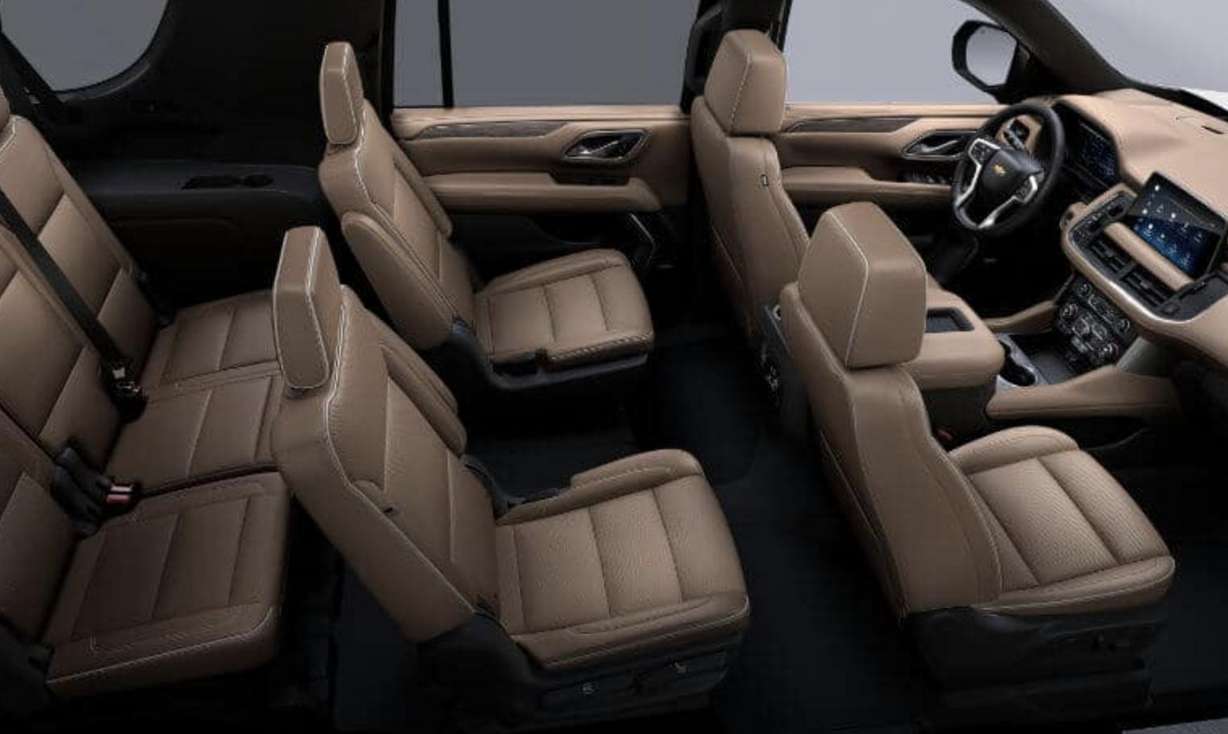 Interior comfort and convenience
One word comes to mind when thinking of the Suburban's interior: spacious. You could pack it full of professional basketball players and still ride comfortably. The cabin is also full of convenient storage compartments to hold all your stuff. Moms, in particular, will appreciate the extra storage space that opens by pushing an overhead button that moves back the center armrest. It's the perfect size for holding a purse, handbag or diaper bag. No more belongings sliding around every time you hit the brakes.
Seats
The Suburban High Country comes with heated and ventilated seats in the front row, heated bucket seats in the second row and a third row that boasts impressive legroom — even for adults. The base LS trim offers a 40/20/40 split-bench for the front row, taking the passenger capacity up to nine. The High Country trim comes standard with bucket seats in the second row and seats seven passengers. The decently comfortable seats have perforated leather surfaces and look nice, though long-legged travelers may find the depth to be slightly lacking.
Climate control
Tri-zone automatic climate control is proof that this car was made for families. The front two seats get to set their own temperature and the kids can pick their settings as well — though they might fight over who gets to sit in the heated bucket seats. In addition to heated and ventilated front seats, our High Country tester also included the best feature for frozen fingers in the wintertime: a heated steering wheel.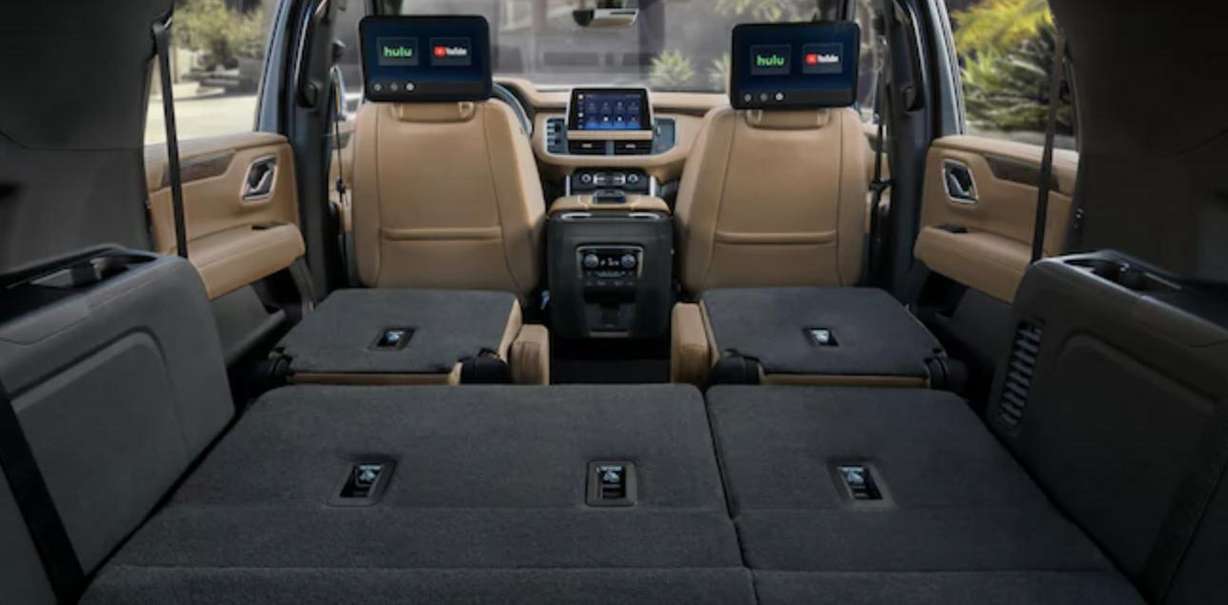 Cargo space and cabin storage
The Suburban absolutely gets top marks in this category. With just one press of a button, you can fold down the second and third rows for a maximum of 144.7 cubic feet of cargo space. We used the High Country to haul out nine full garbage bags of donation items without even folding down the third row. Up front, there are several storage compartments in the doors, the aforementioned secret storage space below the armrest, a wireless charging pad and a compartment for sunglasses on the center console. Throughout the cabin, passengers also have easy access to cup holders.
Infotainment system
Outside of the LS trim's 8.0-inch touchscreen, the rest of the Suburban lineup features a 10.2-inch touchscreen with an infotainment system that includes Apple CarPlay and Android Auto. Our tester came with 12.6-inch touchscreens on the back of the driver and front passenger seats, much to the delight of our children. It's worth mentioning that this rear seat media system does tack on $1,995 to the price. Given the ample access to wireless, USB, USB-C and 12V power outlets throughout the cabin, you might consider just keeping your regular devices fully charged on the ride and pocketing that extra cash.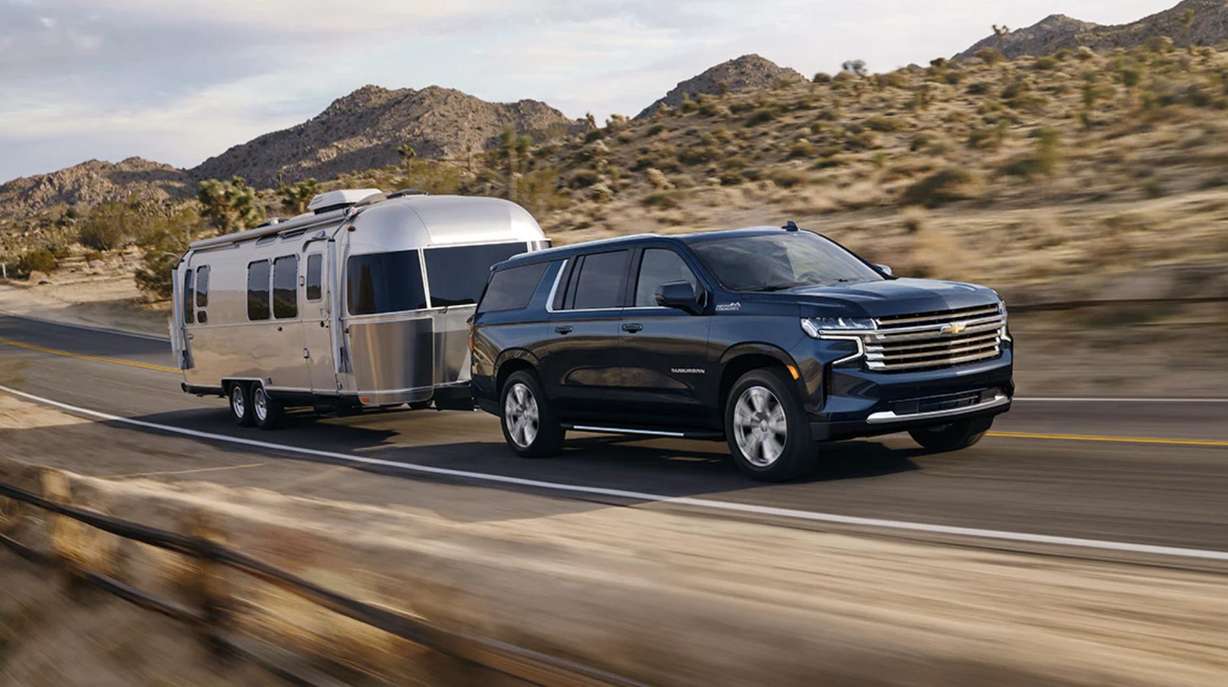 Exterior appearance and functionality
After 12 generations, the Suburban has evolved a bit through the years but it remains readily recognizable. Our tester's Silver Sage Metallic exterior was subtle enough not to draw undue attention but eye-catching enough to garner some praise from onlookers. If you prefer a bolder look with a blacked out grille, you can opt for the LS, LT, RST or Premier trims.
Towing Capacity and Payload
We didn't need to do any towing with our tester, but it did come with the Max Trailering package in case we wanted premium towing features such as increased visibility and towing capacity. The max towing capacity is 8,300 pounds and the max payload is 1,759 pounds. It's important to note that the rear-wheel drive option offers the highest towing capability. Four-wheel drive tops out at 7,800 pounds with the Max Trailering package.
Wheels
The Suburban comes with 18-inch, 20-inch or 22-inch alloy wheels. Our High Country came equipped with standard 22-inch sterling silver painted wheels with chrome inserts that handled the road well and muffled most of the freeway noise.
Lights and turn signals
Daytime LED running lamps and power-retractable assist steps with perimeter lighting keep things nicely illuminated on the High Country — especially when you've got little kids who need extra help minding their steps at night. Integrated turn signal indicators also come in handy when you're switching lanes on the freeway.
Cameras and side mirrors
The surround-view camera system on the High Country tester was a veritable lifesaver — particularly when it came to parking and reversing. A common complaint about Suburbans is that they're notoriously difficult to park due to their size, but the HD cameras fix that issue, boosting your confidence in any tight spot or driveway. That feature is available on all trims except the LS and comes standard on the High Country, along with body color, heated, auto-dimming power outside mirrors.
Front and rear windshields
The visibility through the front and rear windows is good, but the rear camera mirror definitely came in handy when driving such a large car. Rain-sensing windshield wipers also take a load off your mind during inclement weather.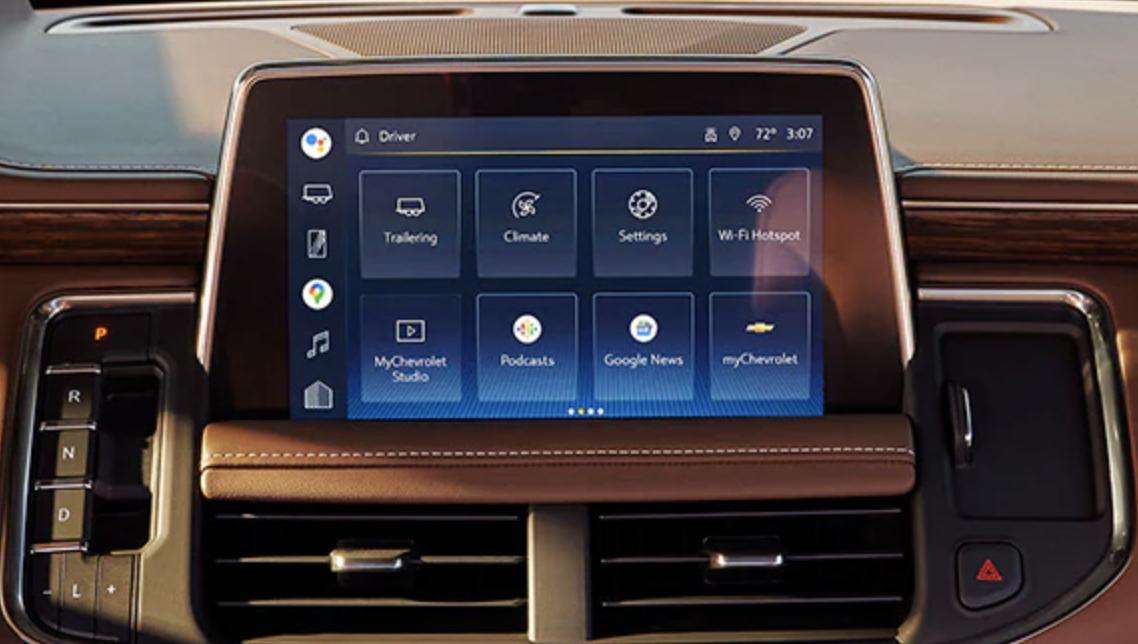 Safety
Buckle up your kids with confidence in the 2023 Suburban because this SUV was built like a fortress for families.
Features
Drivers and passengers alike should feel at ease thanks to the vast array of standard safety features. On the top-tier High Country trim that we drove these include:
Forward collision alert
Lane keep assist with lane departure warning
Following distance indicator
Automatic emergency braking
HD surround vision
Front and rear park assist
A large, crystal clear head-up display
Rear cross-traffic alert
Adaptive cruise control
Blind spot monitors.
Awards and ratings
The National Highway Traffic Safety Administration gave the 2023 Chevrolet Suburban a four-star safety rating. J.D. Power ranked it as No. 2 on the list of Best Large SUVs for 2023.
Final impression
As with most vehicles, if you're looking for perfection, you're sure to be disappointed. A highly critical buyer might scoff at the Suburban's fuel economy — but given its massive size and ample space to carry just about anything, the mpg seems fairly reasonable. In terms of pricing, you can certainly do without a few options to save a little cash. Every car has its pros and cons, but the 2023 Chevrolet Suburban High Country ticks most of the boxes when you're looking for a comfortable, capable passenger hauler.
FAQs
Is the Chevrolet Suburban a reliable car?
J.D. Power gives the 2023 Chevrolet Suburban a score of 75 out of 100 for quality and reliability — a 70 to 80 is considered average.
Is the Chevrolet Suburban hard to park?
For a vehicle of its size, the Suburban was surprisingly easy to park. This is largely due to the HD Surround Vision that comes standard on the High Country trim and is available on all other trims except the LS.
Is the 2023 Chevrolet Suburban a good family car?
With a seating capacity of up to nine passengers, a four-star safety rating from the National Highway Traffic Safety Administration and more than enough head, leg and cargo room, the 2023 Chevrolet Suburban is a great choice for families on the hunt for a capable SUV.
Want to get behind the wheel of a Chevrolet Suburban? Find one today on KSL Cars.
The makes and models mentioned in this article are not placed in any particular order, nor intended to be viewed as a ranked list. KSL Cars does not endorse any vehicles. The views or opinions expressed in this article are those of the writer and do not reflect the views or opinions of KSL.com or its employees.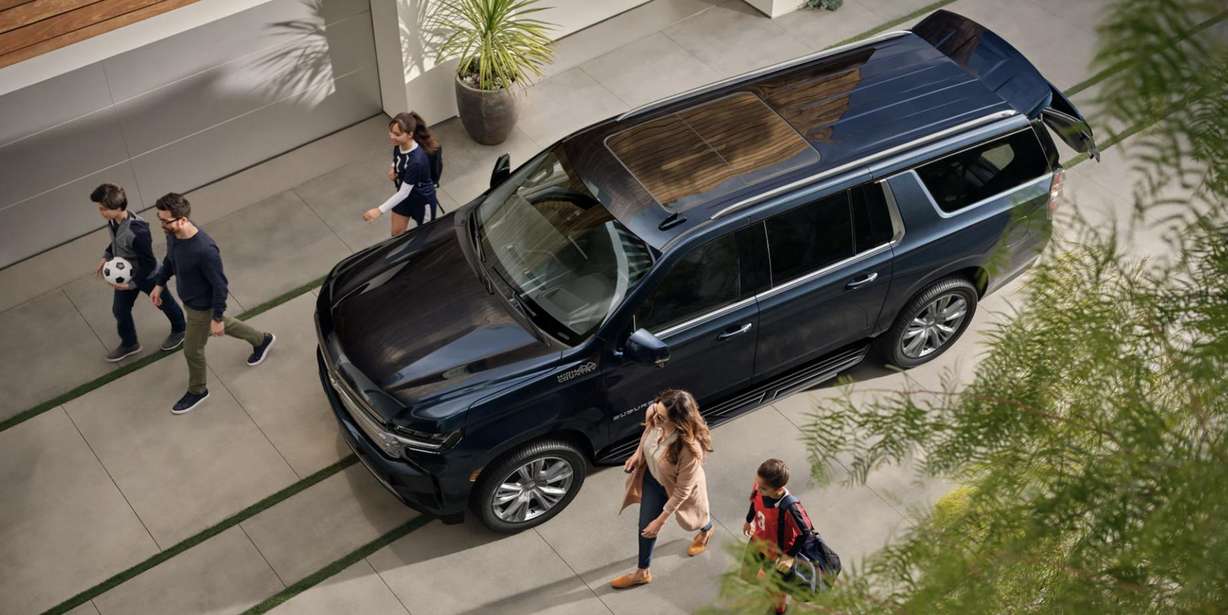 ×