Estimated read time: 4-5 minutes
PROVO — Jay Hill's defensive staff at BYU is complete.
The Cougars announced the hiring of assistant coach Justin Ena on Monday afternoon, finalizing the coaches that will join the former Weber State coach in his first season running BYU's defense beginning with the 2023 season.
Ena joins a staff led by Hill that also includes cornerbacks coach Jernaro Gilford and defensive assistants Sione Po'uha and Kelly Poppinga, who will also work as special teams coordinator.
Ena will serve as the team's linebackers coach, Poppinga will coach defensive ends and as the program's special teams coordinator, and newcomer Po'uha will coach defensive tackles. Gilford will continue in his role as cornerbacks coach, while Hill will oversee the safeties in addition to his role as defensive coordinator and associate head coach.
"I am super excited to have Justin join our coaching staff," BYU coach Kalani Sitake said in a statement. "Justin and I played together at BYU, and I've followed closely his coaching career over the years. He has worked with many defensive-minded head coaches and gained valuable experience as both a defensive coordinator and special teams coordinator in addition to coaching several different positions on defense.
"He's a great fit. He's a BYU guy and complements well the strengths of our defensive staff."
Ena, 45, comes to BYU after one season as defensive line coach at San Diego State. The Aztecs finished 7-6 in Ena's lone season on the Mesa after a 25-23 loss to Middle Tennessee in the Hawaii Bowl on Christmas Eve.
The BYU graduate and Provo native who grew up in Shelton, Washington has over a dozen years of coaching experience, including time as defensive coordinator at both Weber State and Southern Utah.
Ena took former BYU teammate and current Cougars head coach Kalani Sitake's place on Kyle Whittingham's staff at Utah, first as linebackers coach in 2015 and then as co-special teams coordinators before departing for Utah State as defensive coordinator and inside linebackers coach.
He also worked under first-time head coach Hill with the Wildcats in Ogden.
"I am excited to be working with Justin Ena again," Hill said. "He brings great toughness and discipline to our defensive staff. He was a great player here at BYU and has been an outstanding coach throughout his career. He has worked with many elite coaches during his career and will bring great knowledge to our staff. I'm elated to have him coaching our players here at BYU."
In his time at Utah, Ena helped produce NFL-bound linebacker Chase Hansen, who earned three All-America honors in 2018 after finishing with a team-high 114 tackles, including 22 tackles for loss for one of the best defenses in the Pac-12.
In addition to Hansen, a third-round selection by the Seattle Seahawks in 2019, Ena helped develop pro linebackers Gionni Paul and Jared Norris, as well as current Los Angeles Rams kicker Matt Gay and San Francisco 49ers punter Mitch Wishnowsky as special teams coordinator.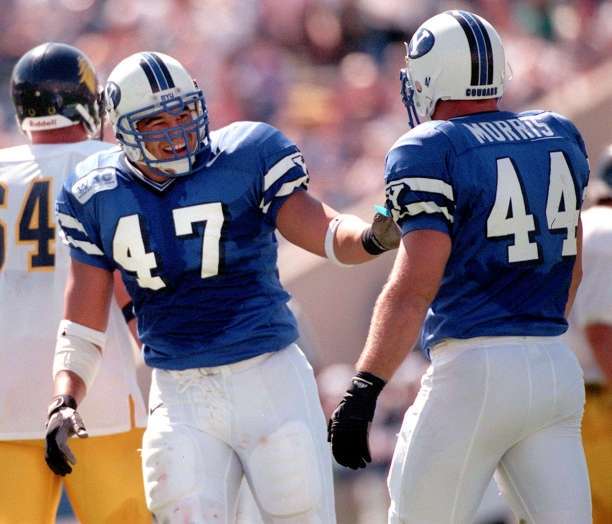 After Gary Andersen resigned following the 2020 season at Utah State, Ena was not retained and made his way to St. George as defensive coordinator at then-Dixie State for one season in 2021 that immediately preceded his time on Brady Hoke's staff at San Diego State.
Ena was a four-year starter at BYU from 1998-2001, where he earned all-Mountain West honors over his final three seasons. He led the Cougars in tackles in both 2000 and 2001, earning first-team all-conference honors before signing as an undrafted free agent with the Philadelphia Eagles in 2002.
"I am excited to join coach Sitake at our alma mater and cannot wait to work with him and coach Hill and their outstanding coaching staff," Ena said. "I am beyond blessed to be able to come back home to BYU and win conference championships in the Big 12."
After signing with the Tennessee Titans in 2004, Ena played in all 16 games with five starts, amassing 32 tackles, four tackles for loss and a pass defended before briefly returning to the Eagles for the final six games of the 2005 season.
Ena began his coaching career under former Southern Utah coach (and fellow BYU graduate) Ed Lamb as special teams coordinator in 2008.
He and his wife, Shari, are the parents of two children, including recent Utah State signee Justice Ena, in addition to Ena's two stepdaughters.
×
Photos
Most recent BYU Football stories