Estimated read time: 4-5 minutes
LEHI — The No. 34 prospect in the Class of 2023 by 247Sports is going to be a Longhorn.
Surrounded by his family and close friends, Skyridge linebacker Tausili Akana made official a commitment that has long been brewing as he flashed "Hook 'Em" for Texas from his family's home in Hawaii.
The 6-foot-4, 225-pound four-star edge rusher who helped lead Skyridge to the first 6A football title in school history chose head coach Steve Sarkisian and the Longhorns over offers from Alabama, Hawaii, Penn State, Oklahoma, Tennessee, Notre Dame, Utah and LSU, among others. Akana took eight different visits before making his selection live on the 247Sports YouTube channel.
The commitment gave Texas the No. 3 recruiting class in the country, according to 247Sports Composite rankings, trailing only Alabama and Georgia.
"I definitely think with this next class coming in, we're building something special," said Akana, who joins a Texas class that includes No. 1 overall recruit in quarterback Arch Manning. "I can learn off of him, and he can learn off of me."
He won't be the only Akana in Austin, either; Akana's sister, Keonilei, is a sophomore setter in volleyball at Texas. The Nebraska transfer averaged 0.36 assists per set in 29 matches for the national champion Longhorns, where she also posted 170 digs and 34.0 points.
The U.S. Army All-American Bowl and Polynesian Bowl All-Star came to Utah from his home in Hawaii after the Aloha State canceled the season during the COVID-19 pandemic.
Akana initially played under his uncle at Wasatch High before moving in with his dad's sister in Lehi when his parents moved back to the islands, and he's been the top defensive player in the state for a Skyridge squad that boasted the best defense in 6A to go along with Utah cornerback commit Smith Snowden.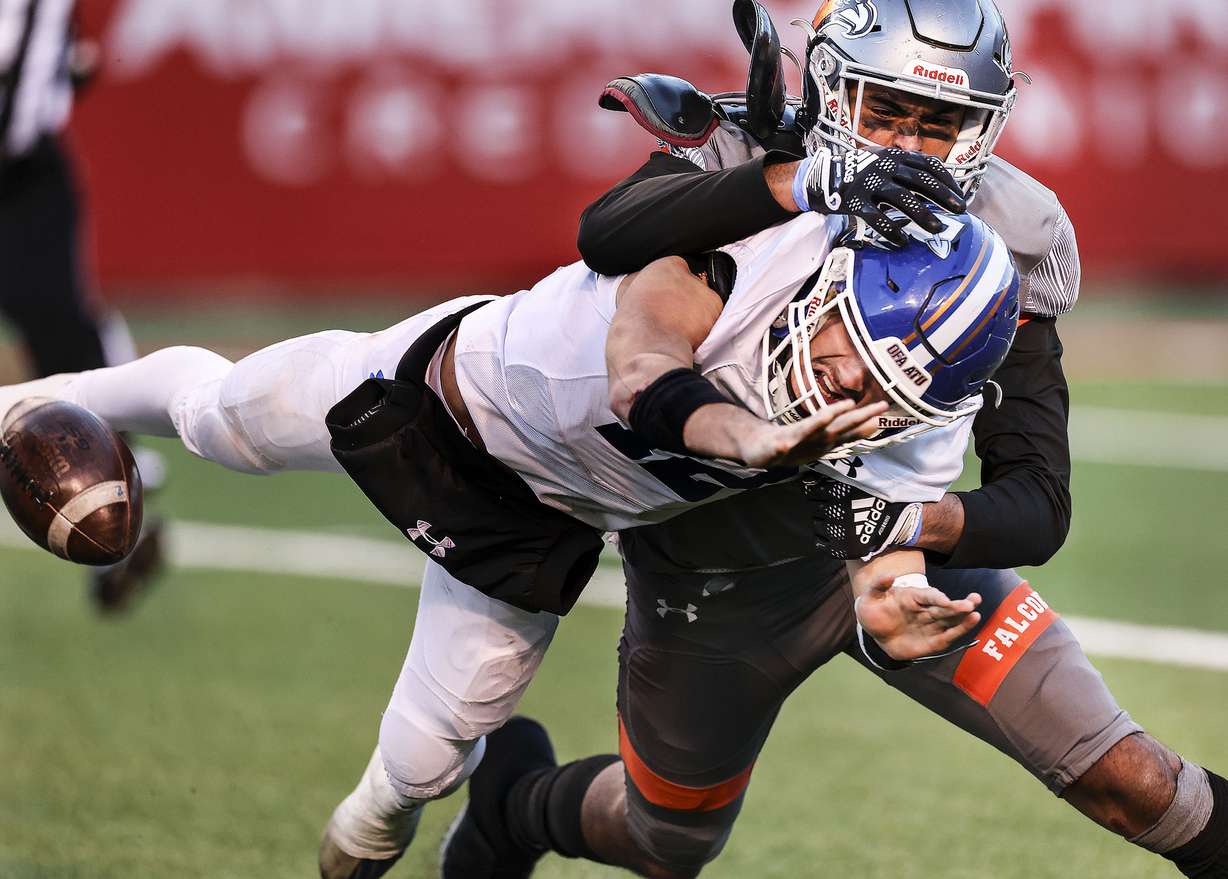 "It's been kind of hard being without my parents," Akana told KSL.com of the move to play under Skyridge coach Jon Lehman and his staff. "But I make the good times last and count. It was a good transition.
"Everyone here was so kind and opened their arms to me."
Akana finished his senior season with 63 tackles, 21 tackles for loss and 12.5 sacks, but his impact on the game was even greater as teams regularly schemed to run against his side of the field. He finished his Utah high school career averaging 4.9 tackles per game for 170 tackles, 28.5 sacks and two forced fumbles.
"The part that people don't see is the amount of focus that the offense puts on him," Lehman said. "He has been all over the place, and not just sacks that everybody notices; it's the little details. He's making that kind of impact, even before the play, because the offense devotes so much focus to everything that he brings to the table.
"He just makes everybody's jobs easier."
Akana wasn't the only Utah high school player to sign Wednesday on the first day of the early signing period. Here's a look at others; if your high school athlete needs to be added to this list, please email onlinesports@ksl.com, and check back later as the prospects are updated throughout the next few days.
BYU
Owen Borg, LB, Corner Canyon
Ryder Burton, QB, Springville
Miles Hall, ATH, Skyline
Siale Esera, EDGE, Timpview
Matthew Fredrick, TE, East
Pokaiaua Haunga, RB/WR, Timpview
Jared Esplin, WR, Timpview (PWO)
Ian Sanches, K, Lone Peak (PWO)
Utah
Spencer Fano, OT, Timpview
Mateaki Helu, ATH, Stansbury
Smith Snowden, CB, Skyridge
Hunter Clegg, DE, American Fork
Dax Iverson, K/P, Fremont (PWO)
Utah State
Zion Andreasen, DE, East
Taliafi Taala, OT, Alta
Justice Ena, OG, Sky View
Jackson Olsen, WR, Ridgeline
Kadiyon Sweat, S, Lehi
Jr Sia, OT, Mountain Ridge
McCae Hillstead, QB, Skyridge
Will Monney, TE, Springville
Charlie Holbrook, WR/S, West (PWO)
Corbin Cottle, DB, Bountiful (PWO)
Utah Tech
Mason Obray, DB, Northridge
Matthew Snarr, OL, Corner Canyon
Michael Falatea, DB, Herriman
Luke Hansen, LB, Farmington
Southern Utah
Jace Doman, WR, Skyridge
Kason Jones, TE, Kanab
Logan Dunfield, TE, Riverton
Isileli Faletau, OL, Riverton
Gage Schoeffler, OL, Enterprise
Crew Erickson, WR, Wasatch
Adam Stephens, OL, Skyridge
Sione Westover, LB, Skyridge
Jake Alles, OL, Ridgeline
Other local high school players
Kai Sevy, Corner Canyon (New Mexico State)
Cade Uluave, Mountain Ridge (California)
Tyson Naufahu, Springville (Mcpherson, Kan.)
E'Angelo Nunez, Ben Lomond (Lewis & Clark, Ore.)
Aidan Carter, Weber (Eastern Washington) (PWO)
Khalil Laufau, West (Washington State) (PWO)
×
Most recent High School Sports stories