Estimated read time: 8-9 minutes
AROUND THE SHIELD — Taysom Hill has played quarterback, tight end, wide receiver, running back, rush end and special teams player in his varied career across the National Football League.
One could argue that there's never been an NFL player quite like the former BYU quarterback. Now that's a historical footnote to prove it.
Hill threw for 80 yards and a touchdown, a 68-yard strike to former Weber State wide out Rashid Shaheed, that helped the New Orleans Saints hold off the Atlanta Falcons 21-18 Sunday.
With that score, Hill became a standalone figure in NFL history: the only player in the history of the league with 10 touchdown passes, 10 receiving touchdowns and 10 rushing touchdowns in the regular season and the playoffs.
But what's more important for Hill is that the win keeps the Saints (5-9) in the playoff hunt, just one game back of the Buccaneers atop the NFC South and tied with the Panthers and Falcons in a hodgepodge of a division.
"I don't pay too close attention to statistics," said Hill, a full-time tight end in his sixth season in the league. "Obviously, you care about wins and losses and everything else like that, but I was unaware.
"I don't really think about that too much. I think any time you see statistics like that, I think for me, personal, I feel a lot of gratitude. We've talked about the uniqueness of what I've been able to do. But I wouldn't be ale to do it without the people around me, I wouldn't have been able to do it without coaches that were willing to take a chance or create opportunities for me because nobody else had done that in the past."
In that regard, Hill's pass to Shaheed was his most important play of the game, a backshoulder strike over the middle that the big-play former Wildcat broke double coverage and bolted 68 yards to the end zone.
If nothing else, you have to know BYU's new defensive coordinator Jay Hill, who coached Shaheed at Weber State, was thrilled by it.
But the play was just Taysom Hill doing Taysom Hill things, Shaheed said.
"When Taysom is in the backfield, all eyes are on Taysom being the player he is," Shaheed said of his fellow undrafted free agent. "He does a great job realizing that (defenses are crowding the line of scrimmage) and when the play was called, it worked out great."
The game was also a showcase for former BYU running back Tyler Allgeier, who had a career-high 139 yards on 17 carries for the Falcons, including a 5-yard touchdown run in the third quarter that pulled Atlanta (5-9) within four, 14-10.
But that was as close as they would get, until Allgeier scored on a 2-point conversion run midway through the fourth quarter before New Orleans salted away the game.
"He's an instinctive player, smart, hard to tacke," Falcons coach Arthur Smith said of the fifth-round pick from BYU. "He had a big run on the third-and-one and I thought you (felt) him. "He's another volume guy that as the game goes on, those guys don't like tackling him.
"He's been big for us."
Here's how other former Utah high school and college football standouts performed in Week 15 of the NFL's 2022 regular season.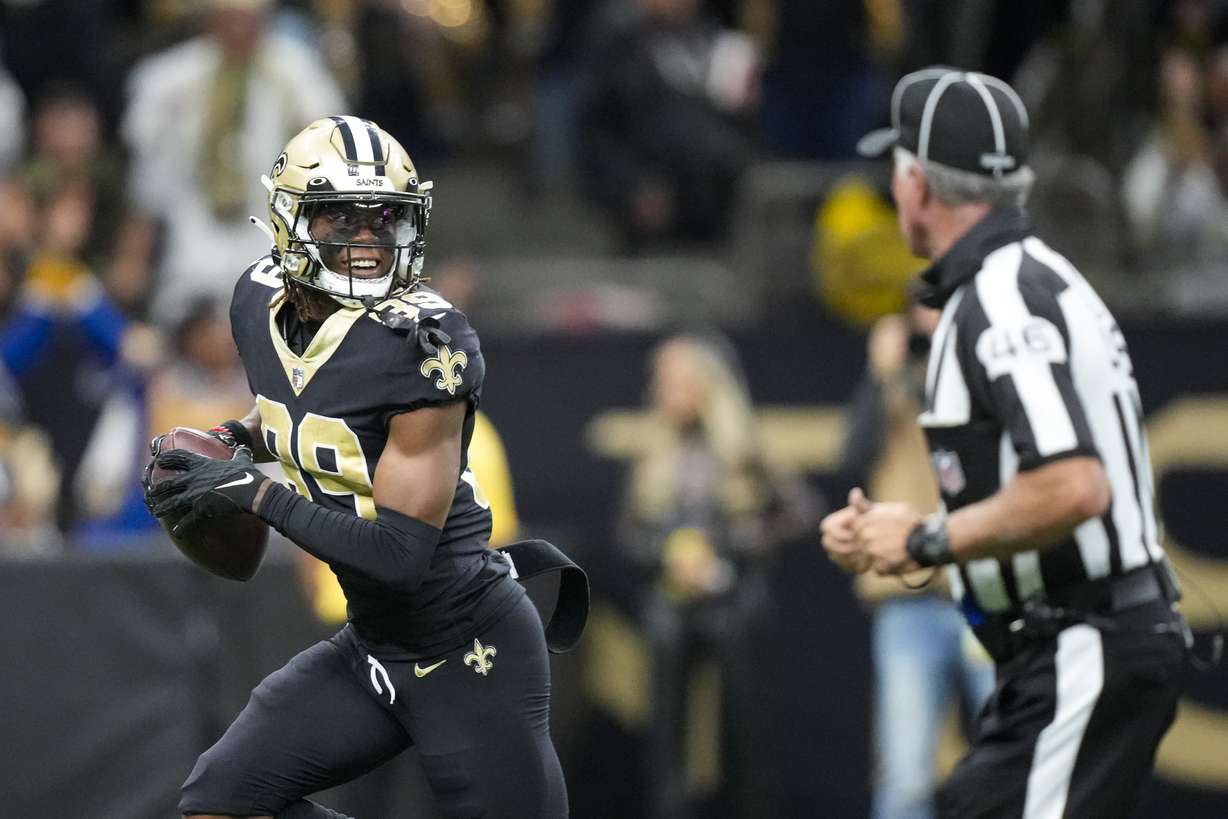 Monday Night Football
Green Bay 24, LA Rams 12
Packers (6-8)
Jordan Love, QB, Utah State: Active, but did not play
Dalllin Leavitt, S, Utah State: Reserve safety played 17 snaps on special teams
Rams (4-10)
Matt Gay, K, Utah/UVU/Orem: Kicked field goals of 33 and 55 yards and made a tackle in seven snaps on special teams
Bobby Wagner, LB, Utah State: Starting linebacker posted seven tackles and a tackle for loss while playing all 71 snaps on defense, and five more on special teams
Jonah Williams, DT, Weber State: Starting defensive tackle made five tackles and a quarterback hit in 66 snaps on defense, eight more on special teams
Sunday
NY Giants 20, Washington 12
Giants (8-5-1)
No locals on the active roster
Commanders (7-6-1)
Dax Milne, WR/PR, BYU/Bingham: Reserve receiver fielded one punt for four yards with four fair catches in five snaps on special teams
Cincinnati 34, Tampa Bay 23
Bengals (10-4)
Jalen Davis, CB, Utah State: Inactive for Week 15
Jay Tufele, DT, Bingham: Reserve defensive tackle had one quarterback hit in 15 snaps on defense
Buccaneers (6-8)
No locals on the active roster
LA Chargers 17, Tennessee 14
Chargers (8-6)
Kyle Van Noy, LB, BYU: Starting edge rusher made five tackles, a sack, and a quarterback hit in 57 snaps on defense, one more on special teams
Michael Davis, CB, BYU: Starting cornerback made three tackles, one pass defended in 62 snaps on defense, five more on special teams
Alohi Gilman, S, Orem: Starting safety posted eight tackles in 62 snaps on defense, seven more on special teams
Titans (7-7)
No locals on the active roster
Las Vegas 30, New England 24
Raiders (6-8)
Andre James, OC, Herriman: Starting center played all 68 snaps on offense, added three more on special teams
Jackson Barton, OT, Utah/Brighton: Inactive for Week 15
Patriots (7-7)
No locals on the active roster
Denver 24, Arizona 15
Broncos (4-10)
No locals on the active roster
Cardinals (4-10)
Leki Fotu, DT, Utah/Herriman: Starting defensive tackle had one stop and a tackle for loss in 49 snaps on defense, eight on special teams
Detroit 20, NY Jets 17
Lions (7-7)
Jamaal Williams, RB, BYU: Reserve running back ran for 33 yards on 13 carries in 21 snaps on offense
Penei Sewell, OT, Desert Hills: Starting right tackle played all 68 snaps on offense, five on special teams
Jets (7-7)
Zach Wilson, QB, BYU/Corner Canyon: Starting quarterback completed 18-of-35 passes for 317 yards, two touchdowns and an interception, ran three times for seven yards with four sacks taken in all 63 snaps on offense
New Orleans 21, Atlanta 18
Saints (5-9)
Taysom Hill, TE, BYU: Starting tight end ran for 30 yards on seven carries, completed two passes for 80 yards, including a 68-yard touchdown in 24 snaps on offense, 15 on special teams
Daniel Sorensen, S, BYU: Reserve safety made one tackle in 19 snaps on special teams, added three on defense
Rashid Shaheed, WR/RS, Weber State: Starting wide receiver caught three passes for 95 yards, including 68-yard touchdown in 39 snaps on offense, returned two punts with three fair catches in nine snaps on special teams
Chase Hansen, LB, Utah/Lone Peak: Reserve linebacker made one tackle in 17 snaps on special teams
Kaden Elliss, LB, Judge Memorial: Reserve linebacker posted four tackles with a sack in 47 snaps on defense, added 10 more on special teams
Falcons (5-9)
Tyler Allgeier, RB, BYU: Starting running back ran for 139 yards on 17 carries, including a 5-yard touchdown run and a 2-point conversion run, with one catch in 36 snaps on offense
Jacksonville 40, Dallas 34
Jaguars (6-8)
Devin Lloyd, LB, Utah: Starting linebacker made nine tackles in 68 snaps on defense, eight more on special teams
Cowboys (10-4)
Dalton Schultz, TE, Bingham: Starting tight end caught two passes for 15 yards in 73 offensive snaps
Kansas City 30, Houston 24
Chiefs (11-3)
No locals on the active roster, but coached by former BYU offensive lineman/graduate assistant Andy Reid
Texans (1-12-1)
No locals on the active roster
Philadelphia 25, Chicago 20
Eagles (13-1)
Sua Opeta, OG, Weber State/Stansbury: Inactive for Week 15
Britain Covey, WR/RS, Utah/Timpview: Reserve receiver fielded one punt for 7 yards with one fair catch in six snaps on special teams
Bears (3-11)
Jaylon Johnson, CB, Utah: Starting cornerback made six tackles with three passes defended in 64 defensive snaps
Patrick Scales, LS, Utah State/Weber: Played nine snaps on special teams
Braxton Jones, OT, Southern Utah/Weber: Starting left tackle played all 59 snaps on offense, and three more on special teams
Pittsburgh 24, Carolina 16
Steelers (6-8)
Jaylen Warren, RB, Utah State/Snow/East: Reserve running back ran for 38 yards on 11 carries, including a 2-yard touchdown, and caught one pass for 11 yards in 23 offensive snaps and nine more on special teams
Miles Killebrew, S, Southern Utah: Reserve safety played 16 snaps on special teams
Panthers (5-9)
Brady Christensen, OG, BYU/Bountiful: Starting left guard played all 46 offensive snaps and four more on special teams
Saturday afternoon
Minnesota 39, Indianapolis 36
Vikings (11-3)
Khyiris Tonga, DT, BYU/Granger: Reserve defensive lineman had six tackles in 31 defensive snaps, eight more on special teams
Colts (4-9-1)
Julian Blackmon, FS, Utah/Layton: Starting free safety had four tackles and a 17-yard pick six in 89 defensive snaps, 12 more on special teams
Zack Moss, RB, Utah: Reserve running back ran for a team-high 81 yards on 24 carries in 53 snaps on offense
Cleveland 13, Baltimore 3
Browns (6-8)
No locals on the active roster
Ravens (9-5)
Tyler Huntley, QB, Utah: Starting quarterback completed 17-of-30 passes for 138 yards and an interception, ran for 15 yards on six carries with three sacks taken and a fumble in 63 snaps on offense
Buffalo 32, Miami 29
Bills (11-3)
Taron Johnson, CB, Weber State: Starting cornerback had four tackles, a tackle for loss and a pass defended in 59 snaps on defense
Dolphins (8-6)
Eric Rowe, DB, Utah: Inactive for Week 15
Thursday Night Football
San Francisco 21, Seattle 13
49ers (10-4)
Fred Warner, LB, BYU: Starting mike linebacker posted eight tackles in 64 snaps on defense
Mitch Wishnowsky, P, Utah: Punted six times for 253 yards (42.2 yards per punt) with one touchback and three punts downed inside the 20 in 10 snaps on special teams
Seahawks (7-7)
Cody Barton, LB, Utah/Brighton: Starting linebacker had team-high 10 tackles in 56 snaps on defense, 14 more on special teams
Bryan Mone, DT, Highland: Starting nose tackle left with an injury after just five snaps on defense
×
Most recent Locals In The NFL stories