Estimated read time: 5-6 minutes
SALT LAKE CITY — Interceptions have a way of shifting the momentum in a game unlike anything other.
It's a demoralizing result for one team and a big momentum swing for the other that's a recipient of the football. In Utah's case on Friday in the Pac-12 championship game against USC, it was safety R.J. Hubert that made the game-sealing pick as the Trojans neared the red zone to end any chance of a USC comeback.
Utah led by 10 points late in the game, and USC quarterback Caleb Williams had touchdown on his mind in hopes to close the gap of what was a 35-7 Utah run after the Utes were down 17-3 early in the game. But the interception — only Williams' fourth of the season — ended all hopes.
It was further complicated when Utah running back Ja'Quinden Jackson broke off three plays later for a 53-yard touchdown to make it a 16-point game. For good measure, Micah Bernard added a 23-yard touchdown run on the ensuing drive to finish off the No. 4 team in the country and send Utah to its second straight Rose Bowl.
The first Rose Bowl will always be memorable — a shootout match against a high-powered offense of Ohio State — but the second is about "unfinished business," according to Clark Phillips III. It's an opportunity for a Utah team that is hitting its stride — as a relatively healthy team this time around — against another Big Ten blue blood program.
"Definitely unfinished business," Phillips said. "It'd be good to get that nasty Rose Bowl taste out of our mouth from last year and get out there and knock them down this year.
"This will be our second time, and this time, we can go and do it the right way."
Utah comes into this year's bowl game with a bit more confidence than it did last season. The players were confident in the team they had last season against Ohio State, but the unfamiliarity of the Rose Bowl and all it entailed added to the inexperience.
Still, Utah looked like it belonged on the national stage on Jan. 1, 2022.
But now that Utah has been there before, there's confidence within the program that the glitz and glamour of the Granddaddy of The All will have less of an impact on the team's ability to solely focus on Penn State as just a normal game — even if everything around it says otherwise.
Even the experience of playing in front of nearly 90,000 people will have a different feel now that the team has experienced it before. The team followed it up in front of 90,799 people in Florida and has continued to play on a national stage.
"Well, we've had big crowds this year," Hubert said. "We've had a big home crowd plenty of times here at Rice Eccles. We've had a big crowd we had to play against at Florida. We've played in the Rose Bowl already this year. So I think it's just realizing, hey, it's just another game, settle your nerves, just play one down at a time."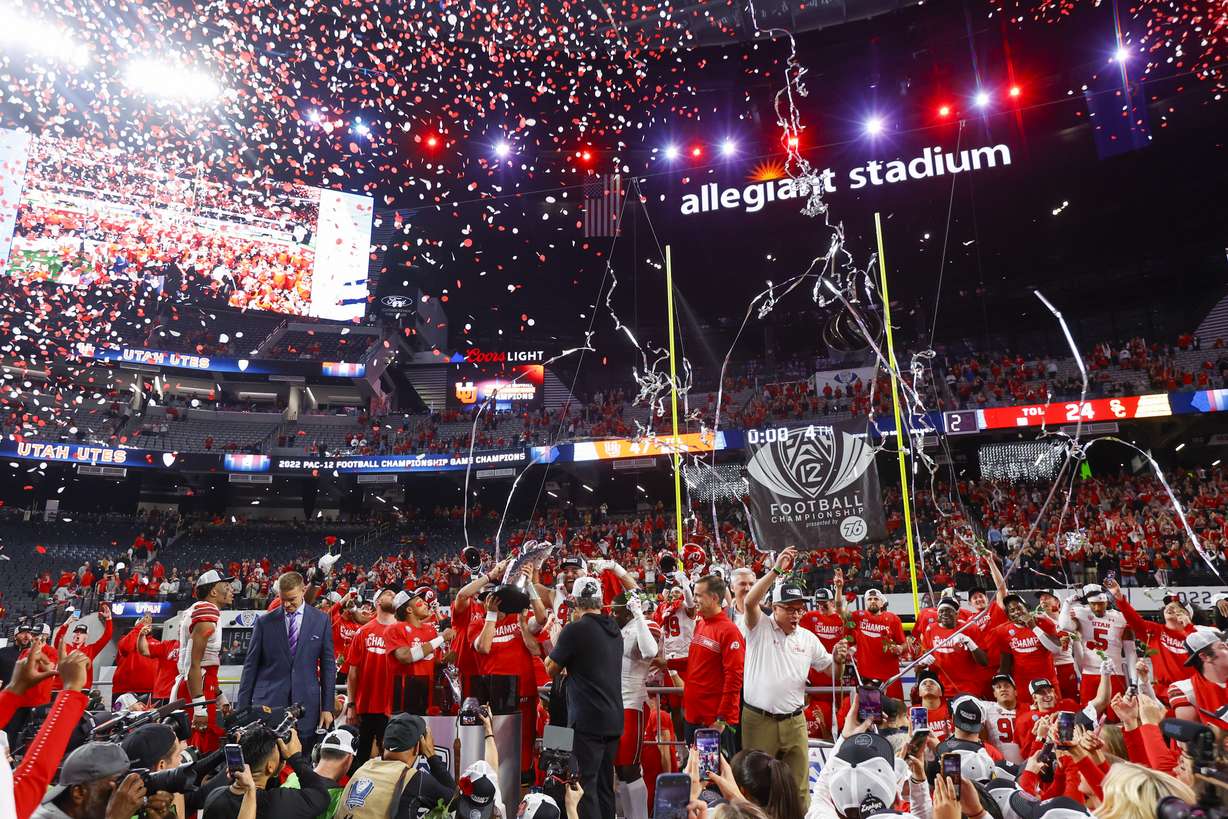 For Utah, it's not just about being on the national stage, the program wants to now show it can win there, too. Utah has done well within its own conference and has been to four of the last five Pac-12 championship games, and won the last two, but it's now about taking the next step and finishing the season with a New Year's Six bowl game win.
"It was cool to go to the Rose Bowl last year, but it was a letdown that we lost," Hubert said. "And even though we gave a great effort, a loss is a loss. So there were really no — I feel like no consolation prizes for losing the Rose Bowl. I feel like we made a lot of people proud, but it wasn't good enough to our standards. Winning is our standard here. It's a big emphasis this year to win."
"You're always gonna have confidence going to a venue that you've played before," quarterback Cam Rising said. "Just looking to go get this one done this time."
It's also an opportunity for Utah to get a win in what is expected to be the last traditional Rose Bowl — a 76-year college football tradition will soon change.
When No. 8 Utah and No. 11 Penn State take the field in Pasadena, California, on Jan. 2, 2023, as part of the 109th Rose Bowl, it will likely be the last of its kind, ending an agreement signed in 1946 between the Big Ten and Pac-12 to play in the Granddaddy of Them All.
The Rose Bowl becomes one of two semifinal locations for the College Football Playoff the following year; and as part of the 2024 season, the Rose Bowl will be rolled into the 12-team expansion of the new-look playoff, though no definitive plans have been made about its future.
"We're excited to be able to play in the Rose Bowl this year in the traditional fashion and in its traditional time slot and all that type of stuff," Utah head coach Kyle Whittingham said about the changes. "I can just speak for us being elated to be there, and the Rose Bowl experience last year was tremendous, and we expect more of the same this year."
But all of that is ancillary to the main objective, and that's leaving the field on Jan. 2 with a win.
"That's our main focus," Rising said. "This is a winning program, and that's what we always expect to do and what we're working to do."
The first time was historic, but the second is all about taking care of business.
×
Most recent Utah Utes stories