Estimated read time: 2-3 minutes
OGDEN, Utah -- A Weber County teenager is recovering from surgery in the ICU after suffering a broken neck during a snowboarding accident.
Aza Mathew Topik of West Haven is an 18-year-old who fractured his C-5 vertebrae when he fell Sunday at Snowbasin.
"He hit just a little bump, caught the front end of his board, flipped forward, face planted in the snow, and kind of scorpioned over, so his back legs kind of went up, and his body was in a c-shape," explained Lori Buck, Topik's mom.
Lori learned about the accident when she got a phone call on Sunday.
"I could just hear the panic, and I could hear we was crying," she said. "He said, 'Mom, come to Basin. Come to Basin. I can't move. I fell. I can't move. I can't feel my legs. Get here.'"
Lori and her husband raced to the ski resort and arrived in time for her to ride along in the ambulance to McKay-Dee Hospital in Ogden.
"In that moment, my heart sank. My heart sank," Lori said. "But I couldn't let it show because I needed to be strong for him."
The family said doctors performed surgery on Monday to fuse Topik's cervical spine,
"Just to see him there laying there helpless was horribly heartbreaking for me, for mom, for everybody," said Aza's stepfather, David Buck.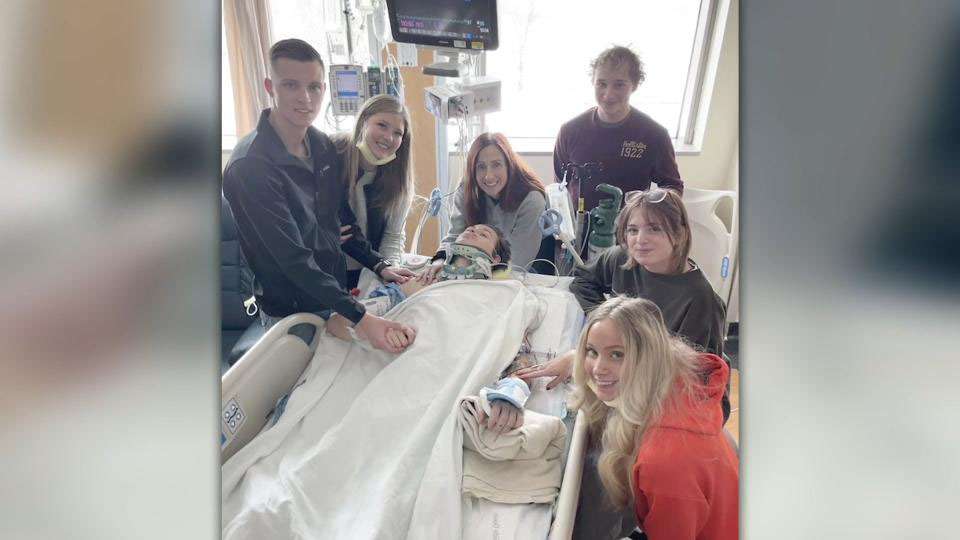 On Tuesday, Aza regained a lot of movement in his upper body.
"He still doesn't have any feeling in the waist down," Lori said.
The family said doctors had given Aza a 5% chance of walking again.
"Some pretty extensive spinal cord damage," she explained.
But the family is hoping he will beat the odds, saying that Topik is as determined as they come.
"He's my boy. He's a fighter," Lori said.
"I think he can beat it," said Gabby Topik, Aza's sister. "With his attitude and his stubbornness, he's going to walk again."
"He's just got a very big heart, and we know he's going to kick this," David Buck said.
The family has said that Aza does not have health insurance. They have created a GoFundMe* to help pay for medical bills.
"He will need years of rehab and physical therapy ever to walk again," according to the GoFundMe.
*KSL TV does not assure that the money deposited to the account will be applied for the benefit of the persons named as beneficiaries. If you are considering a deposit to the account, you should consult your own advisers and otherwise proceed at your own risk.
×
Photos
Most recent Weber County stories