Estimated read time: 3-4 minutes
SOUTH SALT LAKE — Work is now underway to build a key piece to a rapidly growing South Salt Lake central core.
South Salt Lake leaders and developers gathered by a lot in the city this week to break ground on One Burton, an eight-story, mixed-use building that will provide 180 new multi-family housing units and about 7,000 square feet of retail space on the corner of Main Street and Burton Avenue (2360 South) near the South Salt Lake City S-Line Station. It's expected to be completed in 2024.
"One Burton will add to the character of Main Street with vibrant, high-quality designed housing and streetscape," said South Salt Lake Mayor Cherie Wood. "This project will contribute to the walkability of downtown and is well-connected with an array of transit options."
Wood admits that she's somewhat drawn to the project because she grew up on Burton Street; however, it's more than just that. The complex is expected to be the beginning of more redevelopment within the city's Downtown East Streetcar District.
The mayor points out that it's already within blocks of a little more than a half-dozen breweries and distilleries. It's also located close to several more restaurants, a large grocery store and even the Salt Lake County Government Center. Many of the apartments and businesses have sprouted up over the past decade.
The district is expected to grow in the future, too. There are more than a dozen major housing, office, hospitality, retail and dining developments planned for the coming years.
"We're a very small city in the urban core of the county, but we do have very big dreams for this area," Wood added.
All of the new growth starts with One Burton, which South Salt Lake Councilwoman LeAnne Huff refers to as the "foundational part" of the Downtown East Streetcar District. She said the project will "bring a lot of exciting people-centered growth to downtown South Salt Lake" in the near future.
The project specifically calls for 50 two-bedroom, 103 one-bedroom and 27 studio units. It will also feature two-story retail spaces along both Burton Avenue and Main Street, along with all of the new housing units. The facility will feature some of the same amenities that most new complexes have, including a spa and fitness spaces, a game room, rooftop courtyards, conference rooms and co-working areas.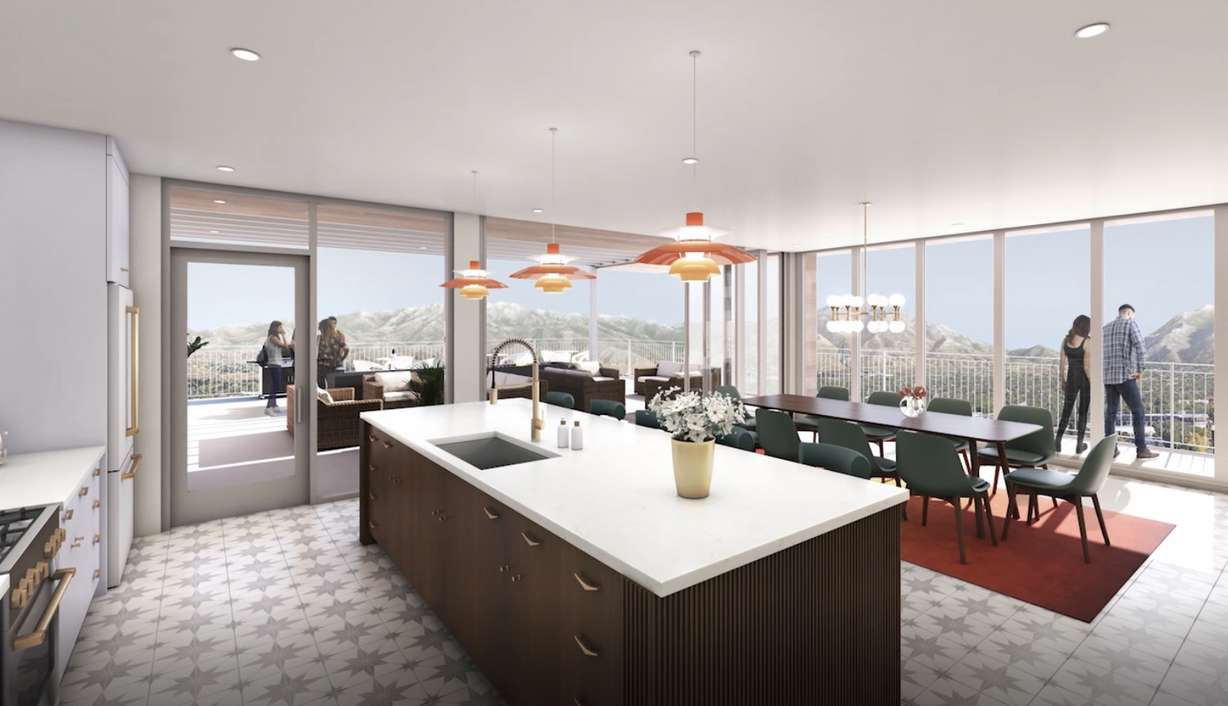 There's even a "high-end" art gallery planned for the complex, as well as a rooftop dining room with a chef's kitchen that residents will be able to book for events.
Project leaders say it will offer a "safe and walkable experience" given its proximity to the light rail and bus service, as well as all the other businesses near it. Jason Algaze, a principal of the real estate development firm Abstract Development Group, said that it will also be the first of "many notable projects" over the next few years.
"One Burton will set the gold standard for the people-centered growth that South Salt Lake residents will come to expect," added Jon Moody, a project executive at Jacobsen Construction. "These residences will form the type of active, interconnected neighborhood that gives new life to a whole community."
×
Photos
Most recent Salt Lake County stories