Estimated read time: 5-6 minutes
SALT LAKE CITY — BYU changed things up on defense for its road tilt at fellow FBS independent Liberty.
The Cougars activated flash linebacker Chaz Ah You for the first time all season, replacing an injured Payton Wilgar. A handful of reserve offensive linemen filled similar reserve roles on defense.
Defensive coordinator Ilaisa Tuiaki moved to the sideline to call plays alongside head coach Kalani Sitake and to work with the defensive tackles between plays. Defensive ends coach Preston Hadley was moved to the coaches' box in the exchange.
How did it work out Saturday afternoon?
Different song, same result.
Dae Dae Hunter had 213 yards and a touchdown, and Shedro Louis added two more scores on the ground as Liberty rolled up 300 of its 548 yards on the ground en route to a 41-14 win over BYU at a sold-out Williams Stadium in Lynchburg, Virginia.
Johnathan Bennett threw for 247 yards and two touchdowns with an interception for Liberty, which improved to 7-1 in a game that Flames coaches called "the biggest home game in program history" in their final season before joining Conference USA.
"They just wanted it more. When you do that, the team usually comes out the victor," BYU coach Kalani Sitake said on his postgame radio show.
"This is definitely some adversity that we're going through," Sitake added. "You have two choices: fight or flight moment. I only know one way, and that is to work hard and make sure we have the right guys with us along the way.
"Congrats to Liberty, but we definitely have some things that we need to fix as a team. That's my job."
With all the changes on defense, from coaching staff to personnel, did anything change for a defense that gave up 7-of-12 third downs and scores on all but three drives not including the 2 minutes, 49 seconds Liberty used to end the game?
"I wouldn't say it had really …" BYU defensive end Tyler Batty began to say, before catching himself, pausing, and repeating, "Clearly, it didn't have an incredible impact on how we played."
The Cougars suffered their fourth loss in a season for the first time since back-to-back seasons finishing 7-6 in 2018 and 2019.
Hunter put the nail in the coffin with an 80-yard touchdown run on the Flames' second offensive series of the third quarter, capping a 31-0 run that turned a 14-3 deficit into a 34-14 advantage by the middle of the period of the Cougars' third consecutive loss and fourth of the year.
"I love BYU and what they stand for," Liberty coach Hugh Freeze said after making it off the field amid a storm of students. "I love their coach, and I love the way that they play the game. Kalani and I texted this morning, and I said what a great honor it is to compete and show the world that we can be different universities and compete. I respect the heck out of them, and I would hate it if they were offended in any way by the excitement from our students."
Liberty averaged 7.8 yards per play, including a 7.8-yard average on the ground.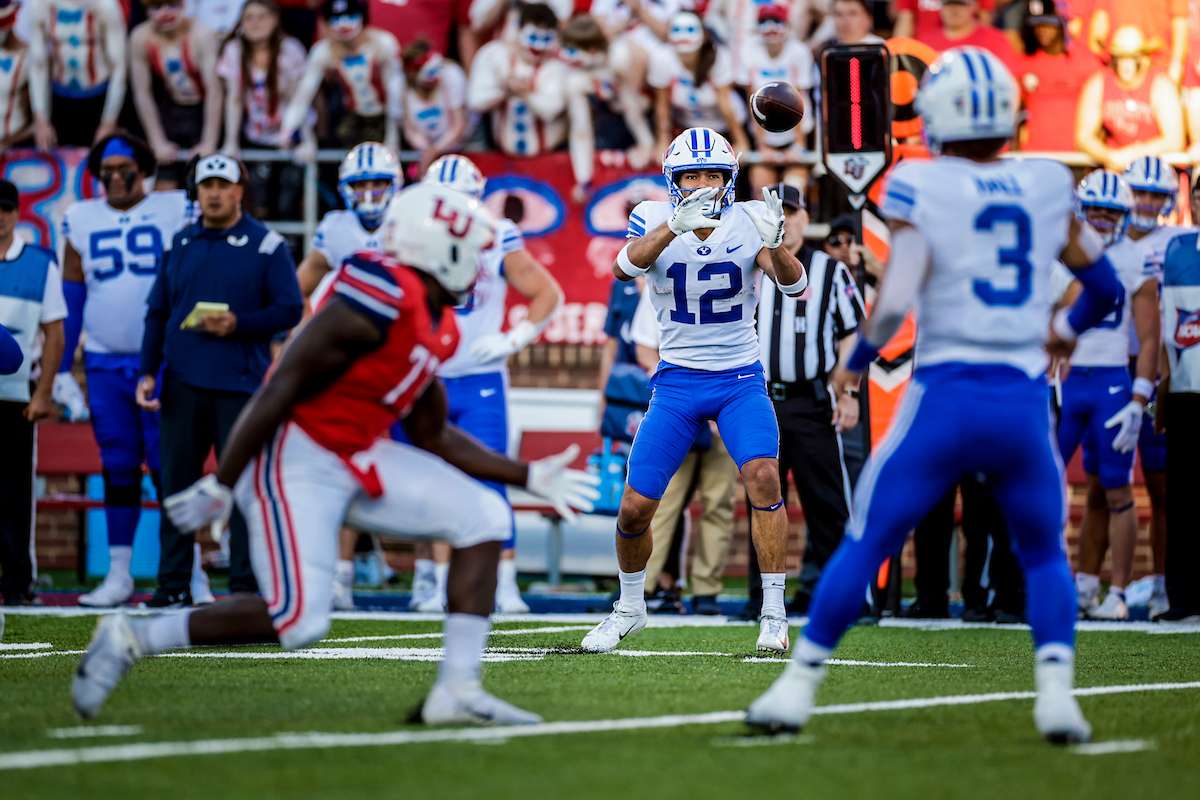 Puka Nacua caught seven passes for 114 yards, including a 46-yard touchdown that helped BYU to a 14-3 lead after the first quarter. But Liberty responded with a 31-0 run to turn the deficit into the low point of the Cougars' 2022 campaign.
Jaren Hall threw for 187 and two touchdowns, and had a second-half interception overturned on review. But the BYU offense also committed three turnovers on downs and the Flames didn't punt until the 4:53 mark of the fourth quarter.
In stark contrast to Liberty, BYU ran for just 71 yards on 16 carries. Though part of that can be attributed to the 31-0 run that turned the tide in a hurry, starting running back Christopher Brooks led the Cougars on the ground with 26 yards on three carries.
Brooks did not play in the second half after he went to the bench with a wrap secured near his hamstring. Sitake said the back's absence was precautionary and that he could have returned "if needed."
But Hall's 16-of-34 completion rate is a season low, and the worst of his career: 47% is 3 points lower than the 3-of-6 completion rate he converted in reserve minutes of the 28-21 loss to Toledo in 2019. To his credit, Hall took plenty of blame for the loss as he made an appearance in the postgame media room — even getting there before Sitake, who normally addresses the media before his players.
"I didn't do enough, didn't do my job," Hall said. "A lot of things were on me, uncharacteristically. I have to do a better job."
Of course, the Cougars couldn't have started much better.
After a 3-and-out of just 8 yards of offense and Ryan Rehkow's 55-yard punt, Liberty cruised 84 yards over 11 plays (including a 4-for-4 effort from Bennett for 67 yards) on the opening drive before BYU held the Flames to a 22-yard field goal.
But BYU countered with Nacua, the electric wide receiver who caught a screen pass and weaved 46 yards through traffic for the Cougars' first touchdown and a 7-3 lead with 4:14 left in the first quarter.
Talan Alfrey flipped the field with an interception on Liberty's next drive, and Isaac Rex capped off a two-play, 27-yard drive with a 20-yard touchdown grab.
Liberty had 128 yards to BYU's 116 after the first quarter, but thanks in large part to that short-field score, the Cougars held a 14-3 advantage.
Things changed dramatically in the second quarter, as Liberty piled up 284 yards in the first half and ended on a 17-0 spurt.
The Cougars will return home for Friday night's kickoff against East Carolina. (6 p.m. MT, ESPN). Lose that game, and a season without a postseason bowl destination is in serious doubt.
If Cougar fans are frustrated by the third-straight loss, imagine how the players feel.
"It's just tough," Batty said. "I think we have an amazing team, and we still have an amazing potential. But to not achieve our own expectations, that sucks.
"Yeah, it's very frustrating."
×
Photos
Most recent BYU Football stories