Estimated read time: 4-5 minutes
It's happened to everyone: you're laced up to go for a jog in the sunshine, or packed for a picnic or hike, only to step outside and be hit by a wall of molten-hot air.
Yes, it's (still) stiflingly hot outside. But with Utah's high elevation, glacier-fed lakes, and shady mountainsides, it doesn't take much effort to find a beautiful place to cool off. Here are a few places to escape the brutal summer heat.
Bear Lake
Bear Lake is perhaps the ultimate summer destination for Utahns. The oft-called "Caribbean of the Rockies" boasts more than 100 square miles of vibrant turquoise water. According to the State Parks website, the lake sits at an elevation of 5,924 feet—which means that while you will still feel toasty lying on the shores of the beach, it is cooler than your local neighborhood pool.
Not to mention, Bear Lake's deep waters stay chilly even in the August heat. The average water temperature in the summer hovers between 68 and 72 degrees. After a day spent boating, swimming, and jet-skiing in the brisk waters, cool off even more with a famous raspberry milkshake!
Uinta Mountain Range
The Uinta Range is the highest in a state full of peaks. Elevations range from 8,000 feet in the lower canyons to 13,528 feet atop Kings Peak, the highest point in Utah. This remote destination is in the far northeast corner of the state—Wyoming and Colorado are a few miles away on each side.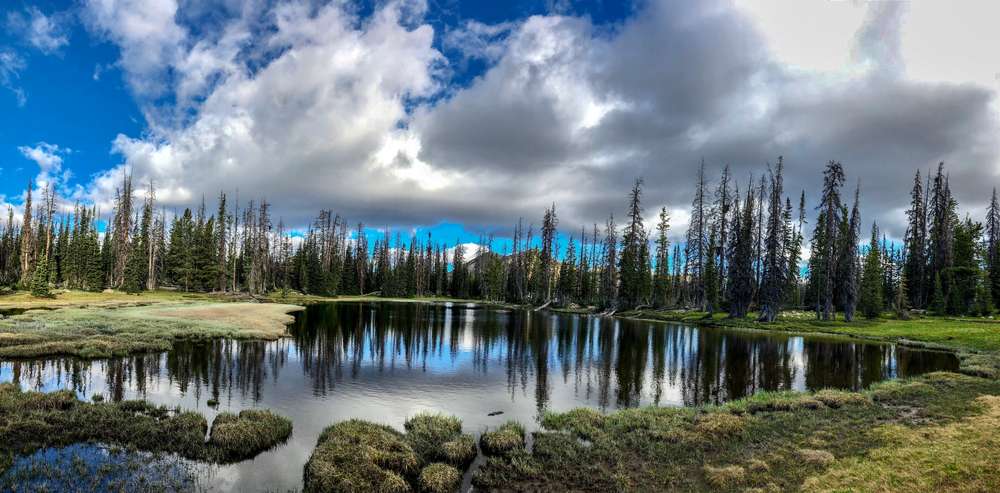 The area is known for hiking, backpacking, and fishing and hunting. Utah.com says, "Temperatures in areas above 10,000 feet are seldom above 80 degrees during summer days. Night temperatures during summer are 30-40 degrees, with freezing possible at any time." If you plan to brave the Uintas overnight, pack a blanket for chilly weather!
Pineview Reservoir
If a day trip is more your style, Pineview Reservoir is just a short drive from much of the Salt Lake Valley. This mountain lake in the scenic Ogden Valley is wonderful for boating, paddleboarding, swimming, and fishing. The three-armed reservoir is lined with marinas and designated public beach areas perfect for families to camp out for the day.
While not exactly white sand, accessible public beaches at a mountain lake can't be beat. Fishing is also a popular draw here, with sporting fish like bass, trout, perch, and aggressive tiger muskie ready for the catch.
Bryce Canyon National Park
Red rock does not conjure up an image of cool weather to most people, but due to its high elevation, Bryce Canyon is more manageable in the summertime than other Utah National Parks. Visitors at other southern Utah parks must plan their hiking and sightseeing around cooler sunrise and sunset temperatures, but at 8,000 feet elevation (see a pattern here?) Bryce Canyon stays cool enough to explore all day.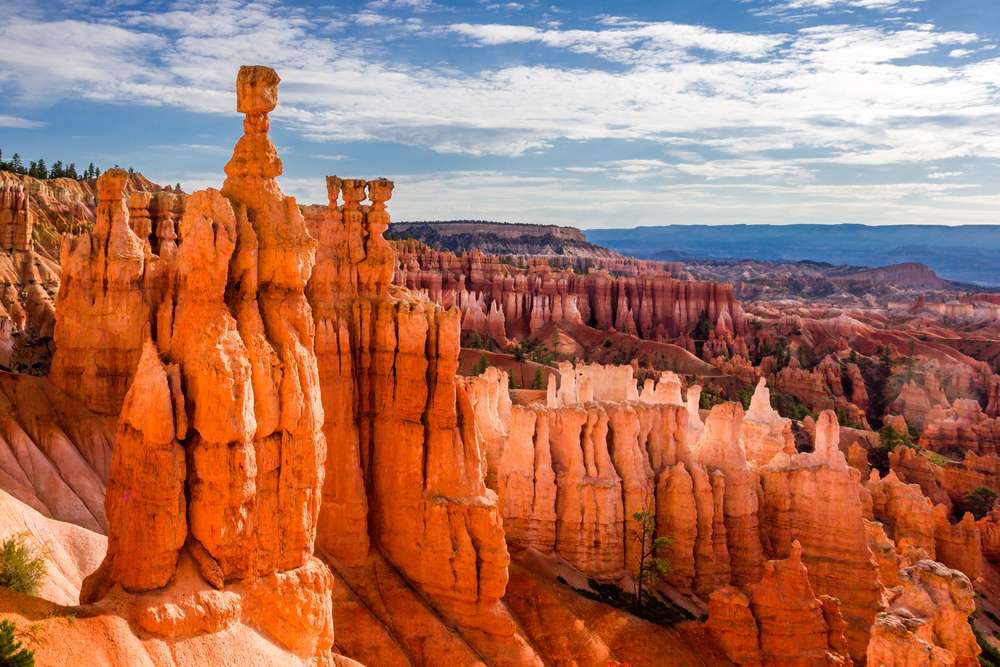 According to the National Park Service, daytime temperatures reach the high 70s to low 80s even at the peak of July and August. See the magical rock hoodoos and endless vistas, and experience magnificent stargazing during your trip.
Brian Head
Brian Head, Utah is a tiny village boasting a ski resort in winter that is a local favorite. But in the summer, Brian Head Resort becomes a mountain biker's paradise, with a variety of world-class, lift-served bike trails.
The trails range from beginner to advanced, with a high-speed bike chairlift to get your wheels to the top. If you're not into mountain biking, there are a plethora of other activities to enjoy, including chairlift rides, disc golf, trampolines, zip lines, archery and more.
The resort sits at about 10,000 feet elevation, according to their website, which translates to super cool summer temperatures for its patrons to enjoy—think a breezy 60-70 degrees.
Bonus activities
If you're more of the indoorsy type, or an outdoor adventure is simply out of reach this summer, there are plenty of more accessible options locally. The Loveland Living Planet Aquarium is a great way to spend an air-conditioned day checking out everything from deep-sea fish species to penguins and otters.
Public libraries and senior centers are designated cool zones in the summer where community members are always welcome to beat the heat. Another great free activity is dipping your toes in at a local splash pad with your family.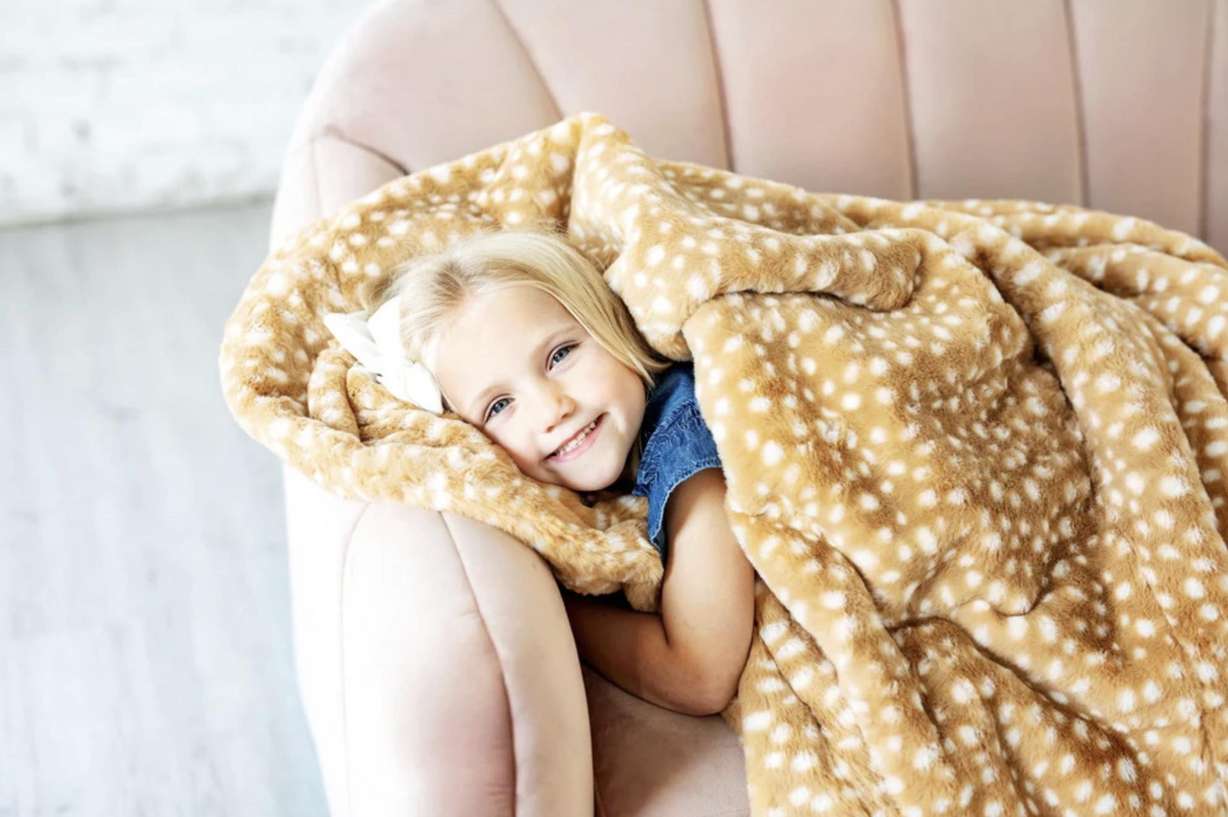 Whatever you choose, there are fantastic options throughout Utah to enjoy your summer while staying cool. Be sure to bring along your favorite Minky blanket for your chillier adventures! Shop the whole line on the Minky Couture website.
×