Estimated read time: 5-6 minutes
FARMINGTON — For about five minutes, Patrick Fishburn led the Utah Championship on a course he's grown up playing most of his life.
Technically, it was a co-lead, alongside longtime friend and former teammate Zac Blair. And it lasted just short of the end of his round in the morning flight Friday on the Korn Ferry Tour, with a group of golfers set to tee off for significantly low numbers in the afternoon.
But for a player who has grinded on the Korn Ferry Tour in an attempt to make a living in professional golf, it was pretty cool nonetheless.
Fishburn shot 3-under-par 68 on Friday, easily skirting inside the projected cutline at 9-under overall. It was a welcome change for the Fremont High alum who first played in the Korn Ferry Tour stop in his home state in 2018 when he finished tied for 24th.
"I still feel like I've got to play the same way I have been: play pretty aggressively when it makes sense, and try to hole some putts," Fishburn said. "Take care of the par-5s and hit the wedges close on the shorter par-4s.
"I'll just keep doing what I've been doing for the last few rounds and see if I can make a few more putts."
Blair carded three birdies to get to 10-under, which shared the lead until Fishburn's playing partner Michael Kim birdied the par-4, 442-yard 18th hole. He sat just one shot back of the lead, which was owned by Kim and Kevin Velo until Pontus Nyholm passed them with his sixth birdie on No. 13 of the afternoon flight following a 90-minute delay for inclement weather.
The Swedish golfer shot 7-under on the round to take a two-shot lead at 13-under into Saturday. Blair finished tied for fifth at 10-under with a group that includes former BYU golfer Peter Kuest, while Fishburn was one shot back and tied for ninth.
Like Fishburn, though, Blair was sweating his spot in the field come Saturday.
"It's always nice to play at home," Blair said. "I'm familiar with the course, and had a nice day yesterday. I had to battle a bit today, but I was able to scrape a 68. It was nice."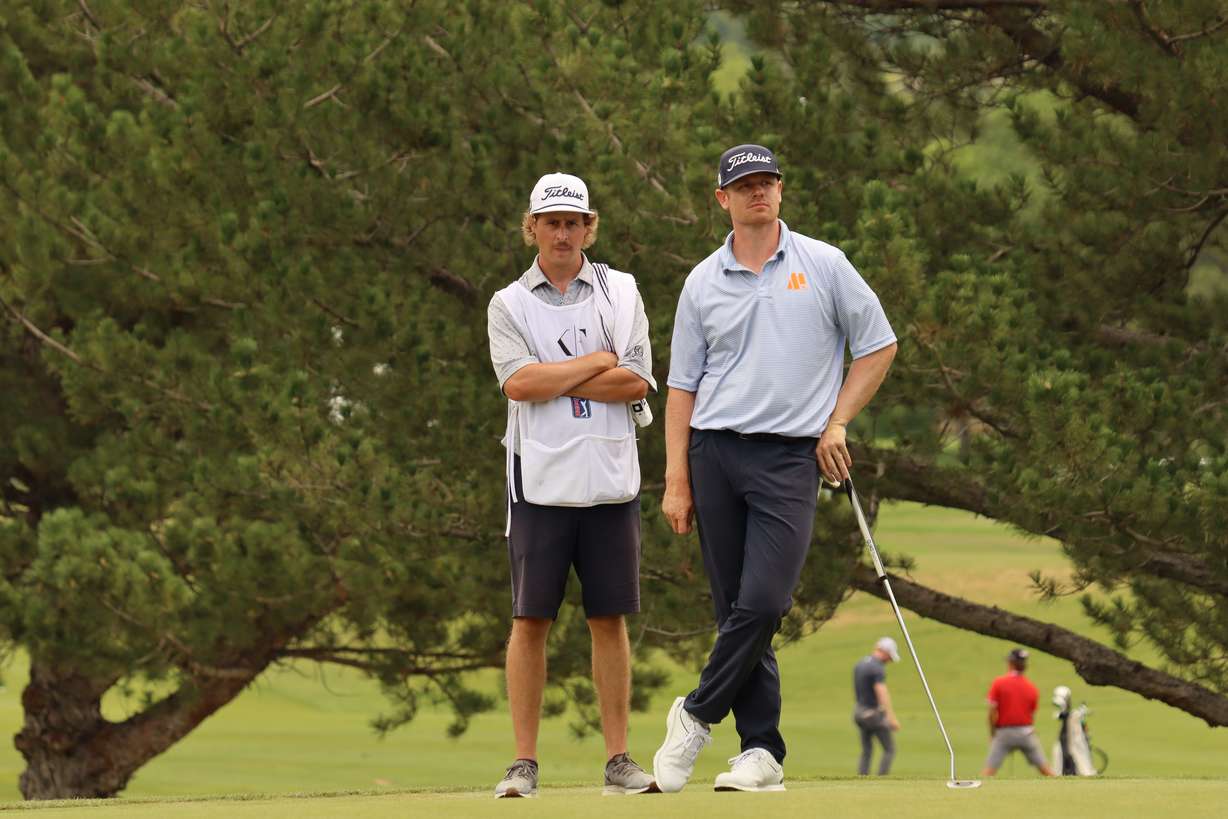 Former BYU golfer Austen Christiansen, who finished his collegiate career at Sam Houston State before turning pro last summer, shot 68 to finish at 7-under, tied for 32nd.
Kuest, the former West Coast Conference champion at BYU playing the Korn Ferry Tour event on an exemption, carded five birdies and an eagle on the par-5 15th hole, while Danny Summerhays, fresh off his first season as a volunteer assistant coach with the Cougars, shot 4-under to sit one stroke off the projected cut with two holes remaining when play was suspended Friday night for darkness.
The second round will conclude Saturday morning, with the third round immediately following.
Starting the second day within striking distance, Fishburn shot even-par on the front nine but got it going on the back. The Fremont High alum carded three-straight birdies after he "finally got a putt to drop" on No. 11 through the 13th hole that momentarily tied him for the lead with Blair and Canadian Ben Silverman.
Fishburn added a birdie on the par-5, 547-yard 15th hole before his short par putt on the par-4 17th hole lipped out en route to a 68 finish.
"I really just had to be patient; I was playing fine, just not making good scores," Fishburn said. "That's how I play; if I can get some good momentum, I can keep going. I just have to see the ball go in the hoop one time, and then I'll keep it going."
The only thing better for the former Fremont High basketball player was watching his teammates' success. Fishburn doesn't make a habit of "leaderboard watching" during a round, but it's impossible to ignore them when walking the fairways — and he really likes to see how his friends, former teammates and other associates are playing.
What he saw from Blair made him smile.
"We've always been great friends, since junior high," said Fishburn, who was confused when Blair shaved his long-growing facial hair before Thursday's opening round. "We played a lot of best-ball tournaments, and a lot of practice rounds.
"We played our final round together at TPC Colorado and had a blast. Zac's such an optimistic, positive guy that he's fun to root for."
A day after carding seven birdies, the former BYU standout making an injury rehabilitation start on the Korn Ferry Tour following shoulder surgery was bogey-free again, shooting 3-under 68 to put himself in contention before Saturday's moving day.
It's been a long road back for Blair, who is also designing a golf course in South Carolina. But he's clearly working his way back into contention on the competitive golf circuit.
"It's been a long road back, and almost two years off, so it's nice to be playing again," Blair said. "I've played golf basically every day for my entire life, so to not pick up a club for 6-7 months was wild.
"But I got to spend a lot of time with my family, had a couple of babies, and it's good to be back playing again."
---
Utah Championship pres. by Zions Bank
Local leaderboard
Projected cut: -5
T5 -10 — Zac Blair, Fremont/BYU alum
T5 -10 — Peter Kuest, BYU alum
T9 -9 — Patrick Fishburn, Fremont/BYU alum
T32 -7 — Austen Christiansen, former BYU golfer
T77 -4 — Daniel Summerhays, Davis/BYU alum
T119 -1 — Carson Lundell (a), BYU golfer
T151 +7 — David Timmins (a), BYU golfer
*Play suspended due to darkness
×
Photos
Most recent Utah Golf stories