Estimated read time: 3-4 minutes
VERNAL — It's tough going back to school. Summer fades away as you trudge through the parking lot, down the hall and to your desk for the first time.
But that trudge turns to a car show if Rebecca Ward is your teacher.
You'd be greeted by a shiny 1957 Pontiac Chieftain Safari wagon. And once you got to her third grade classroom, you'd see she has the retro look to go with it.
Ward will be starting her 15th year of teaching at Discovery Elementary (Go Foxes) in Vernal. Her father owns a transmission shop in town. He took her to car shows when she was young, and she hated it. When she got a little older, she came to like the vintage scene.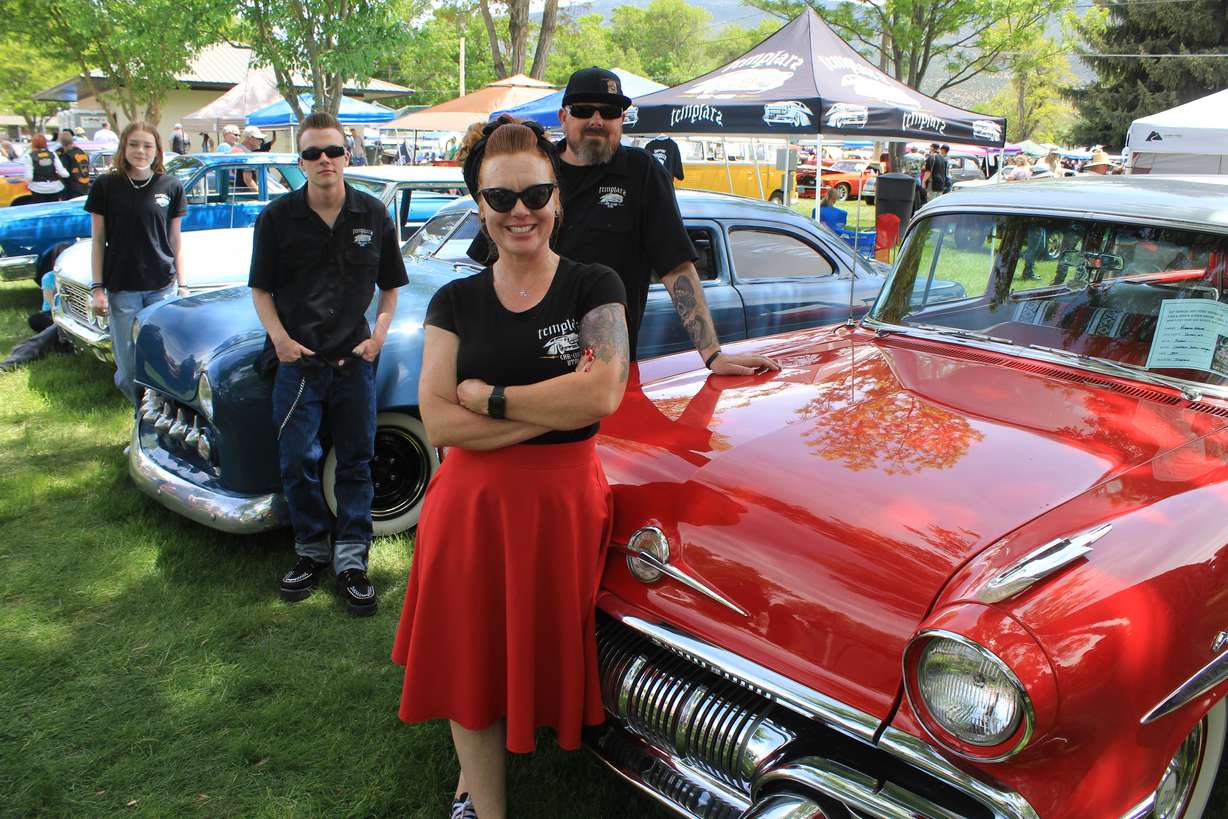 Her dad let her drive his '57 Pontiac in 2016. She loved it and bought it from him — with a daughter discount. Ward said her dad had hot-rodded it: There were Cragar rims on it, it was jacked up, had a racer steering wheel and a big 468 cubic-inch motor under the hood.
She put the original steel wheels back on (Dad had saved them), added whitewall tires, gave it two-tone paint, and did some other reverse modifications to get it looking its 1950s best. The big motor is still in it, though Ward said she doesn't need it. Her husband Devin installed a Retrosound stereo with bluetooth, and there are speaker boxes in back. They tried hiding speakers in a cooler, but it didn't sound good.
Ward said this is her daily-driven, go-everywhere car — without air conditioning. She's always tweaking the Chieftain: She wants to add fuel injection to stop the vapor-locking that plagues it on long, hot drives, and she'd also like exhaust cutouts to let the engine go from purring to roaring.
---
We're not all frumpy, old teachers.
–Rebecca Ward
---
Ward married a car-and-motorcycle guy. The two used to share a 1958 Ford Ranchero, Devin Ward drives a 1962 Ford Galaxie and now their kids are getting the old-car bug. Their son, Ian Ward, drives a 1949 Ford, and their 15-year-old daughter is looking for some interesting wheels to call her own.
Ward does not dress retro just for car shows. She said she wears the vintage, pin-up look everywhere she goes, including the classroom. She keeps it modest at school, but said she puts her hair up every day. The parents understand the era better than the students, who sometimes guess that her look is from the 1970s.
At beginning of each school year, she plays a slideshow about the car, and there are model cars in the classroom. Her retro look and the car have helped her connect with students. When she was teaching fifth grade, she recalled having some challenging boys in her class. One would stay after school for tutoring, and when Ward saw him getting frustrated, she would talk cars with him. When he brought her a model car for Christmas, she knew they had connected. She said she still sees him around town, and gets hugs when she does. She hopes she made an impact on him, and let him know "we're not all frumpy, old teachers."
Ward said that even if her students are not into cars and retro style, she's showing them it's OK to be different, to stand out and to do your own thing. She loves her summers off and hitting car shows near and far, but when August comes, she's ready to get back to the classroom. And the school parking lot.
×
Photos
Most recent Cool Cars stories