Estimated read time: 4-5 minutes
This archived news story is available only for your personal, non-commercial use. Information in the story may be outdated or superseded by additional information. Reading or replaying the story in its archived form does not constitute a republication of the story.
Along with the barbeques, pool parties, baseball games and longer, lazier days, nothing is more summery than an outdoor concert under the stars. For some people, listening to their favorite music with their favorite people in the beauty of the great outdoors is simply one of life's greatest pleasures.
To make it even more enjoyable, it helps to do a little planning ahead. You'd be amazed at how something as simple as a little bottle of sanitizer or a comfy blanket can make or break the experience! Before you head out to your next summer concert, here are some tips to keep in mind.
Stay hydrated
This should be the first rule for attending anything outdoors in the summertime: Don't forget the drinks! Dr. Corey Slovis told NBC Washington that it only takes 30 minutes in the heat to cause dehydration. Aside from hydration purposes, a bottle of water or another beverage will come in handy after you've been screaming yourself hoarse for your favorite band.
It's hard to enjoy much of anything if you're distracted by how parched you are, so be sure to bring those liquids. Many venues will allow you to bring a factory-sealed water bottle to concerts, which is good news if you don't want to pay a premium for drinks at the concession stand. Check the venue's rules and regulations before you go.
Pack some concert-friendly snacks
The only thing worse than a dehydrated concert-goer is a hangry one. Taking a few of your favorite snacks and treats will help sustain you while you're standing and singing along with all your favorite tunes for a couple of hours. Just make sure to pack snacks that are easy to share and aren't too messy. (Maybe leave the chocolate bars at home.)
Wear sunscreen
When you've got a concert at 7 p.m., you might think you're in the clear for sunburns since it's evening and the sun's going down. But keep in mind that summer sunsets sometimes don't happen until 9 p.m., depending on the time of year. You might not get burned, but you probably still need to protect your skin.
Writing for Consumer Reports, Sally Wadyka says, "The closer it is to sunset, the weaker the sun's rays will be. But as long as there's daylight, UVA rays maintain their intensity." She adds that living near the equator or at high altitudes means you'll have more intense sunlight at all times of the day. So, as long as you're outside in the daylight, it's a good idea to lather up!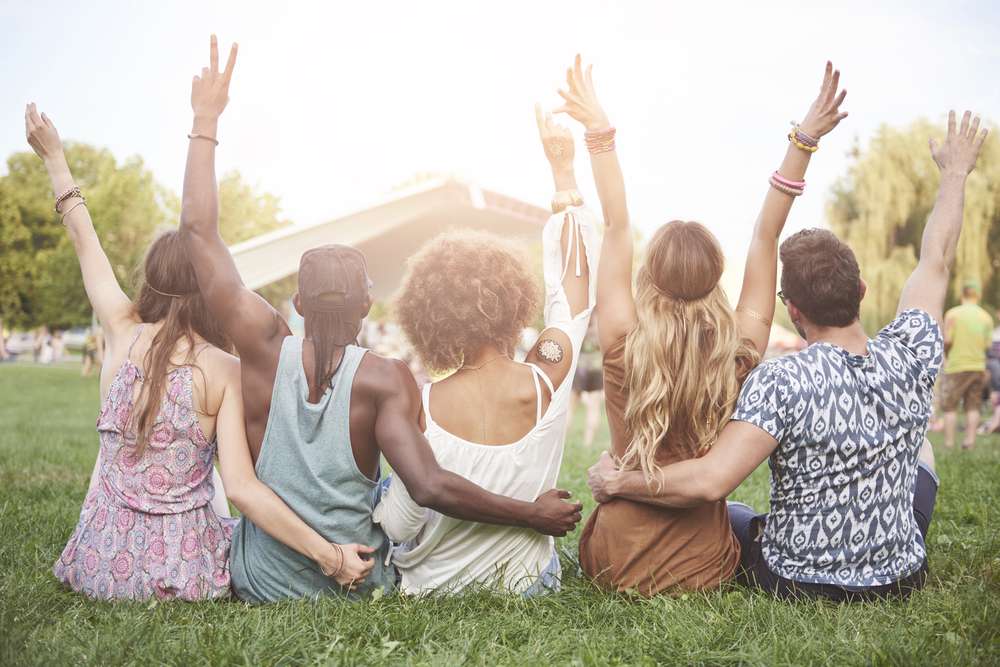 Bring baby wipes and hand sanitizer
Baby wipes aren't just useful for the diaper crowd. They're an indispensable cleaning tool that can rescue you in many dire situations. You can wipe away sweat, salty fingers, sticky spills, runny noses and more as fast as you can pop open that plastic lid. Since they don't sanitize, a small bottle of hand sanitizer is a good idea, too. People may make fun of you, but you'll have the last laugh when it comes time to use those public porta potties.
Don't try to film the whole thing
Here's one that might be a little controversial in a social media-driven world where people document everything. Yes, cameras are great tools for capturing the things you never want to forget. But that doesn't mean you've got to record every single second of what's happening all around you.
By all means, snap a selfie or two and even take a short video if you want — if it's permitted — but filming the entire concert isn't necessary. Just like that fireworks show you recorded last year, the odds of you rewatching it are low. It's better to just be present and enjoy the moment!
Hold a post-show tailgate party
This may be the most brilliant suggestion on the list. Most people consider tailgating to be a pre-show activity — but that's exactly why doing it afterward is such a good idea. While all those pre-show tailgaters are stuck in that long line of post-show traffic, you'll be happily partying away with your friends. This is a great time to bust out any special treats from your trunk and talk about your favorite songs or highlights from the show. It keeps the fun going and spares you the headache of red tail lights glowing in your face for an hour.
Bring a comfy blanket
Summer days may be toasty, but once that sun goes down things can definitely cool off. That's why it's a good idea to bring along a cozy blanket for cuddling up or sprawling out on the lawn to take a load off your feet. They're much easier to carry than those big, bulky lawn chairs anyway.
For the best summer concert experience, grab the drinks, snacks, sunscreen and wipes and pick up a blanket at Minky Couture! Their luxuriously soft blankets come in all sizes and patterns that are perfect for every concert-goer.
×