Estimated read time: 6-7 minutes
ARLINGTON, Texas — Before Brett Yormark led one of the five power or "autonomy" conferences in college football, and even before he was chief operating officer of Jay-Z's ROC Nation, he was a drummer. His twin brother, too.
"Maybe that's where I get my fondness for music," he said with a chuckle.
When it comes to his new job as commissioner of the Big 12 Conference, a role he'll formally take over from outgoing leader Bob Bowlsby beginning Aug. 1, the incoming commissooner marches to the beat of his own drum.
That was the message Yormark portrayed Wednesday during his first Big 12 football media day at AT&T Stadium, the mammoth palace built by Jerry Jones for the Dallas Cowboys that has housed its football team since 2017.
Among the biggest topics of conversation was the next round of conference realignment, where the Big 12 has an opportunity to be a player, a contender, and even — some say — a potential killer as the college football deck is reshuffled with Texas and Oklahoma's outgoing move to the SEC no later than 2025 and USC and UCLA migrating to the Big Ten in 2024.
That expansion has included a reported quartet of Pac-12 schools — the oft-described "Four Corners" schools of Arizona, Arizona State, Colorado and Utah — and as many as six, counting Oregon and Washington, being courted for inclusion in the Big 12.
The Big 12 didn't confirm conversations with any schools as expansion targets, but Yormark didn't deny any names, either. On the contrary, he proclaimed the Big 12 as "open for business."
"Optionality is good, and we're vetting all of them," Yormark said when asked specifically about the Pac-12 schools. "I think it's fair to say I've received a lot of phone calls, a lot of interest. People understand the direction of the Big 12, and we're exploring those levels of interest.
"Nothing is imminent, but we're working hard to make sure that we position the Big 12 in the best possible way on a go-forward basis."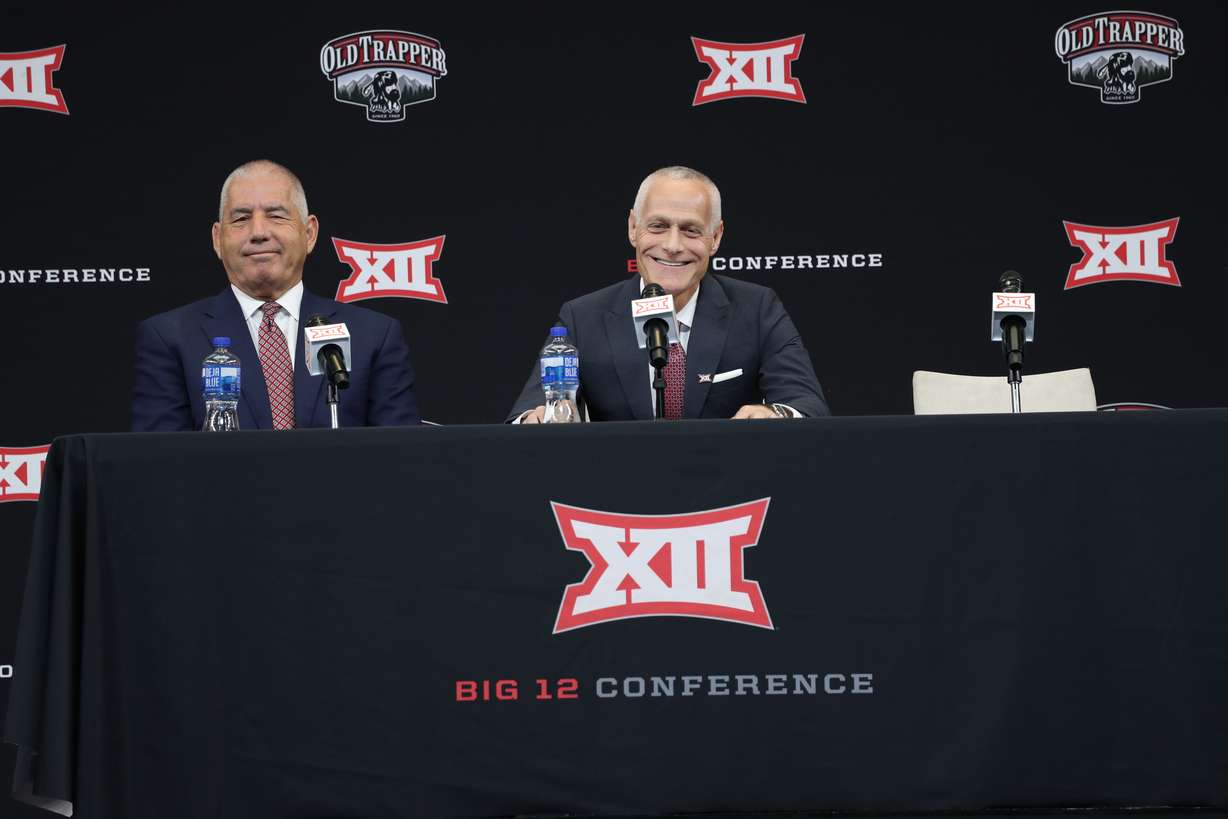 Two weeks since USC and UCLA rocked college athletics with their seismic announcement, the tectonic plates of college realignment have settled as the Big Ten waits for Notre Dame to decide if the independent Irish want to join a conference and the SEC seems content to remain at 16.
Of course, that doesn't mean nothing is happening. Just that the staring contest continues.
Sometimes the most interesting negotiations are the ones that don't get reported. And what isn't being reported because of realignment might be the commissioner's biggest task: the Big 12's media rights deal with ESPN and FOX expires in 2025.
For Yormark, nothing is more important than those negotiations for a television deal — and yes, that means old-fashioned, traditional, over-the-air television, in addition to streaming or whatever comes the conference's way down the road. The Big 12 distributed $42.6 million per institution last year, a conference record and a 25% increase from four years ago, Bowlsby confirmed.
It's unclear if that number will go up, down or stay neutral with the exits of Oklahoma and Texas. But Yormark is well aware that the success of his conference will, in many ways, ride on that television value.
"We want to be innovative. We want to be creative. We want to reach our fans in every way possible: linear or digital," Yormark said. "I think it's incumbent upon us to work with our partners to reinvent that experience and how we know it today.
"We have three more years. But when all the parties are interested in getting together and want to sit down, we're open to it."
Shortly after the Big 12 announced their new hire, Baylor president Linda Livingston — the vice president of the three-member executive board of directors that ultimately hired Yormark — called up the incoming commissioner. First, she welcomed him to the conference, then she turned her attention to the Pac-12 schools' recent migration to the midwest.
"Welcome to college athletics," she quipped. "And you thought working with Jay-Z was really exciting."
As he prepares to vacate his current role, outgoing Big 12 commissioner Bob Bowlsby wouldn't venture to guess where college football will be in 10 years. Not even five — maybe 10 minutes, he joked.
That's even more true after Bowlsby was part of the committee that presented a 12-team expanded playoff, a proposal that was turned down primarily by the Big Ten, ACC and Pac-12.
"In the end, you're gonna eat what you kill," Bowlsby said. "We live in a zero-sum game; somebody wins and somebody loses.
"There will likely be traditionally strong programs that are no longer in the conference. And there will be somebody that comes out of nowhere to have success; that's one of the great things about college athletics."
Yet with nearly a month yet until his official start date, Yormark is off and running. Conference realignment waits for no man, and the Big 12 has been determined to be a player in the current round of eat-or-be-eaten deck shuffling.
A year ago, the Pac-12 rebuffed public offers from Bowlsby to ally, partner, or even soft merge as the Big 12 reeled from the loss of its two biggest brands. George Kliavkoff opted against the decision, the league decided not to expand, and the Big 12 moved quickly to its next targets: adding BYU, Cincinnati, Houston and UCF.
Currently, the league plans to play as a 14-team league in 2023 and 2024 before the Sooners and Longhorns move to the SEC in 2025. Expansion to 16, if not more, seems likely — if for no other reason than to simply keep up with the numbers being put forth by the SEC and Big Ten.
That could include going after the Four Corners schools. It could involve a merger or partnership with the Pac-12. It might even involve another direction of expansion, one unseen as of yet — the ACC? The American? The Big East, to build a truly dominant basketball league?
Plenty is on the table.
"There is not a definitive plan right now. We're exploring all options," Yormark said. "As we vet out the possibilities, everything will be additive, nothing will be dilutive, and I feel very confident that our conference is in the best position it's ever been in before. Bob is leaving us in a great place."
Expansion isn't the only thing on Yormark's to-do list. Sure, it's important, but the new guy's biggest job: bringing the Big 12 into the future, making the league "younger, hipper, cooler" and improving on the brand built by Bowlsby and others.
"I think there's incredible upside with the Big 12," Yormark said. "It's one of the reasons I'm here today.
"We have a chance to build our brand, our business, nationalize our conference in a way that hasn't been done before, and I'm excited to go to work and start that process."
×
Photos
Most recent BYU Football stories