Estimated read time: 6-7 minutes
Utah is known for its majestic mountains and red rock desert landscapes, but some of its most interesting views are not found above ground, they're found below.
Utah's caves are as plentiful and diverse as the landscape. From large, open caves led by a tour guide, to tight, belly-crawling caves dropping hundreds of feet below, caves are some of the most overlooked natural wonders in Utah.
Whether you're looking to show your family some interesting sites on a Saturday afternoon, or are an experienced caver wanting to plumb the depths of the earth, Utah's cave topography has what you're looking for.
Here are some epic caves to check out in Utah.
Timpanogos Cave/Middle Cave/Hansen Cave
Perhaps the most famous of Utah caves, the Mount Timpanogos Cave National Monument contains a trifecta of fascinating caves: the Timpanogos Cave, Middle Cave, and Hansen Cave.
The three separate chambers are connected by man-made tunnels, and within each, you'll find stalagmites, flowstones, underground pools and stalactites. It's also worth noting that the cave is cool year-round—averaging 43-49 degrees despite the weather outside, reports the National Park Service.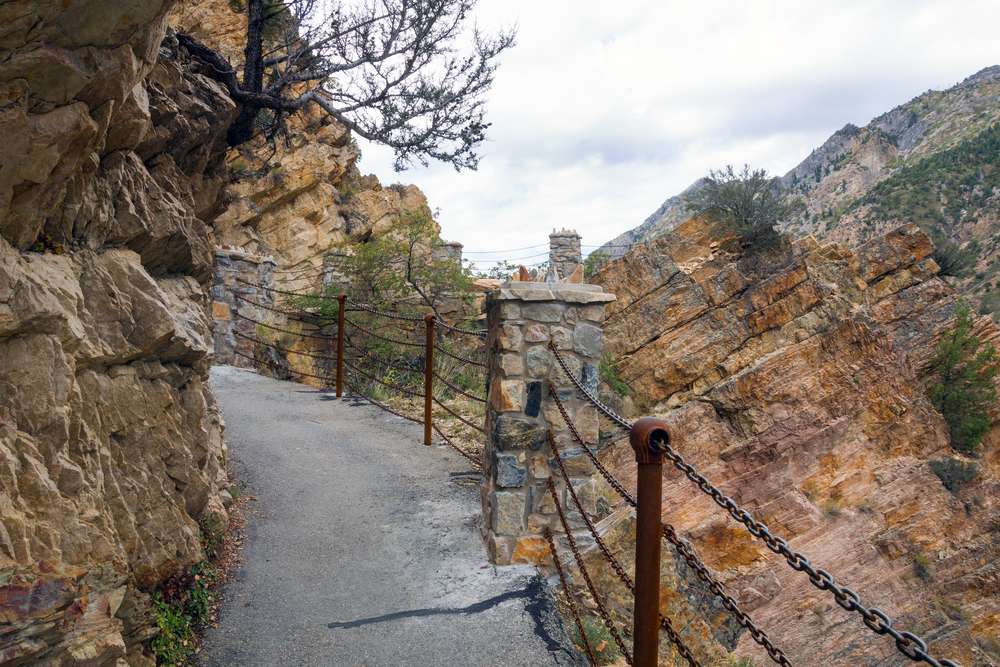 Located in American Fork Canyon, these natural wonders are only a short drive away and are well worth the visit. Be advised that to access to the cave requires a strenous hike up a steep, paved trail 1.5 miles long. So make sure you are prepared with water good footwear. For more information, visit the National Park Service website.
Crystal Ball Cave
One of the most interesting caves in Utah is Crystal Ball Cave, located in Gandy, Utah, and is one of Utah's most underrated gems.
Discovered in 1956 by George Simms while searching for a lost sheep, this cave has it all. From giant geodes and calcite crystals covering the walls, floors, and ceilings, to one-of-a-kind stalactites, stalagmites, columns, cave coral and cave bacon, Crystal Ball Cave is well worth the visit.
One TripAdvisor reviewer said, "SO COOL! Memory-making trip for all. Can't wait to return with our friends and share this hidden gem with them!"
While the cave is under the direction of the Bureau of Land Management, cave operations are overseen by the Bates Family Ranch and tour reservations are required. While there is no fee, donations are appreciated. Visit their website for reservations and more information.
Bloomington Cave
One of the more advanced caves on this list, Bloomington Cave located in St. George is the fifth-longest cave in Utah.
After lowering themselves into a dark cavern, advanced cavers will feel right at home in Bloomington Cave, where crawling, squeezing, slinking, and climbing is required to see all the caverns and passages of this 1.39-mile cave.
The BLM website says, "It is a large tectonic cave, and has at least six distinct levels and a maze of passages that are generally narrow, often with steeply dipping floors."
While not an easy caving experience, Bloomington Cave is among the most popular advanced caver destinations in the state for good reason: the underground sights are unforgettable.
To visit and check out the skill level required, visit the BLM website.
Snow Canyon Lava Tubes
Located along the Lava Flow Trail in Snow Canyon State Park near St. George are two large lava tube caves. Created by ancient volcanic lava flows, these tubes are great for cooling off and spending some relaxing time exploring.
Easy and accessible for almost anyone, including children, the Snow Canyon Lava Tubes is fun for the whole family is coupled with beautiful red rock and lava scenery along the way.
For more information, click here.
Main Drain Cave
Located near Logan Canyon, this vertical cave descends more than 1,120 feet deep and is more than two miles long, making it Utah's deepest cave, and the 11th deepest cave in the nation, reports KSL.com.
This expert-only cave is tough, physically and mentally. You need specialized rappelling and climbing gear because some drops are more than 200 feet. The KSL.com article says the rocks inside the cave are sharp and jagged and can cut through typical rock climbing rope.
Be prepared for a long day of being in the cave, and about an hour and a half walk to and from the cave entrance. While the cave requires a lot of physical and mental exertion, the beauty inside is otherworldly.
Not much information is known about the exact location of this cave, as it's against the law to give out GPS locations of certain caves, reports KSL.
Mammoth Cave
Located in Dixie National Forest, Mammoth Cave is a lava tube but is larger than most others in the state.
As with other caves, temperatures stay cool year-round, making for a nice respite from the heat. The cave extends about a quarter of a mile and has four chambers that are excellent for exploration, and for spotting small birds, bats, and other small mammals along the way, notes the Forest Service.
Formed by lava and flowing water less than 2,000 years ago, Mammoth Cave is one of the younger caves in Utah. With three entrances, there are several ways to explore the tunnels, and most adults and children will find it relatively easy to navigate. Just make sure you wear clothes that can get dirty and to bring some flashlights.
To get directions and other helpful information, visit the U.S. Forest Service website.
Minnetonka Cave
Minnetonka Cave, just northwest of Bear Lake is actually in Idaho, just across the Utah border. It is a breathtaking half-mile exploration of the world's geological wonders. The Forest Service describes the cave as having lots of stalactites, stalagmites, and banded travertine in nine rooms.
Open from mid-June through Labor Day, this cave is one of the most frequented in the state by visitors. Tours and admission fees are required, but given the fascinating beauty that awaits, it's a price worth paying.
You can take a virtual tour with a park ranger by watching this YouTube video.
Moqui Cave
If you're in the Kanab area and want to escape the heat, you're sure to have a good time at the Moqui Cave. It's more of a museum than a cave for exploring, but this long-time Southern Utah landmark is a must-see for those traveling through the area.
Moqui Cave showcases a large display of Native American artifacts, fluorescent minerals, and dinosaur tracks. Perhaps the reason it's so well preserved is because of its variety of uses throughout the years. The Moqui Cave website says it was once used as Southern Utah's first dance hall and bar. To visit the cave, check out their website for tour information.
×