Estimated read time: 5-6 minutes
Gone are the days when you could sleep in, make a mad dash through the airport like the characters in "Home Alone" and board your flight with seconds to spare. While the Transportation Security Administration has no set rule about how early you should arrive, they do recommend leaving plenty of time for parking, checking in and going through security.
That advice may help you catch your flight — but it's not the real reason you want to show up early. Not at the Salt Lake City airport, anyway. The 59 carefully-curated retail stores and restaurants in the terminal and concourses will have you wanting to arrive well before take-off.
Shane Andreasen, the airport's director of administration and commercial services, says the national and Utah-based shops and eateries are designed to represent a variety of tastes and the local culture.
"Travelers want to experience Salt Lake, even if they are just connecting through here," Andreasen says. "Having a strong representation of local restaurants and retail, along with familiar national brands, makes for a positive and memorable travel experience."
Efforts to upgrade the Salt Lake City airport experience haven't gone unnoticed. The airport recently received the 2022 Richard A. Griesbach Award for Excellence in Airport Concessions. It is the highest honor given to recognize concessions by Airports Council International-North America (ACI-NA). The award considers an airport's entire concession program — including food service, retail, and consumer services — in terms of the overall mix, quality, brands, sales, and build-out.
So you might want to plan some extra time before your next flight just so you can explore the airport's best-of-the-best concessions. This list won't hit all 59 stops, but here's a brief sampling of some of the great locations you can check out before flying out of Salt Lake.
Must-stop shops
The Salt Lake airport boasts of having the only brick-and-mortar location of Frye, the maker of fine boots, shoes and sandals for men and women. You can also find a nice selection of accessories like scarves, leather totes, purses and belts to compliment your outfit. Check it out on the corner of Departures Hall and Concourse A!
If you're in the market for some fine, uniquely Utahn goods, options abound in this category as well. Browse the selection of skincare products, books, journals, handbags and loungewear at Hip & Humble in Concourse A.
Hop on over to Concourse B to visit the new UTAH! Store, which is chock-full of local products ranging from Cox's Honey to Taffy Town candy and other local brands. Pop into the Visit Salt Lake store in Concourse A for more products made by local artisans. From handmade jewelry to graphic art and fine pottery, you're sure to find a few treasures you'll want to take home.
Tasty local flavors
No one wants to travel hangry, which is why hitting up one of the many food joints is a good idea before you board. Along with some established chains, the airport also shows off Utah's local tastes and flavors. Fill up your coffee cup at Beans & Brews, indulge in an award-winning French pastry from Gourmandise or bite into a delectable truffle grilled cheese at White Horse Spirits & Kitchen. (Is your mouth watering yet?)
If you like to boost your spirits with some spirits before you fly, two of Utah's popular breweries — Uinta and Wasatch — operate in Concourse B as well. The Terminal Plaza also features Rooster Brewing Co., another local favorite. While you're there, why not treat yourself to a pre-flight meal of chowder and fresh fish at Market Street Grill?
A more convenient travel experience
Salt Lake City International Airport is striving to make life easy for travelers. Case in point: All eateries that serve coffee are required to open as soon as the security checkpoint opens, which is promptly at 4 a.m. That way, all the non-morning people can get their caffeination fix as soon as possible. And if you're worried about missing out on the fine dining options in another concourse, simply download the SLCtoGo and someone will deliver food from several airport restaurants directly to your gate. How's that for convenience?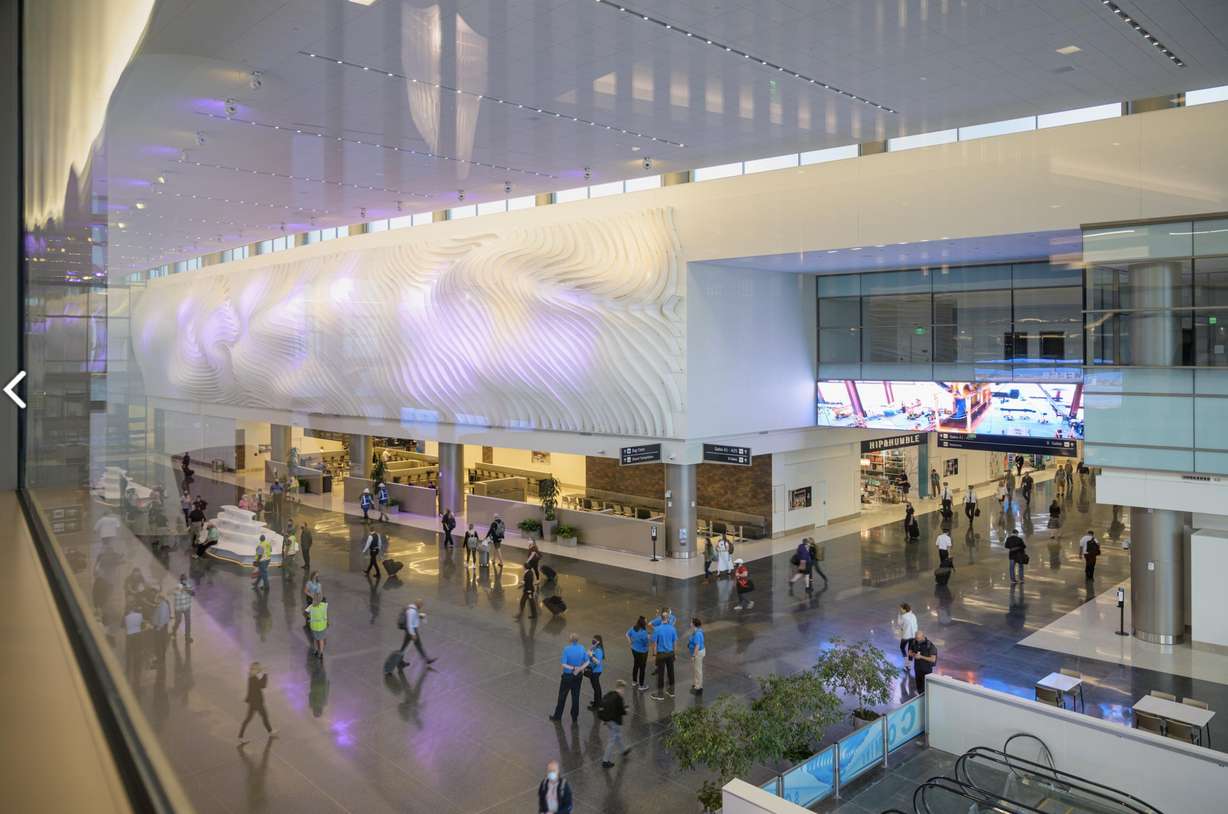 More options are coming soon
While there are currently 58 operational restaurants and retail locations in the airport, No. 59 will be hitting Concourse B this summer. This will be a wellness-based retailer that offers massages, private yoga rooms, shower rooms and more — which might be just what stressed-out travelers need.
But that's not all. The airport recently announced plans to add 19 more businesses to Concourse A by November 2023. KSL.com reports that these restaurants and stores include local flavors such as Blue Iguana, Red Rock Brewery, Vessel Kitchen, SLC Public Market and a Utah Jazz Pro Shop, among others. Andreasen says that these spaces will be mostly affordable, fast-food restaurants.
"We've heard from many people who miss the option of more national hamburger chains in the former airport," he explains. "So, we've reserved a space for a Burger King in Phase 2.
Until then, you still have a couple of fast-casual options. Satisfy your burger cravings by heading to the Shake Shack on Concourse A or Smashburger on Concourse B.
Getting there is half the fun
Next time you're waiting around at Salt Lake City International Airport, take advantage of having all these great shops and eateries in the same spot. Grab a bite to eat, scope out the perfect souvenir or just go exploring. You might find that traveling is more enjoyable than you thought.
For a complete list of restaurants and retailers at the Salt Lake airport, visit slcairport.com.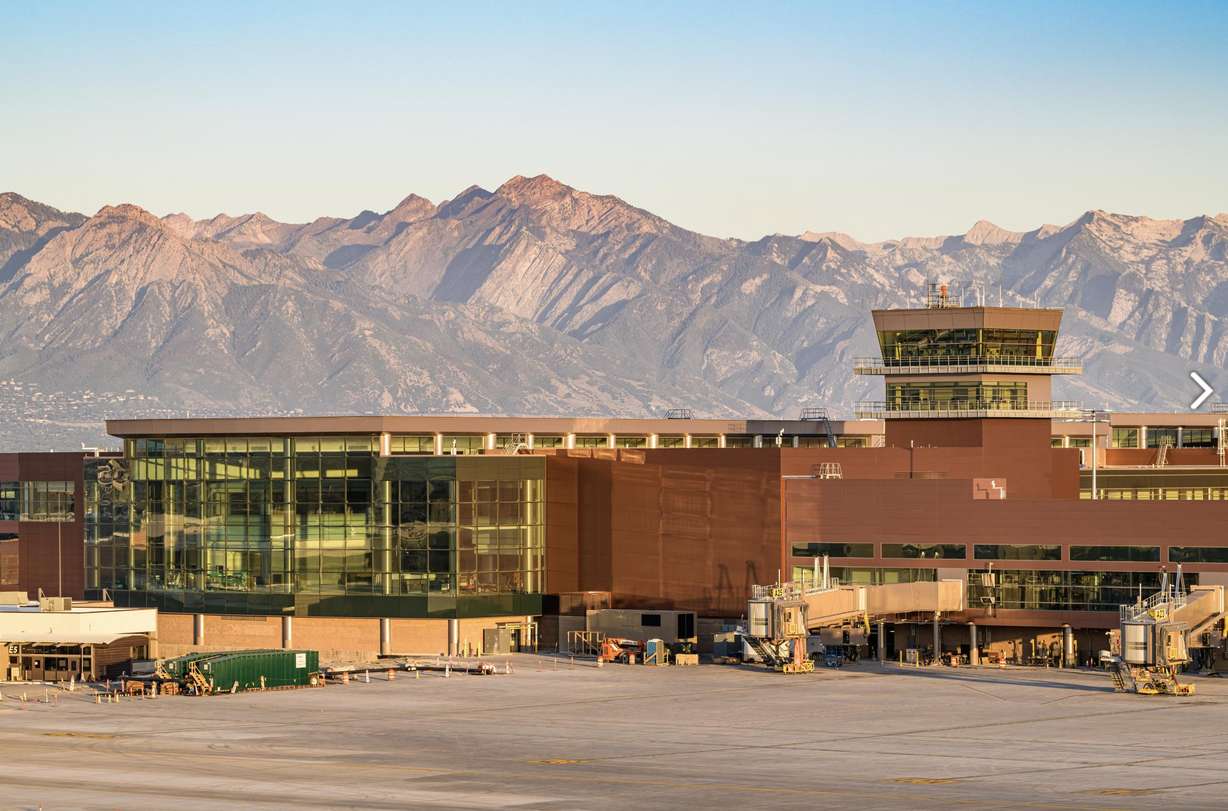 ×