Estimated read time: 7-8 minutes
PROVO — Kahil Fennell's first introduction to Brigham Young University and its accompanying athletic department was hardly positive.
In fact, it's pretty easy to surmise that he wasn't a fan.
Fennell grew up in Hawaii, and like many of his friends and peers on the Big Island, his parents were season-ticket holders for Hawaii football. Long-tenured BYU fans from the days of the Western Athletic Conference probably know where this anecdote is going.
"My earliest memories are of Ty Detmer kicking our behinds. I was very much not a fan of BYU," Fennell said. "But I have a tremendous amount of respect for the school and the community here. The standard that is upheld here, the tenets of the religion and the community and the ability to build up people around you; it's not like other places. That makes this place really special, and that's always spoken to me."
So how did a former Rainbow Warriors fan who played high school basketball in California and most recently worked at Louisville for the past four years — and who is not a member of The Church of Jesus Christ of Latter-day Saints — wind up on Mark Pope's staff with BYU basketball?
It starts with a friendship among the coaching fraternity, a sacrifice-filled career move into basketball, and a drive to win at the highest level bringing Fennell to Provo over a handful of other suitors to slide in alongside Pope, assistant coaches Cody Fueger and Nick Robinson, and director of basketball operations Bobby Horodyski.
"There were at least two high majors and a really good mid-major that were chasing him; he might have been the most sought after coach in this cycle," Pope said. "But the process was really fun. He's an incredible personal coach, a great communicator, and you can see inside him really fast.
"He fits in exactly with Nick, Cody and Bobby; the four of those guys will be a force to be reckoned with."
Coast to coast
Even though he was born and raised in Hawaii, Fennell played high school basketball in California, where he won all-league honors as a team captain at Thousand Oaks. After a year playing junior college basketball at Penn State New Kensington, Fennell returned to the west coast and finished his playing career at the University of the Redlands, earning a degree in history in 2004 and beginning a post-playing career in the medical device industry for the next decade.
Here is where his story parallels Pope, who now famously left medical school to take a job as director of basketball operations on Mark Fox's staff at Georgia in 2009.
"I get it," Pope said cheekily of the transition to coaching, calling Fennell a 'rising star' in the corporate world. "Clearly, he's a world-class communicator, but he just decided what he wanted his life to be about, and he had the courage to actually do it.
"What he's accomplished since has been incredible, too."
Fennell started his fast-climbing coaching career at Alameda High School in 2014-15 before moving to the college ranks at Texas-Permian Basin. During his lone season as head coach in 2016-17, the Falcons set a school record for wins and ranked first in NCAA Division II in rebounding and 12th in scoring.
That earned him a call to Division I, where he joined Barret Peery's staff at Portland State in the Big Sky conference. It was there that Fennell got to know Utah the most — apart from an ingrained hatred for Provo learned from his childhood — while working under the Payson native and former Snow College standout.
"He's been tremendous, a great resource for me," Fennell said of Peery, who is currently the associate head coach at Texas Tech. "He helped me get a better feel for Utah since I'm not from here. He's a big, big fan of this program, and he's wished me well at every step."
During his lone season in Portland, Fennell and the Vikings set a program record with 10 road wins en route to a berth in the CollegeInsider.com Tournament (currently The Basketball Classic).
From there, Fennell joined Chris Mack's staff at Louisville, first as director of basketball operations and last season as an assistant coach.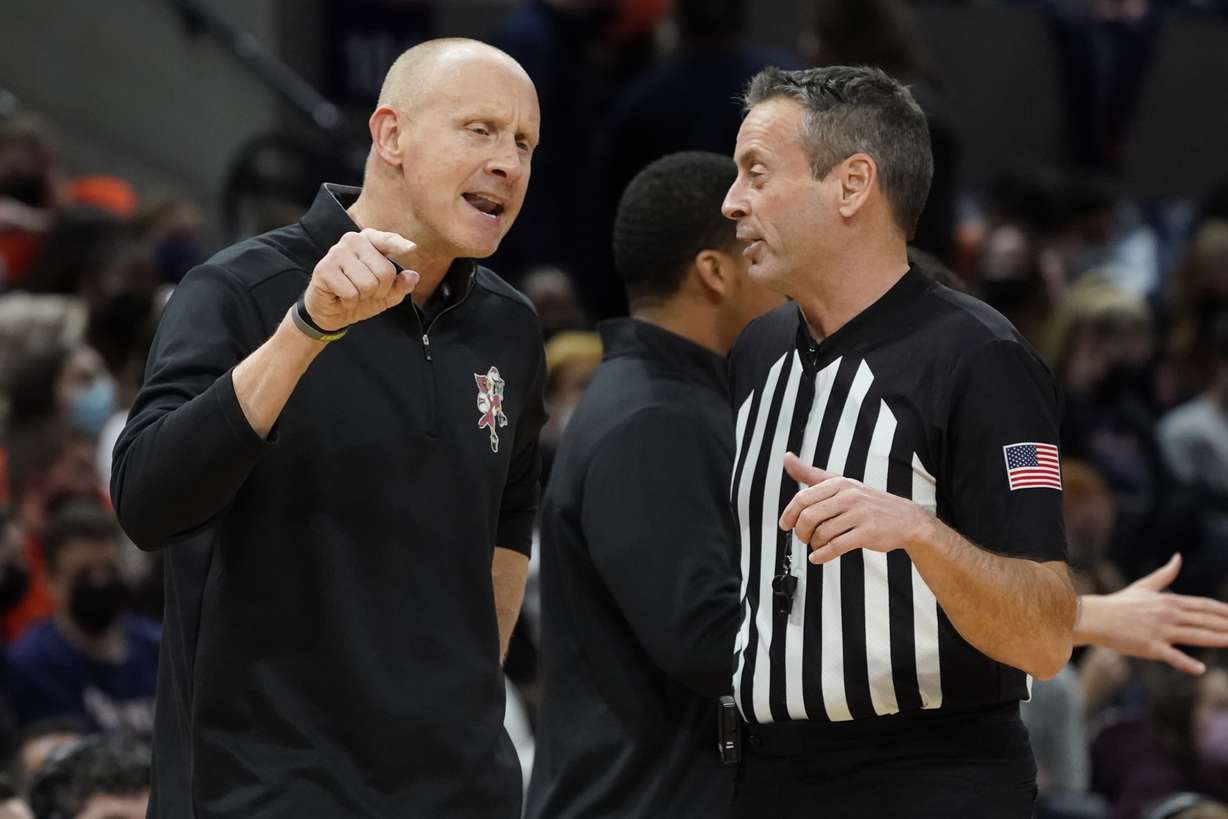 Beyond basketball in the 'Ville
On the court, Fennell's four seasons with the Cardinals were superb, with a 70-47 overall record and a berth in the 2019 NCAA Tournament as a No. 7 seed. Louisville won 20 games twice during his tenure, one of just seven schools nationally to reach that mark in at least 18 of the past 20 seasons.
Off the court, though, was a different story. The program was under a shroud following a federal investigation into the alleged $100,000 recruitment of a five-star prospect under former coach Rick Pitino, and a new investigation last year involving the possible extortion of Mack and as many as six Level II violations, with a Level I "major" charge filed by the NCAA last October.
All the while, the Cardinals were enveloped in the same COVID-19 pandemic restrictions of the past two seasons as the rest of the country — and Louisville found itself at one of the centers of the social justice movement sweeping the country following the killing of Breonna Taylor, a 26-year-old Black nurse in Louisville, by seven police officers in March 2020.
Fennell marched with his players in the streets of Louisville in protest.
"We were challenged with some social justice stuff, being in Louisville at the time of the Breonna Taylor situation," said Fennell, who is Black. "I participated in some marches that we organized with our team, which was really important to our players, to give them a voice and a platform. But it's not like I'm out making bold proclamations on Twitter, or making my stance public other than being a part of a greater movement that I think is important. It's supporting our players in the same thing, and that meant a lot to me."
Finding home in Provo
After Mack was fired and his staff dispersed, Fennell put in for the open job at BYU when Chris Burgess left to fill an assistant coach opening at his alma mater, the University of Utah. The two sparked a friendship through their years in the business, but Fennell is quick to point out that Burgess was professional enough not to tip him off to his departure for the Hill.
Instead, Fennell put in for the job and struck up an immediate kinship with Pope. As soon as the offer was extended, he and his wife Sarah packed up the family, which includes two boys, Ezra and Koa, and made the trip back west, to a new frontier in the intermountain west, one of the few pockets of the country he hasn't coached after spending time in California, the Pacific Northwest, Texas and across ACC country.
"BYU is a unique place, but I couldn't feel more supported in the time we've been part of this process," he said. "It's been touching, in a lot of ways. It's an environment, and a community that has really opened us with open arms. That's all I can ask for."
With BYU at a crossroads, with one year left in the West Coast Conference before joining the Big 12 in 2023, Fennell comes to Provo with Power Five experience and a national recruiting notebook in his decade in college basketball.
That — and a chance dinner with Sarah Fennell and his wife Lee Anne — sold Pope on his new assistant.
"His life experience was super important," Pope said. "How convicted is he about the things he cares about? It was seeing his insides that made him extraordinary. That's what people feel … and that's what makes him elite."
He may be known as a dogged recruited or a social justice activitist. But the main thing Fennell wants to do is develop players, whether it's Fousseyni Traore, Atiki Ally Atiki, Trey Stewart, or anyone else on the BYU basketball roster.
"These are guys that I cannot wait to work with, to get my hands on them and get them on the floor, to get a feel for how they work and how they're coached," Fennell said. "And also vice versa. … I can be a little less friendly on the floor than I am here, and it can take some getting used to for all parties. But I'm looking forward to it."
×
Related stories
Most recent BYU Basketball stories