Estimated read time: 5-6 minutes
This archived news story is available only for your personal, non-commercial use. Information in the story may be outdated or superseded by additional information. Reading or replaying the story in its archived form does not constitute a republication of the story.
SALT LAKE CITY — When Olympic champion Nathan Chen flew into Salt Lake City for his first extended stay in his hometown this week, there were a few places he wanted to go, from the Wasatch Mountains to City Creek mall to one of his favorite restaurants, Red Iguana.
But there was also some business to attend.
In a special proclamation issued Wednesday, senate president Stuart Adams and Utah Sports Commission CEO Jeff Robbins, in consultation with Utah Gov. Spencer Cox, declared May 18, 2022, as Nathan Chen Day, in honor of the Salt Lake City-born Olympian and "his outstanding athletic accomplishments" that include five U.S. championships, three world titles and the United States' first Olympic gold in over a decade.
How does one celebrate Nathan Chen Day?
"Go to the ice rink," the three-time world champion and reigning Olympic gold medalist said with a laugh. "Go skate."
Chen was in town as part of the Stars on Ice tour Wednesday night at the Maverik Center and accepted the honor given to him by Robbins on the governor's behalf. And while Salt Lake isn't the first place he's visited since stepping off the ice in Beijing as an Olympic champion, it's certainly the most thrilling.
Salt Lake City is, after all, the place where his dream began, as a 3-year-old prodigy who gave up hockey and other sports to focus on figure skating full time. It's where the toddler in the wake of the 2002 Winter Olympics first learned to skate, and to appreciate a sport that he would eventually — depending on who you ask, at least — go on to conquer.
"This is the one and only," said Chen, who will be joined by his mother, childhood coach Stephanie Grosscup and several elementary school teachers and friends at Stars on Ice. "But this is the state that means the most to me.
"Just to be back here in Salt Lake, this is where I'm from; this is where the journey started. It's special."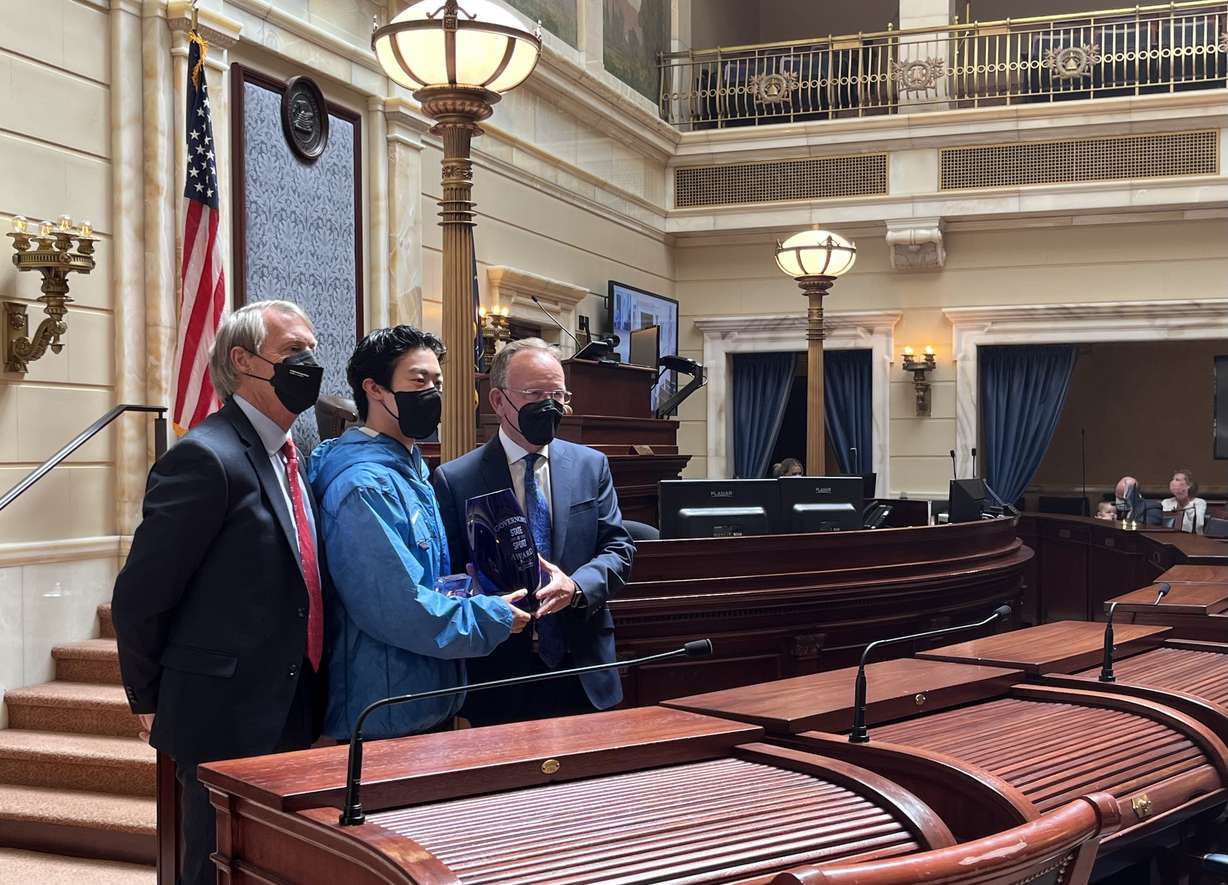 And somewhere in the Salt Lake area, there's another Nathan Chen — a future Olympic gold medalist whose heart may be captured by some sport and go on to win titles and championships 20 years later.
That's why Chen gladly accepted a role as an ambassador with the committee to bring the Winter Games back to Salt Lake City in 2030 or 2034.
"Truthfully, I didn't think I'd ever make it to where I've made it in figure skating," the five-time U.S. champion Chen said. "I'm absolutely certain that there are many other young athletes who can achieve, so long as they have the inspiration and the passion. That's the most important thing.
"It's not always an upward journey; there are always ups and downs. But in order to maintain that passion, you have to maintain that dream and that drive, and the Olympics for me was that dream and drive. I'm certain that will be the same case for many other young athletes."
Pitching Salt Lake as another landing spot for the Winter Games is an easy sell, Chen adds.
"I know firsthand how inspiring the Olympics can be. Salt Lake is incredibly equipped to handle one, considering they've already handled one once before; the infrastructure is here," Chen said. "I think this is a great opportunity for Utah, and so many young athletes will be inspired by sport and pick it up for the first time to pursue their dreams."
Chen's voice on the committee is an important one, Robbins said. Not only is he the reigning world and Olympic champion, but his story has already inspired millions.
And you can't tell the story of Nathan Chen without Utah.
"He's a great ambassador," Robbins said. "He's arguably the best figure skater in the world right now. But we also have things like the IronmanWorld Championship held last week; when you start looking at the impact sports is having on the great state of Utah, and the global impact, all of those things come together to recognize Utah.
"I've had a chance to spend some time with Nathan today, and I can tell you, he's a great guy and a terrific ambassador."
He also happens to be a terrific figure skater.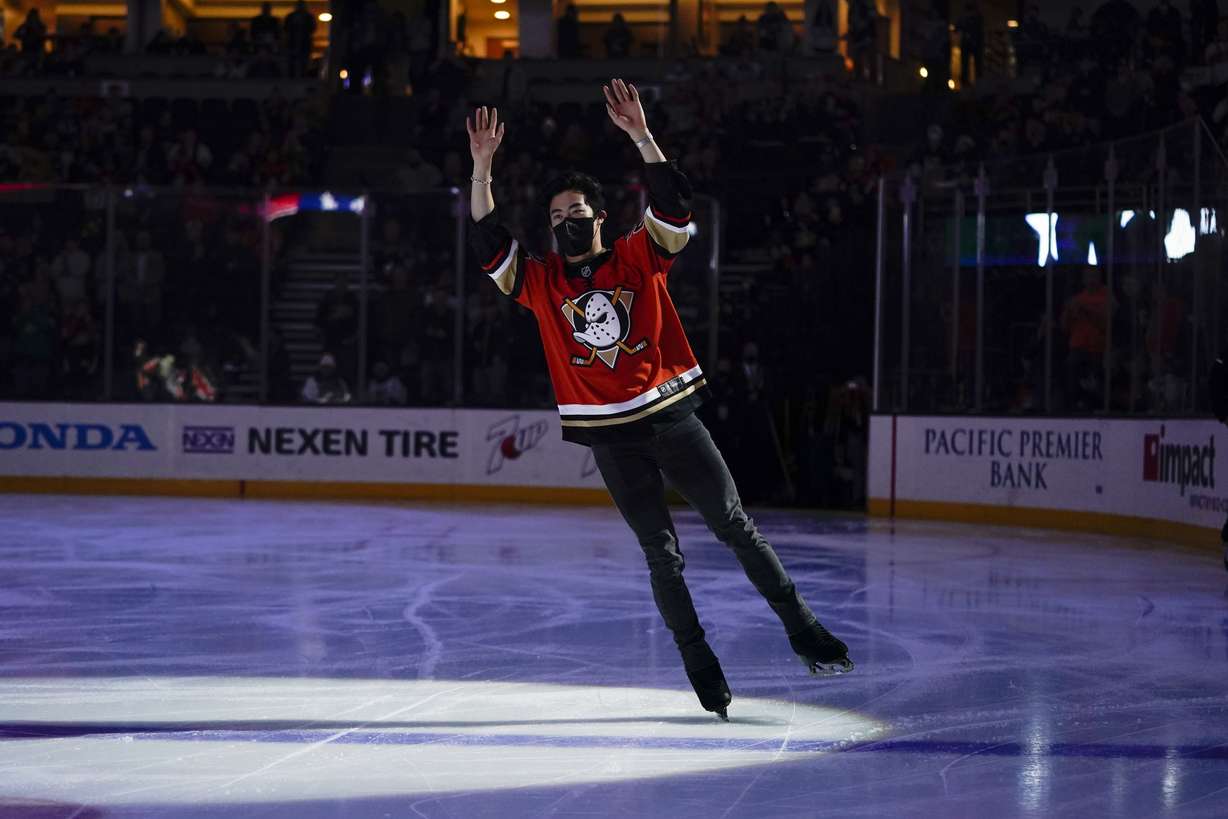 Skating to Elton John's "Rocket Man," Chen dazzled the world during a free program that won his first Olympic gold medal, fully redeeming one of the toughest moments of his career four years earlier after a fall during the short program at Pyeongchang.
Chen put those worries to bed in Beijing, landing five quad jumps to score a personal-best 218.63 in the free skate to cruise to the gold medal. In doing so, the 22-year-old Chen became the first American man to win gold in figure skating since Evan Lysacek in 2010 and joined an exclusive list as just the sixth American male to ever do it — and two in the last three decades.
The son of Chinese immigrants born in Salt Lake who attended West High until he moved to California to continue his training is one of the most decorated American figure skaters of the modern era, with three world championships, three Grand Prix finals and a world team trophy to go along with Olympic medals in gold, silver and bronze.
By the end of the summer, though, Chen hopes to be something far different than a figure skating legend: an average college student.
Officially a junior at Yale majoring in data science and statistics, the Ivy Leaguer hopes to continue his studies and put himself back on track for medical school. That's no small feat after taking a couple of years off to train for Beijing 2022; but if Chen has shown nothing else, it's that he's up for a challenge.
And Yale is the perfect spot for that next challenge.
"Yale has some pretty amazing students and student-athletes already," Chen said. "It's going to be a lot of fun, completely switching roles to just be a college student. That will be a fun role to explore, since I've spent so much time exploring skating.
"But ultimately, I'm so intimately tied to skating that I'm sure I'll always find myself back at the rink. The next two years will be fun."
Contributing: Alex Cabrero, KSL-TV
×
Photos
Related stories
Most recent Utah Olympics bid stories