Estimated read time: 7-8 minutes
SALT LAKE CITY — Whether the first pitch of the Salt Lake Bees' game Tuesday night is a ball or a strike won't be decided by anyone standing on the field of play.
Instead, a series of cameras high above the Smith Ballpark's backstop will generate a call for the umpire to bark out using technology seemingly out of a science fiction movie.
"It's really cool technology," says Salt Lake Bees communications manager Kraig Williams.
The Pacific Coast League is now ready to adopt new automatic strike zone technology into the game of baseball, which will be finally implemented at Smith's Ballpark beginning with the Bees' six-game homestand with Albuquerque this week.
The use of the system in the PCL for the rest of the season will be one of the biggest tests of the automatic balls and strikes system technology to date. It's a change that players and managers are open to, even if they have their reservations coming in.
Introducing the new home plate umpire
MLB officials announced in January that it would test out an automated strike zone for all the teams in the PCL, as well as the Charlotte Knights of the International League. The implementation comes after it was tested at times in the Southeast League, Arizona Fall League and independent Atlantic League since 2019.
The PCL — and Charlotte — are the highest level of play for this emerging technology. The league turned to the company Hawk-Eye Innovations, which installed the system at 11 Triple-A ballparks over the offseason.
The company placed over a dozen cameras that can be seen all over Smith's Ballpark's suite levels, which are not only tracking the ball but also creating a strike zone based on the batter at the plate. The data is fed back to a loud, ominous-sounding server set up in the Smith's Ballpark press box.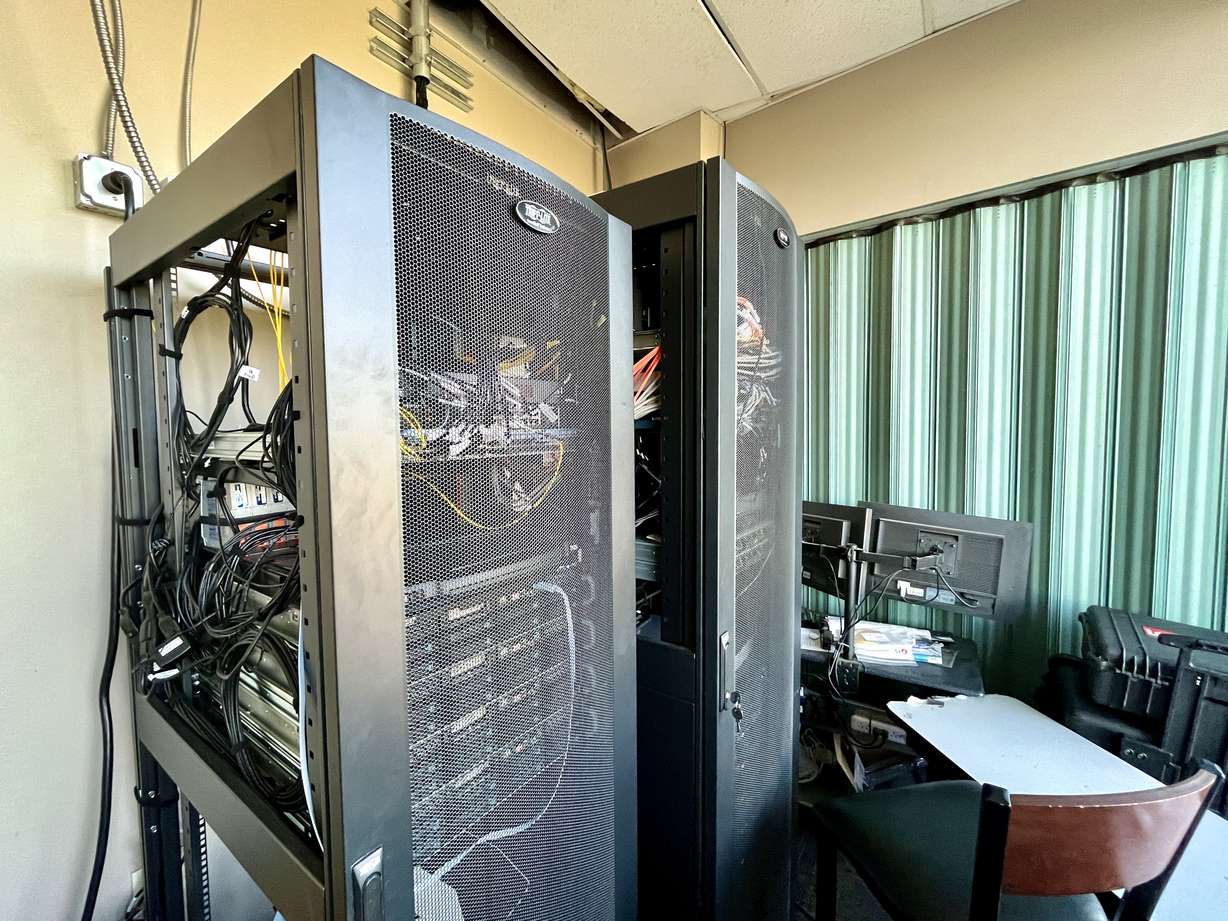 Those servers collect all the data and feed the information directly to the umpires in real-time. It's very similar to the virtual strike zone you may have seen on the majority of MLB broadcasts over the past few seasons.
"The umpire will have a headset that will tell him 'ball or strike' based off the computer readings the Hawk-Eye system tells them, but it's so seamless that it shouldn't make a difference," Williams explains.
High-tech equipment like this isn't completely new to Smith's Ballpark. Salt Lake's parent club, the Los Angeles Angels, has had cameras installed for years that instantly pick up all sorts of analytics, such as a hitter's launch angle and exit velocity on a swing or a pitcher's spin rate. This information helped the team look at all the variables as they consider calling up a farmhand to the big leagues.
The new system tracks even more analytics, including the fielder's route running on a play. It's also available to all teams instead of what the Angels did on their own.
---
Just because you're trying something new doesn't mean you have to live with it forever. If it makes for a better version of baseball, then why wouldn't we want to try it and see?
–Kraig Williams, Salt Lake Bees communications manager
---
The automated system was used during the Bees' first 16 home games this season as a test to make sure everything works correctly. The data came back to players and coaches in the form of postgame reports.
The training wheels are now coming off. And If all goes right, fans won't even notice anything from the stands.
"If you hadn't read this story coming in, then you probably wouldn't have any idea it was happening," Williams says.
The cautious optimism of the clubhouse
Bees pitcher Smith jokes there's one big question in the clubhouse leading up to this week: Who do players and coaches complain to about a call?
While everyone will get to experience the technology in one facet of the game or another, pitchers and catchers are ultimately most likely to be impacted by the new technology. Ever since the game was invented, pitchers and catchers have played cat-and-mouse games with umpires in an effort to get strikes called.
Hurlers pitch to a zone set up by an umpire's strike zone, while catchers developed framing as a technique to make it look as if every pitch is a strike. As Smith puts it, pitchers are competing against hitters and, in a way, the strike zone, too.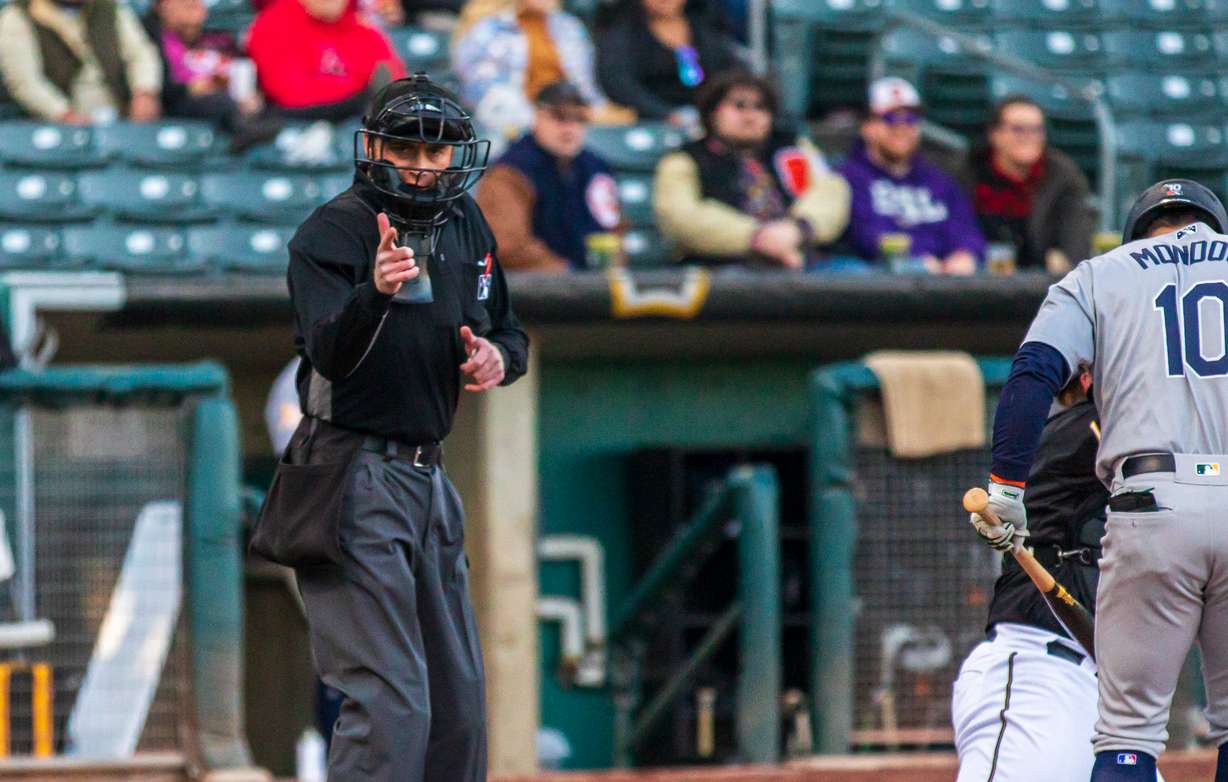 Both aren't needed when a computer is making the calls, which he's a fan of in the game. As long as the system has the correct perameters of a strike zone, he only has to think about the batter in front of him while he's on the mound.
"I think it will be good to have consistency and not really have anything to complain about," he said. "I think it will end up being positive for all of us. As long as it works and functions well and is quick, I think it will be good."
That said, there are still questions players have about the system. What happens if a pitch is clearly a ball and called a strike? What if the strike zone is thrown off by a batter's size? What happens if the system crashes?
Smith expects there to be some confused players when pitches don't go the same way they may have with a human behind the plate. All of it is why he said he's "cautiously optimistic" about the technology's implementation.
"But I'm excited," he said. "I think it will be a cool experiment."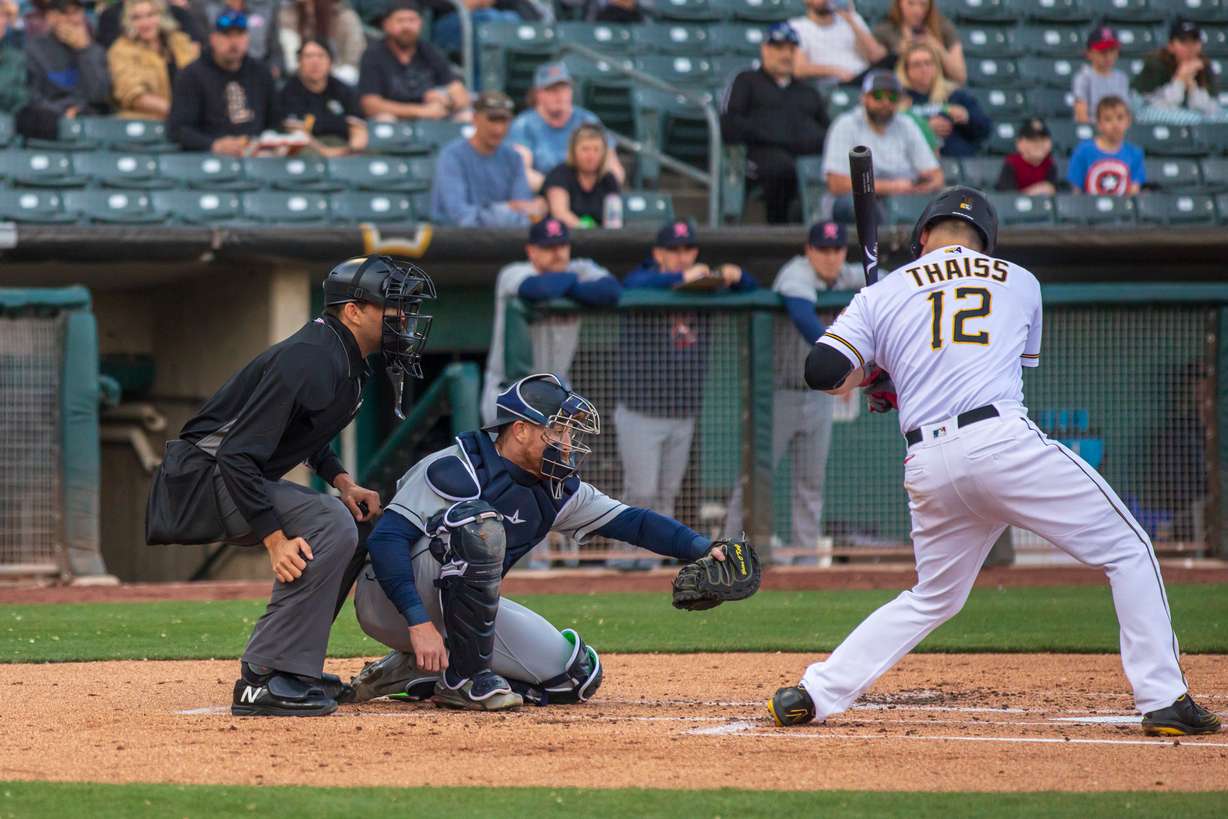 Even if everything does run smoothly, there is another component to the change that coaches will have to deal with. Players will still have to practice fundamentals that manufacture strikes since MLB still uses human umpires.
That's why Bees skipper Lou Marson, a former major league catcher, plans to encourage his pitchers and catchers to work on these tactics, even if they don't woo borderline pitches during games at Smith's Ballpark this summer.
That may mean new player meetings afterward to review film to see if a player is using these techniques correctly so they are ready for Los Angeles.
"That's going to be a tough one," he said. "They're going to have to continue to do it because if they get called up, they're going to have to do it at the major league level. So this is going to be interesting how we balance that."
MLB's new rules lab
Minor League Baseball is no longer just a development league for major league prospects. Since MLB took over control of the minor leagues ahead of the 2021 season, they've used the minor leagues as a laboratory for new rules and regulations that could be used in the majors.
This year, for example, they've implemented a stricter pitch clock during at-bats and they've implemented a rule reducing the number of times a pitcher can attempt to pick off a runner before they're issued a balk. They've also tinkered with larger bases and moved second base in to reduce collisions and presumably increase stolen bases.
Despite its controversy, both Smith and Marson applaud the new pitch clock. It may be the largest reason why the average nine-inning game through the first 10 nine-inning games at Smith's Ballpark this year is 39 minutes faster than last year's average.
"I would say the general sentiment from the players as a whole is the games do feel faster and quicker. … I think it's stopping games from dragging," Smith said, adding his only critique of it is that the clock should be extended a second or two longer when every pitch matters, like when a closer is trying to finish out a one-run game in the ninth inning.
Some minor league teams are also working with bans to defensive shifts.
Williams believes it's great for baseball to have a place to try new ideas without impacting the results of MLB games, which is what matters most for baseball's parent clubs. This way MLB has actual real-life information to support whether or not an idea to alter the game should be implemented in the big leagues.
For him and countless others, baseball is always changing and it will continue to change in the future. It's a game of adjustments both on the field and in the rulebook with the same principle at heart: see the ball and hit it as hard as you can.
"Just because you're trying something new doesn't mean you have to live with it forever," he says. "If it makes for a better version of baseball, then why wouldn't we want to try it and see?"
×
Photos
Related stories
Most recent Salt Lake Bees stories