Estimated read time: 4-5 minutes
America loves its crossovers, and Volkswagen knows it. As the SUV segment continues to be in high demand, Volkswagen has responded with some of the best, well-rounded SUVs today — especially with its newest model, the Taos.
The Taos entered the market about a year ago, and it couldn't have come at a better time. When the world seemed to be unsure of the future, the Taos arrived offering value, reliability and the capability of taking you out of quarantine and on to an adventure. The Taos can do it all, and buyers have noticed. With over 31,000 of them snatched up in 2021, it's clear the Taos is succeeding.
If you've wanted a new car that can do it all without breaking the bank, the Volkswagen Taos is your answer. Especially right now. Not only is Volkswagen SouthTowne offering the Taos at attractive prices, but your trade also has never been worth more, which means you could get into a new Taos for a reasonable cost.
Here are five reasons the new Taos at Volkswagen SouthTowne could be the SUV that's right for you:
Interior space
The Taos may be the smallest SUV in the VW lineup, but its interior space belies its compact dimensions. It's downright cavernous inside.
"It has a huge back seat for a subcompact SUV, and its capacious and easily accessible cargo hold can swallow 25 cubic feet of stuff behind the rear seats," wrote Mike Sutton of Car and Driver.
Volkswagen's intelligent packaging has created an SUV that's smaller than the Tiguan and yet is nearly as spacious inside. If hauling people or kids around in the back seat is something you'll be doing but don't want the hassle of driving a larger SUV, the Taos is your answer.
Fuel economy
SUVs used to be synonymous with poor fuel economy, but with the Taos, it's evident those days are behind us. The Taos is powered by a peppy, turbocharged engine that provides ample power around town and even better fuel economy.
During Car and Driver's instrumented testing, the Taos "fared well in the real world with a 30 mpg average, and it posted an impressive 40 mpg on our 75-mph highway test, beating its federal rating by 4 mpg." It even defeats some of its closest competitors by a whopping 10 mpg.
Gas prices are higher than ever, but that doesn't mean you have to stop driving. With the Taos, you'll be feeling less pain at the pump than you have in a long time — all while driving a new, rugged, spacious SUV.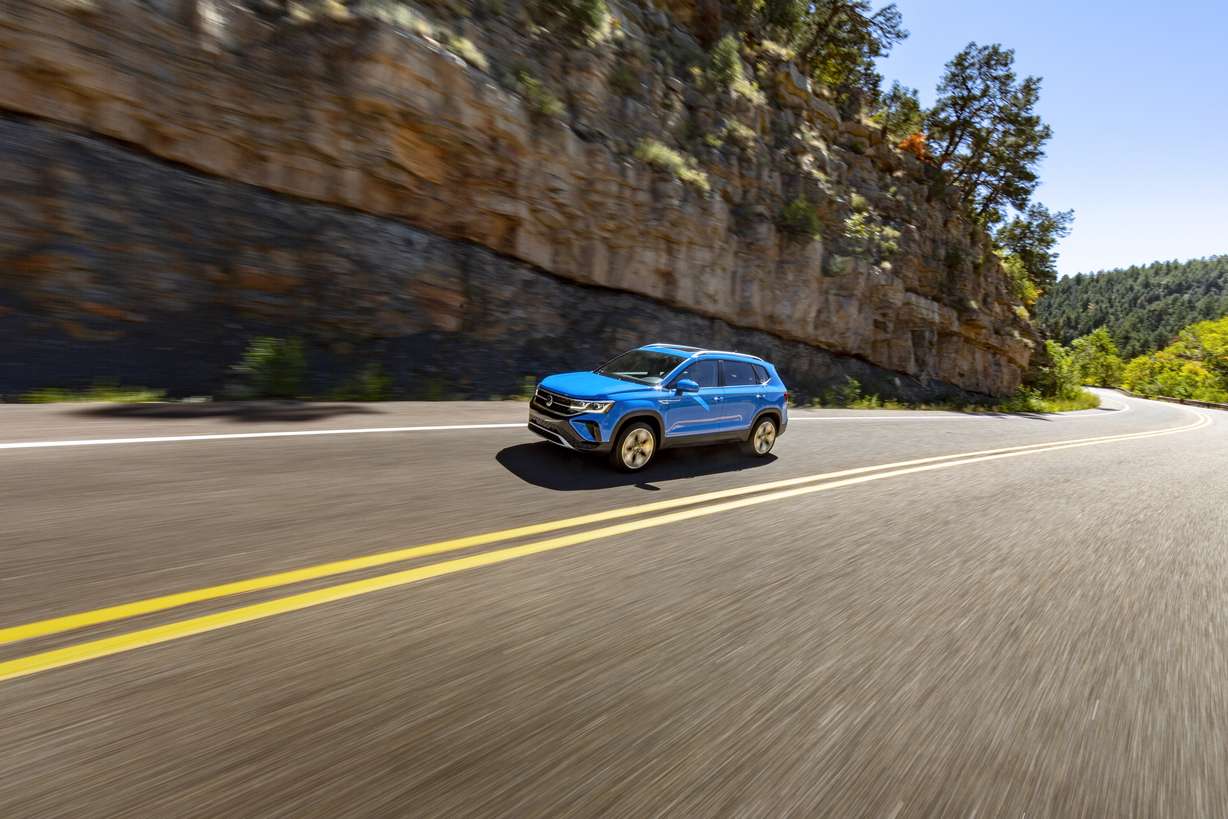 Rugged looks
Volkswagen's styling language extends from the compact Taos to the full-size Atlas, and it looks especially sharp in the Taos' compact form. The lights, body lines and shape take some of the best elements of the Tiguan and Atlas and make them their own. The Taos is named after a rugged little town in New Mexico, and once you see the Taos in person, replete with its "go anywhere" attitude, its name origin makes total sense.
Modern tech
One of the most compelling features of the new Taos is that it comes standard with an impressive suite of modern technology, including Volkswagen's MIB infotainment and Digital Cockpit.
Volkswagen states in its press release for the Taos that "... all 2022 Taos models feature innovative Volkswagen MIB touchscreen infotainment systems. The displays utilize a capacitive-touch sensor (as in smartphone and tablet technology) rather than the more common resistive touchscreens that require pressure, enabling controls like swiping and even pinch-zooming."
In addition to this impressive infotainment system, Apple CarPlay and Android Auto are standard.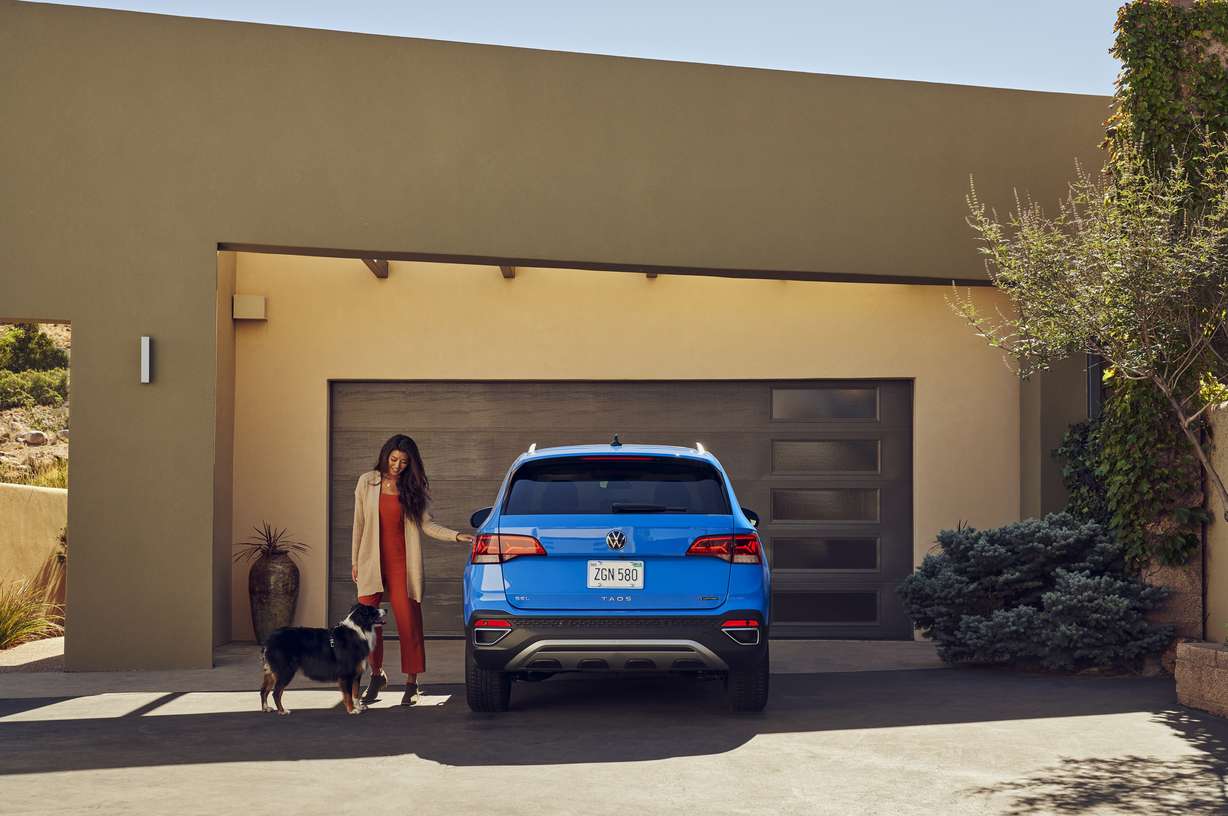 Attractive pricing
Perhaps the best feature of the Taos is the pricing. Volkswagen's value-based pricing for the Taos is a stunner in today's world of increasing costs, especially considering all the technology, space and capability you get.
Kelley Blue Book found that as of March of 2022, the average new car price was above $46,000. With the Taos, you'll be paying significantly less than that, especially with Volkswagen SouthTowne's pricing and trade-in offers. Pricing starts at $23,495 and tops out at just over $32,000 fully loaded — a far cry from the industry's average new car price.
Are you interested in an SUV that can do it all — all for an amazing price? Check out Volkswagen SouthTowne's Cash-In Sale where you can turn your car into cash! Volkswagen SouthTowne is keeping prices low and trade values high! Visit their website to get an Instant Cash Offer on your trade, view new inventory, check out used cars, take a test drive, get pre-approved, schedule service and more.
×