Estimated read time: 6-7 minutes
Here's a Utah attraction that's truly worthy of the designation, "a diamond in the rough." For people with young children or dinosaur lovers in the home, the Dinosaur Diamond covering much of eastern Utah should definitely be on your shortlist for the next family trip.
This approximately 512-mile loop spanning from the Uinta Basin to western Colorado and Moab is packed full of sites and stops that will thrill dino fans, young and old. Even if you weren't one of those kids who owned every piece of "Jurassic Park" merchandise, you'll find it hard not to be impressed by prehistoric fossils, footprints and exhibits of the terrifying creatures that roamed these lands many, many years ago.
So, grab the family, hop in the car and hit the road for some adventure! (And don't forget to stop at your local Maverik first to fuel up.)
Here are a few of the coolest things to see in Utah's Dinosaur Diamond!
Utahraptor State Park
Located just north of Moab, the Utah Legislature approved this brand new state park in 2021. Unless you are a paleontologist or a geologist, there isn't much to see in the actual park yet. But the site is right in the middle of perhaps the richest dino hunting area in the world.
There are several dinosaur track sites in the area. The biggest and best developed are the Mill Canyon dinosaur tracks. The BLM site has more than 200 individual tracks viewable along a short interpretive trail. Discover Moab lists a half-dozen other places in nearby areas where you can find dino tracks.
If you prefer bones to tracks, you can head to the Mill Canyon Dinosaur Bone Trail to see bones still encased in rock. Located beyond the Mill Canyon track site, the road can be a little sketchy if you are driving a low-clearance compact vehicle. Please note that it is illegal to remove dinosaur bone fragments from public lands.
There are a couple of museums in Moab with dinosaur exhibits and if you want to take a piece of a dinosaur home with you, make sure to visit the rock shop on the north end of town.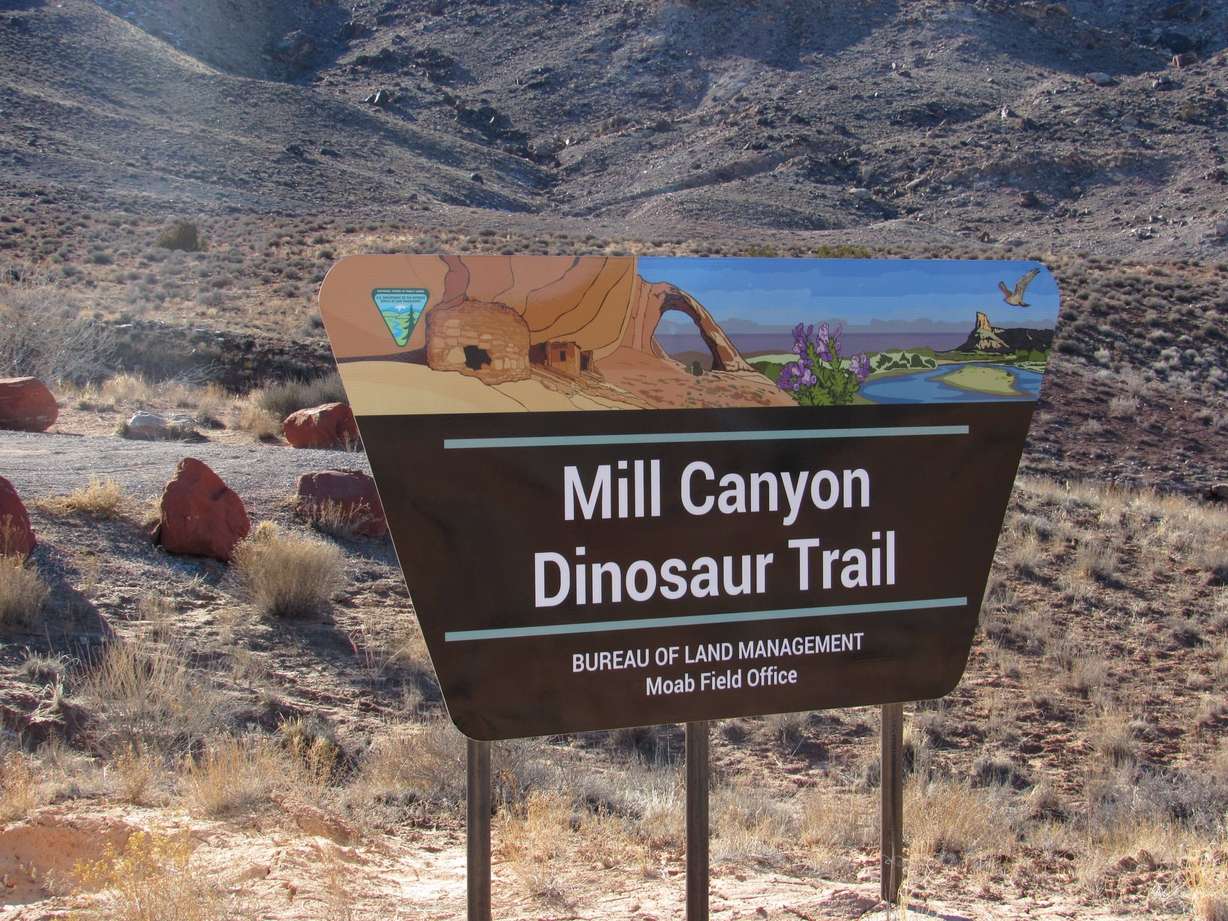 Dinosaur Quarry Exhibit Hall
It's not every day that you can stand face-to-face with a wall full of 1,500 dinosaur bones, and that's what makes Dinosaur Quarry Exhibit Hall in Dinosaur National Monument a true treat. You'll feel as if you've stumbled upon the set of the next "Jurassic Park" movie as you check out the remains of these prehistoric creatures. See (and touch!) the 149-million-year-old fossils of Allosauruses, Stegosauruses, Apatosauruses and many other of your favorite dinosaurs. Your inner child who once dreamed of being a paleontologist will definitely be geeking out!
Fossil Discovery Trail
After you've had your fill of fossils from the inside, venture out of the Quarry Exhibit Hall onto the Fossil Discovery Trail. (With a name like that, you can't pass it up.) Those with sharp eyes will be able to spot the dinosaur fossils jutting out of the rocks on this 1.8-mile, kid-friendly hike. You could even make a game of it.
Utah Field House of Natural History State Park Museum
Just 15 miles outside of Dinosaur National Monument, you'll find plenty to keep you entertained at the Utah Field House of Natural History State Park Museum. The museum features several floors of interactive displays and hands-on activities for all ages. Your kids will love rolling up their sleeves to unearth the ancient fossils in the Morrison Dig (and you'll love it, too).
Dinos aren't the only cool things you'll learn about, either. There's also a fluorescent minerals room for the rock lovers and an Anthropology Hall that showcases historical artifacts from the local Ute tribe. Oh, and if you've ever wanted to know what it feels like to be crept up on by a thunder lizard, don't miss the Dinosaur Garden outside!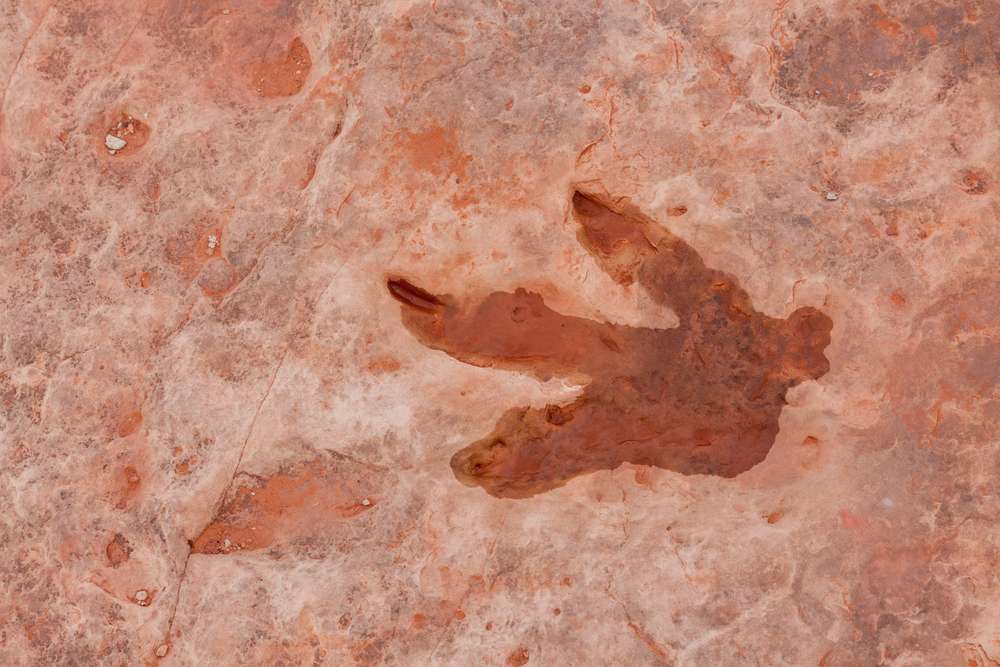 Red Fleet Dinosaur Track Site
As you wander through the Red Fleet Dinosaur Track Site, don't worry — those giant footprints you find along the way aren't fresh. These tracks date back millions of years and will give you an idea of how your footprint stacks up against that of a dilophosaurus. And after you've trekked around in the prehistoric prints, reward yourself with a cool down in the lake at the end of the trail.
Utah State University Eastern Prehistoric Museum
Did you know that Steven Spielberg's ferocious raptors were inspired by none other than the Utahraptor? That's right — the terrifying, claw-tapping killers you remember from the movies got their start right here in Utah. And you can check them out — along with many, many other dinosaur exhibits — at the Utah State University Eastern Prehistoric Museum in Price. Now, before you roll your eyes and groan "not another museum," you should know that this one boasts of having more dinosaur species than any other museum in the country. Those are some serious bragging rights.
Plus, Tripadvisor gives it a 4.5-star rating, so it's worth a visit. (One reviewer compared it to a "scaled down version" of the Museum of Natural History in New York. So, you can have a "Night at the Museum" experience without having to hop across the country!)
Cleveland-Lloyd Dinosaur Quarry at Jurassic National Monument
Just over 30 miles south of Price, Cleveland-Lloyd has been a working dinosaur quarry since 1929. In that time, scientists have recovered more than 12,000 bones from at least 74 individual dinosaurs representing at least 11 species.
Fun fact: The BLM reports more than 75% of the bones discovered here come from carnivores, including more than 46 individual specimens of Allosaurus.
There is a visitors center at the quarry that is open Thursday-Sunday from 10 a.m. to 5 p.m. through October 31.
Once you make your way around the Dinosaur Diamond Scenic Byway, you'll soon find that there are plenty more things to see than what's included on this short list. Luckily, you can refill your tank (and the snack stash) at Maverik, which has locations throughout Utah. Wherever the road takes you, start every adventure with Maverik.
×