Estimated read time: 7-8 minutes
Dining with friends, family, co-workers and even strangers is one of the oldest rituals in human history for bringing people together. Food connects all people, and sharing a meal is a great way to strengthen old bonds and create new ones. While Utah may not garner the same notoriety as other food meccas like Los Angeles and New York, it has lots of excellent restaurants for every palate and budget.
Everyone has their favorite restaurants and dishes, but sometimes it's good to mix them up and try something new. Whether it's interacting with the chef, eating with your hands, dining at the top of a mountain or going back in time to medieval England, each of these Utah restaurants is a great place for a new dining experience.
Here are eight of Utah's more unique restaurants with something extra.
The Five Alls
One of Utah's oldest fine dining traditions, The Five Alls will transport you to medieval times as you enjoy their gourmet old-English fare and decor. Located off Foothill Drive in Salt Lake City, the restaurant serves opulent five-course meals, including their famous Chicken Kiev and Filet Oscar centerpieces.
From the metal plates, the roaring fires and medieval decor, you'll feel like you're among the world's best—several centuries ago.
Google reviewer Anita F. wrote, "Delicious food, wonderful ambiance and fun experience. The five-course meal was delicious and my grandfather, who we took for his 93rd birthday, kept saying it was the nicest restaurant he's ever been to and loved the food and experience. This is a great place to take anyone for a special and unique dining experience."
Campfire Lounge
If you're keen on the idea of camping food, but not so much about every other part of camping, you'll love the Campfire Lounge in Salt Lake City.
The cozy spot offers hearty foods—think biscuits, gravy, hobo dinners, tots and lots of cheese—as well as burgers, salads, wings and more.
The atmosphere resembles a serene campfire in the woods. With two outdoor fire pits and heaters on the patio, you can feel like you're up the canyon—without all the dirt and bugs. Dogs are also allowed on the patio.
If you're the kind to enjoy a unique drink, be sure to try their S'mores-tini. It includes Three Olives S'mores, Creme de Cocoa and cream, served in a chocolate and graham cracker rimmed martini.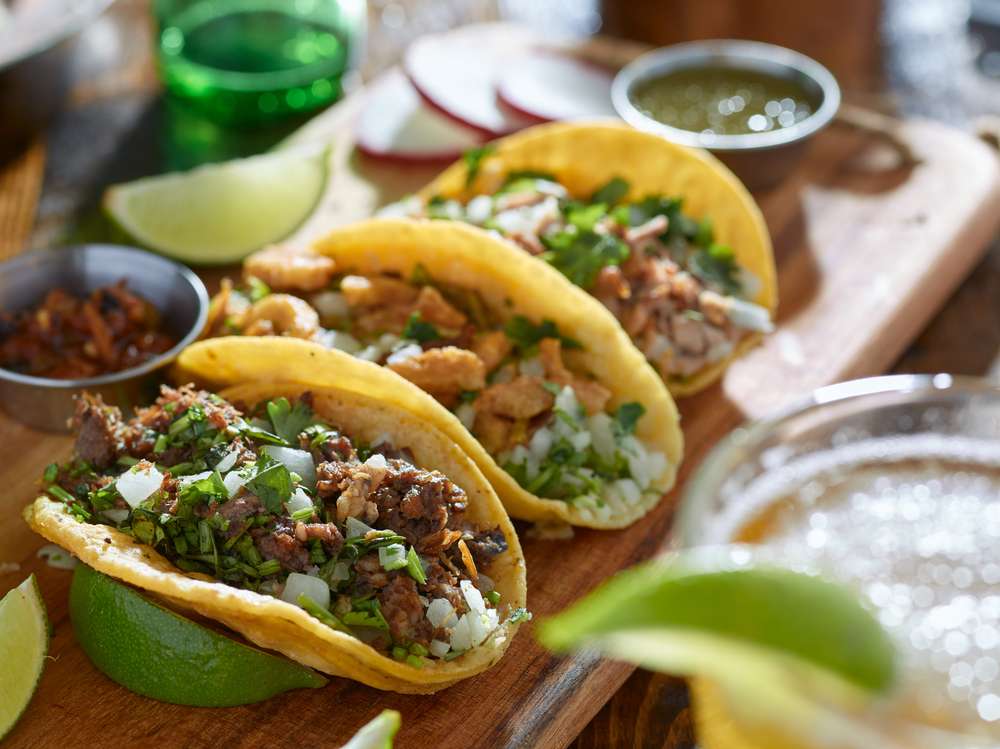 Blue Iguana
Not the only colorful iguana restaurant in town, Salt Lake City's Blue Iguana has been serving up some of the best authentic Mexican food in Utah for 20 years. A six-time Best of State winner, Blue Iguana is "like walking into Abuela's kitchen—warm, colorful and inviting, with a lively atmosphere and an open-air patio to boot," said the Blue Iguana website. Come on the weekend for the food and stay for the live music — you'll feel like you're in Mexico for a night.
Google reviewer Alex M. said, "Great service, food, drinks, and ambiance. It resembles an authentic restaurant from Tlaquepaque or Oaxaca in Mexico."
Log Haven
There are a lot of restaurants that showcase Utah's scenic beauty, but few can beat the surroundings, service and food at Log Haven. Located in a historic log mansion in the Wasatch National Forest just minutes from downtown Salt Lake City, Log Haven earns its national notoriety for a reason.
A recipient of the coveted Hall of Fame award by Salt Lake Magazine, Log Haven was praised by the magazine when they said, "...besides having great food, terrific ambiance and passionate people, something magical has happened to make this restaurant so consistently excellent on all fronts that it thrives as an inspiration to everyone in the business."
For an excellent meal, head up Millcreek Canyon and enjoy the atmosphere of Log Haven.
Prairie Schooner Steak House
If going back in time about 200 years to enjoy a meal sounds like a fun time to you, Prairie Schooner Steak House is a must-visit for your next outing. At this Ogden steak house, you'll find yourself seated in a covered wagon, eating a hearty meal next to the prairie fire.
One Google reviewer wrote, "Amazing food and magical atmosphere. I've been coming here since I was a kid and it has always been a wonderful place to bring the family, the environment takes you back in time, I mean who gets to sit in a covered wagon for dinner! The service and food is delicious. Don't just come for date night bring the kids they will all love it!"
Make a reservation at Priarie Schooner's for some amazing steak, seafood, chicken and prime rib—with a side of prarie-fun atmosphere.
The Summit
If you want to take your date to one of the most unique dining locations in Utah, head to the (literal) top of Snowbird and grab a bite at The Summit restaurant. Located just a few steps away from the ariel tram, you'll catch views of the valley like you've never seen before. There are two dining levels to choose from, each offering different sights of the gorgeous canyon.
Open for snacks, beverages and lunch, The Summit offers delicious organic dishes based on French rotisserie traditions and Rocky Mountain barbeque.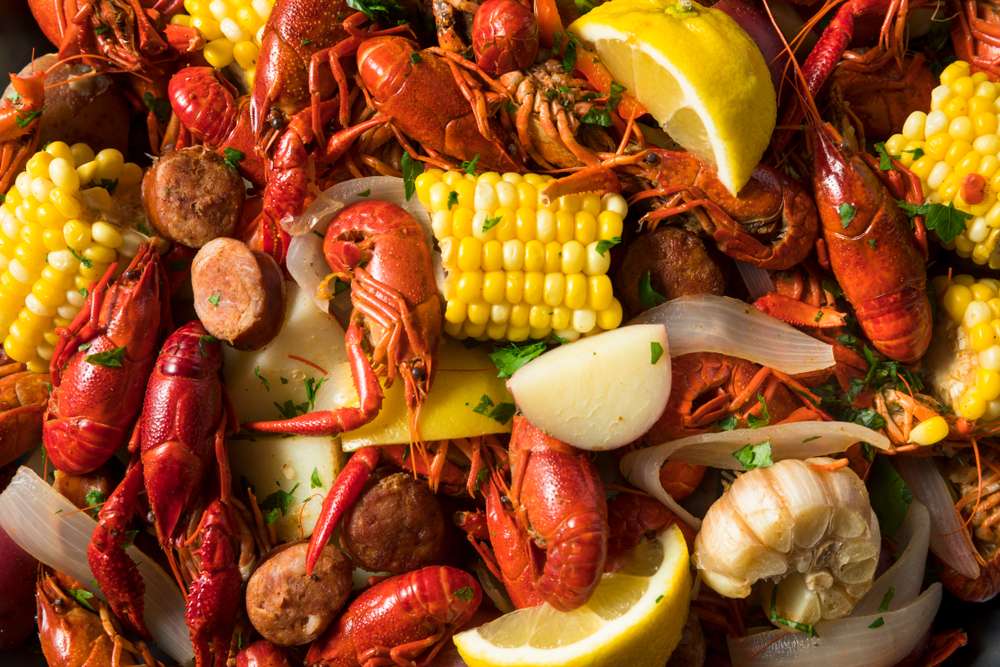 Bucket O' Crawfish
The West Valley City restaurant Bucket O' Crawfish is arguably one of the messiest, most delicious and unique dining experiences in Utah. Offering Cajun-style seafood with a Vietnamese twist, you know you're in for a good time when the host hands you a bib as you sit down. No silverware or plates are needed here, just dig in with your hands and you're good to go.
The server will lay a plastic tablecloth on your table, and instead of plates, you'll get your serving of food right on the plastic! When they say no silverware—they mean it.
Reviewer Anna N. reported, "I've been to a few seafood places here in Utah and none have ever tasted as amazing as Bucket. My husband and I have been coming here for years and keep coming back … food is amazing and definitely not bland like all the other places we have been to."
Good Move Cafe
Located on the corner of Center Street and University Ave. in Provo, the Good Move Cafe is a hot spot for people looking for dinnertime fun—and possibly strategy. While they do serve delicious food, you'll find your focus on the walls and walls of games and puzzles available to play during your stay at the restaurant.
Featuring games from decades ago to the most recent games you haven't even heard of, you'll find a way to pass the time quickly. The food is almost as eclectic as the concept itself—one Google reviewer tried the PBJ Jalapeño Smashup Burger, describing it as "strange yet absolutely delicious."
Good Move Cafe is open Monday through Saturday, and while not required, reservations are recommended.
×