Estimated read time: 4-5 minutes
This archived news story is available only for your personal, non-commercial use. Information in the story may be outdated or superseded by additional information. Reading or replaying the story in its archived form does not constitute a republication of the story.
LAS VEGAS — As the final seconds ticked away on BYU basketball's postseason opener Friday night at the Orleans Arena, Alex Barcello watched it from the best seat in the house: the Cougars' bench, with a big lead in hand.
Barcello poured in 22 points, three rebounds and three assists — a relatively calm night just off the Las Vegas Strip — and Fousseyni Traore added 15 points and 11 rebounds as fifth-seeded BYU pulled away for a 85-60 win over eighth-seeded Loyola Marymount in front of a largely pro-BYU crowd inside Orleans Arena.
Like a proud papa, Barcello watched the 6-foot-6 gentle giant from Bakamoto, Mali, roll out his seventh double-double of his freshman season — and the fifth-year senior smiled the whole time.
"Fouss doesn't know how good he is, and I just love how he's like a sponge trying to absorb everything," said Barcello, the two-time WCC first-team honoree who played his fewest minutes since a Jan. 13 loss to Gonzaga. "You always see him always trying to learn — and I love it.
"Being able to see him and the other guys for that 6-7 minutes was incredible. The level that he's playing at right now is incredible, and he's such a huge part of our team."
Trevin Knell added 15 points for the Cougars (22-9), who out-paced the Keli Leuapepe-less Lions 48-30 in the paint.
Eli Scott had a game-high 24 points and six rebounds for LMU (11-18), and Joe Quintana, who erupted for 31 points in Thursday's 20-point win over Pacific, added 12 points and four rebounds.
The Cougars were projected to win by 11 points by KenPom and never trailed against an LMU squad that only went seven deep and played without Leaupepe. And BYU took advantage, casually rolling up 48 points in the paint and out-distancing the Lions by 18 from inside the arc with 19 second-chance points on 11 offensive rebounds.
But it wasn't just the BYU bigs — namely Traore and Atiki Ally Atiki, who had 6 points, six rebounds and two blocked shots — that controlled the paint. Barcello shot 2 of 4 from the field, but also cut inside for buckets five times with success.
Knell went 4 for 8 from inside the arc, and BYU shot just 5 of 15 from 3-point range while outrebounding the Lions 44-25 and converting 19 second-chance points on 11 offensive rebounds.
"We obviously don't have our most physical player, and the first time we played them, that was reversed. If I was playing us, that would be how I would attack us," said LMU coach Stan Johnson, the Southern Utah alum finishing his second season as a collegiate head coach. "We had two forwards on our team, and they did a great job of attacking us in the post. Their guards did a great job of getting downhill, too.
"You're not going to beat anybody if they score 48 points in the paint."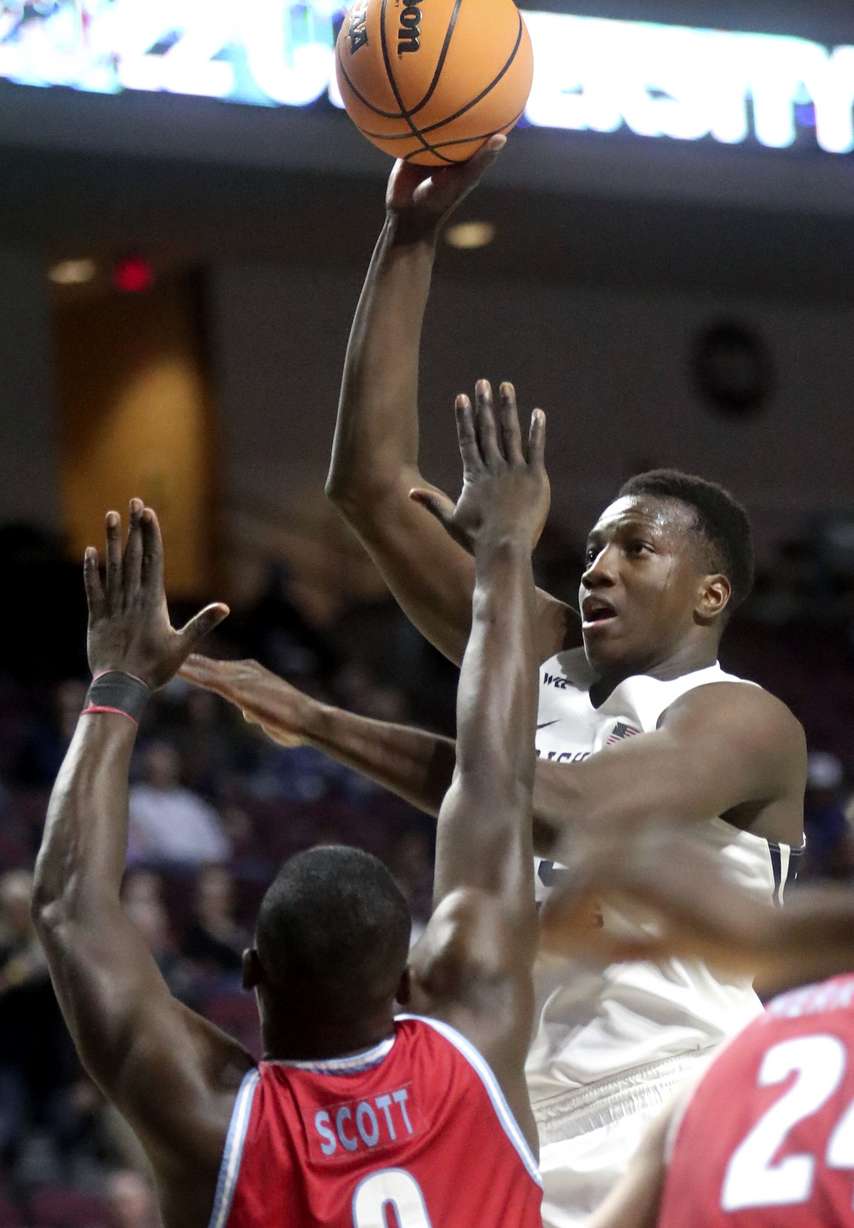 BYU was somewhat shorthanded itself — Seneca Knight watched the game in street clothes and with a hard brace over his shooting hand. But the Cougars made use of their own limited depth, including a lengthy lineup led by Spencer Johnson that forced 11 turnovers and scored 19 points in transition en route to a 43-28 halftime lead.
BYU hit six of its first eight shots from the field, and Barcello gave the Cougars a 14-6 advantage early. Scott scored 10 points in the first 10 minutes to keep the Lions in striking distance — until Barcello drained back-to-back 3-pointers with 5:47 left in the half to push the Cougars' lead to 10.
"I thought we brought some pace to the game early, which made really happy," BYU coach Mark Pope said. "We had some success inside in the post early in the game at our place 10 or so days ago, and I thought we got guys to the rim, also. Te'Jon and Alex had some great driving lanes early, and it put us in a good position."
Traore capped a 10-1 run with a high-flying dunk, and BYU shot 55% in the first half en route to a 43-28 lead at the break behind 12 points from Barcello and 10 with seven rebounds for Traore — while only committing one foul in the first half.
"That was very important to me and Atiki," said Traore, who finished with just two fouls. "We only have two bigs — only me and Atiki — and we need to help each other.
"I told him today, just be smart; don't foul out. I need you."
BYU opened the second half on a 12-5 run, then held the Lions scoreless for more than three minutes to push the lead as high as 60-38 with 12:48 left and cruise to the finish.
"I thought that we did a great job of having an edge when we stepped out on the court. It's March; that's what you've got to play with," Barcello said. "I thought we did a great job as a group having edge and making plays. They hit some great shots, but I thought we worked together really well."
BYU plays fourth-seeded San Francisco in the WCC Tournament quarterfinals Saturday at 8:30 p.m. MST at the Orleans Arena. The winner will face top-ranked Gonzaga on Monday night.
×
Photos
Related links
Related stories
Most recent BYU Cougars stories