Estimated read time: 4-5 minutes
This archived news story is available only for your personal, non-commercial use. Information in the story may be outdated or superseded by additional information. Reading or replaying the story in its archived form does not constitute a republication of the story.
This story is sponsored by KSL Cars.Your next car is waiting. Search Utah's largest selection of new and used cars.
Of all the anticipated new cars of the last several years, Ford Bronco tops the list for a lot of people. The return of this iconic SUV has been a big deal among automotive enthusiasts and the general public alike. Everyone seems to want one — after receiving over 125,000 orders Ford temporarily paused reservations in an attempt to catch up.
But after what feels like countless delays, manufacturing problems and supply chain issues, Broncos are finally rolling off the assembly line and into customers' driveways. The verdict? Many media outlets report the Bronco as being an exceptional effort by Ford, right out the gate. It seems that the Ford Bronco has succeeded in offering legitimate competition in the off-road segment. And given the high demand at dealerships and on the ordering list, buyers are all-in on Bronco mania.
As cool as the new Bronco is (in all seven of its trim levels), Ford recently confirmed some exciting news: the arrival of the Bronco Raptor this summer.
Raptor nameplate
Powerful performance upgrades are what set Fords with Raptor trim apart. Wildly popular despite its higher price tag, Ford's F-150 Raptor has been a hot seller since its introduction in 2010. Its specialized appearance, suspension, engine and other features make the F-150 Raptor something of a halo vehicle for casual commuters and off-road enthusiasts alike. And now the Bronco will receive the Raptor treatment, taking an already pretty cool vehicle to even higher levels of fun and capability. While Ford has yet to confirm more than a few details about the Ford Bronco Raptor, this is what we do know.
Aggressive styling
As with the F-150 Raptor's aggressive styling, the Bronco Raptor is also expected to have a beefier body than the base Bronco. Ford Bronco enthusiast page, The Bronco Nation was recently invited to see the Bronco Raptor in action and captured some of the first photos of the Bronco Raptor, albeit in camouflaged form. The photos confirm a wider track, large fender flares, a grille that spells out "FORD" in typical Raptor fashion, as well as other upgrades. Essentially, if you already thought the Raptor looked awesome, you're going to love the exaggerated styling of the new Bronco Raptor.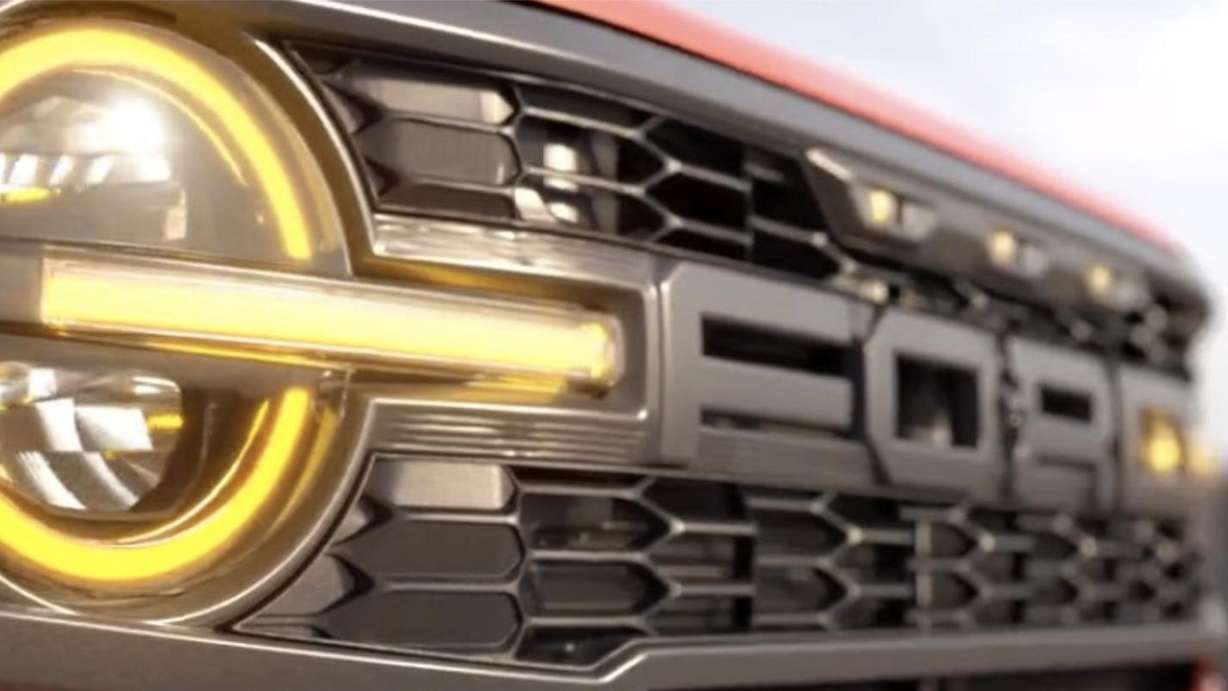 Better off-road capability
According to Car and Driver, the new Bronco Raptor will borrow many of its upgraded components from the F-150 Raptor. Some of these goodies could include optional 37-inch tires and FOX racing dampers. If you look closely at the photographs taken by Bronco Nation, it's easy to spot larger lower control arms as well.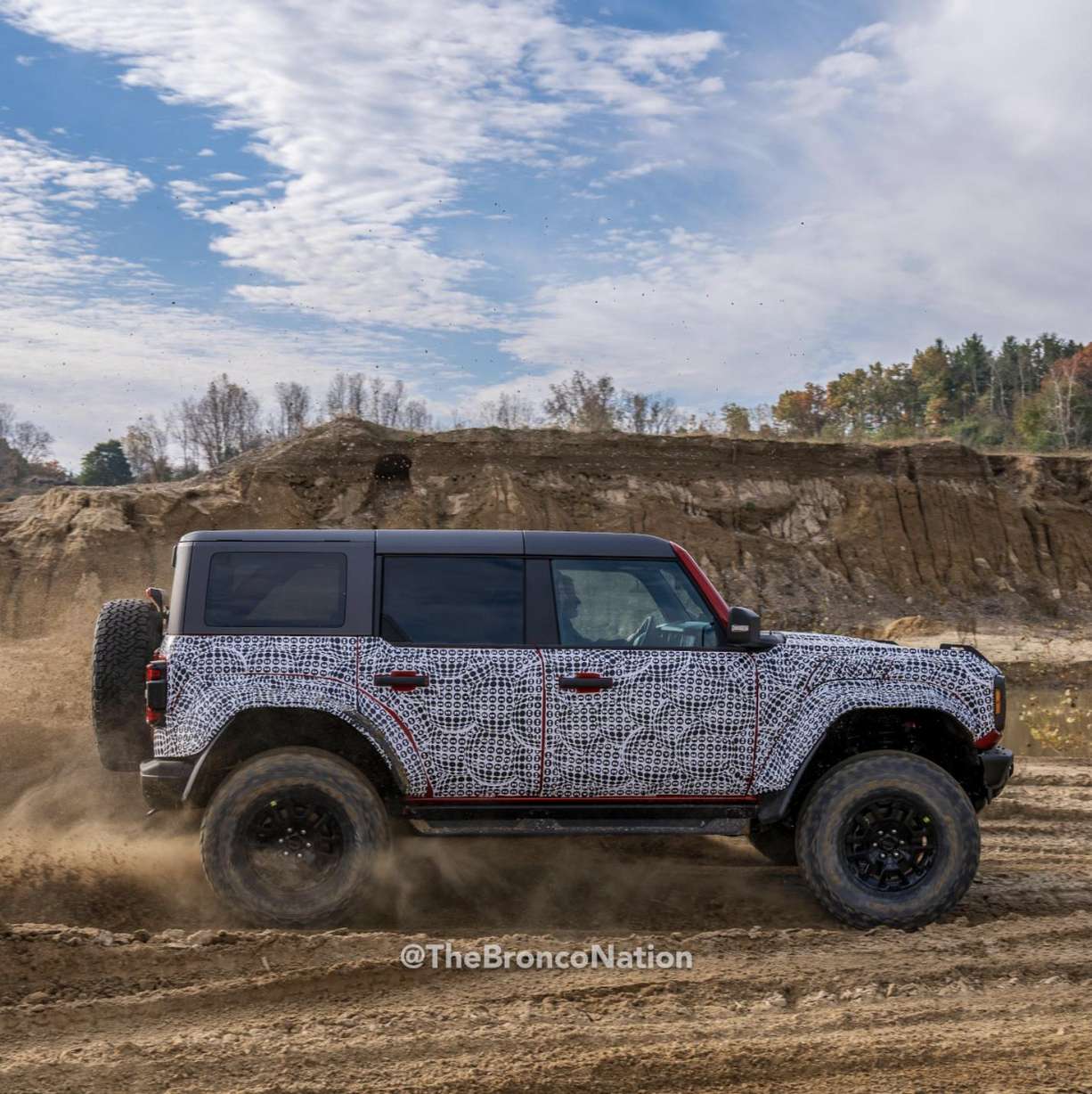 Boosted power
While reviewers generally praise the standard Bronco's powerplants (exhaust note notwithstanding), the Bronco Raptor promises even more power. Like the F-150 Raptor's high-output twin-turbo V6, the Bronco Raptor will also have a high-output V6. Some sites like Car and Driver speculate it could have the F-150 Raptor's 450 horsepower V6, while others speculate a tuned version of the Bronco's 2.7-liter V6 could be the answer. A third option of the 400 horsepower twin-turbo V6 found in the Explorer ST is also rumored to be in the mix.
Regardless of the powerplant, most outlets assume the Bronco Raptor will pack enough power to compete with the Jeep Wrangler Rubicon 392 and Wrangler 4xe which produce 470 horsepower and 375 horsepower, respectively. No matter the engine, it's very likely only the 10-speed automatic transmission will be available. Sorry, manual transmission fans.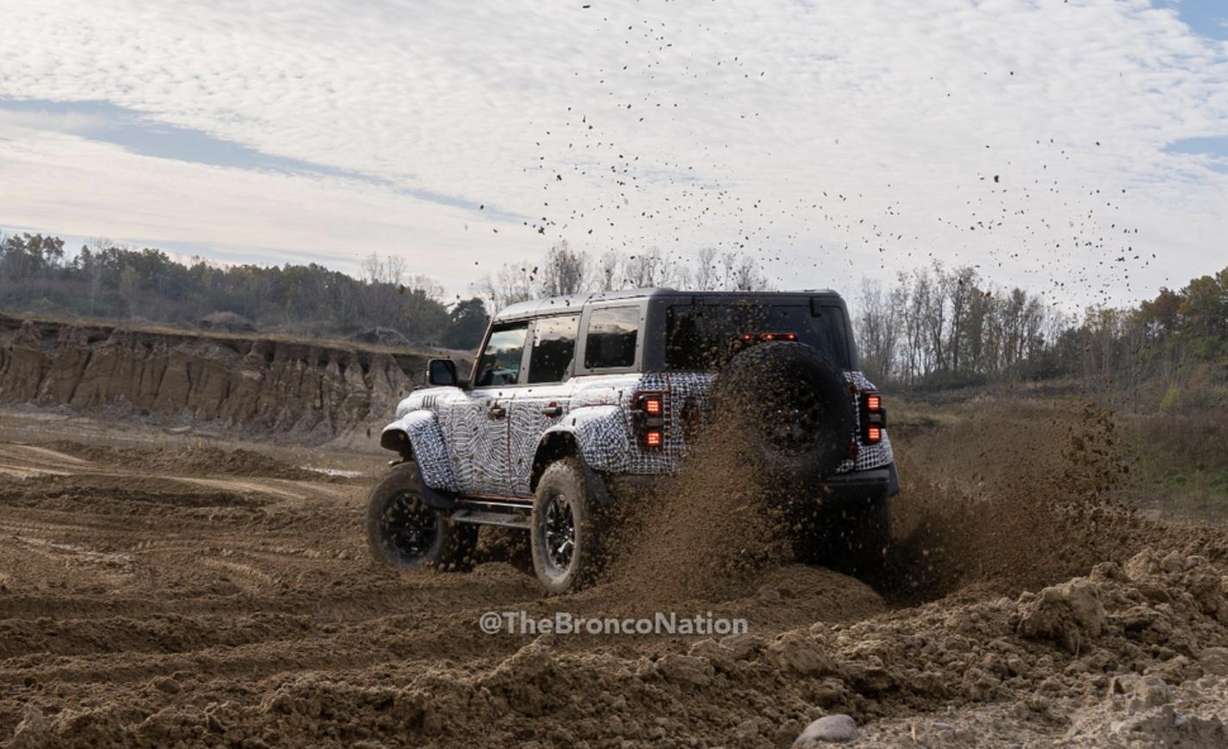 Release date
Ford recently announced it will begin taking orders for the Bronco Raptor in March 2022, with deliveries starting in the summer. Check with your local dealer if you're interested in ordering a Bronco Raptor. Given that standard Bronco orders have swamped Ford's manufacturing facilities, it's likely the wait for your Bronco Raptor will require a healthy dose of patience.
Don't want to wait for the Bronco Raptor? KSL Cars has dozens of new and classic Broncos listings right now, ready for your purchase.
Do you or someone you know have an awesome car story? We want to feature it! Send an email to cars@ksl.com. For more information and updates follow KSL Cars on Instagram and Facebook.
About the author: Having owned everything from a DeLorean to an E46 BMW M3 and a Toyota Land Cruiser, Jason Bell is a lifelong car enthusiast who loves sharing his passions as a teacher, writer, speaker and social media manager. Contact him at jasonbellcars@gmail.com for comments/questions, or just to say "hi."
The views and opinions expressed here are my own and may not align with KSL.com or KSL Cars.
×