Estimated read time: 7-8 minutes
This archived news story is available only for your personal, non-commercial use. Information in the story may be outdated or superseded by additional information. Reading or replaying the story in its archived form does not constitute a republication of the story.
AROUND THE GAMES — Nathan Chen's celebration of the United States' first Olympic gold medal in men's figure skating since 2010 probably made him sound more like a senior citizen than one of the stars of the Beijing Winter Games.
After the 22-year-old Salt Lake City native clinched the gold medal with a nearly-flawless free skate Wednesday night (or Thursday morning in China), Chen conducted a couple of interviews with the press, participated in the Winter Games' victory celebration (the one before he formally received his medal), and then did something that most of his generation would call incredibly boring.
"I just tried to get as much sleep as I could," said Chen, though with a tone that admits he wasn't as successful as he would've preferred. "Of course, there was a lot of adrenaline after, so I didn't get too much. But it was a nice night of relaxation."
Chen became the first American man to win Olympic gold in figure skating since Evan Lysacek became the sixth U.S. man to join the club, one that also includes legends like Dick Button, Scott Hamilton and Brian Boitano.
The Yale University undergraduate has been invited to perform in an exhibition that will mark the end of Olympic figure skating competition. But for now, he's just excited for something he's never been able to do at any Olympic games since first qualifying at 18 years old in 2018: cheer on his U.S. teammates.
His future in figure skating is still up in the air — Chen admits he hasn't even decided if he'll compete at the world championships in Montpelier, France, where he would likely be the favorite to win a fourth consecutive title, the first American to do so since Hamilton in 1984. But for now, he just wants to enjoy the Olympics in a way he wasn't able to after coming down with the flu in Pyeongchang.
"I get to do the exhibition, and now I get to enjoy the rest of the Olympics — support the rest of my Team USA athletes," Chen said during a press conference Friday morning. "I've never really had a chance to just be a spectator at the Olympics. Not having to worry about competition, but just sit in the stands and cheer for the athletes. … I'm really excited for that."
Even just seeing some of the facilities — Chen specifically mentioned never seeing the massive snowboard halfpipe or Big Air jumps before — would be a thrill.
"To me, that sounds absurd to envision how gigantic these snow structures are," said Chen, who also played youth hockey. "Honestly, all winter sports are pretty crazy. Luge, skeleton, bobsled, halfpipe; these sports are so next level that any sport sounds pretty terrifying to me. I'm glad I'm in figure skating."
Among those media rounds, NBC surprised Chen with a special post-medal shoutout from his favorite team — the Utah Jazz — and his favorite player — Donovan Mitchell.
Chen's been known to rep #TakeNote Nation during his tour, wearing a Jazz jersey to a post-skate press conference at U.S. nationals and hanging one in his dorm room at Yale. During one trip to Salt Lake City, he was invited into the locker room and posed for photos with Mitchell, Rudy Gobert and other Jazz stars.
"That's super sick. He's the nicest," Chen said of Mitchell. "Sport icons are out there, and it's crazy to think that they even know that you exist. This is really special."
Chen also entertained questions from world media about the latest figure skating doping scandal, including the investigation into Russian skater Kamila Valieva, whose urgent hearing at the Court of Arbitration for Sport will now decide if the Russian Olympic Committee or Team USA go home with the gold from Beijing.
But the focused 22-year-old American declined to comment on any specific reports, largely because he's been so enveloped in his own redemptive quest for individual gold, a four-year saga that began with four falls in Pyeongchang and included three world championships before final blasting off to Elton John's "Rocket Man" in Beijing.
"I've taken a pretty straight hiatus from social media," Chen said.
Eventually, Chen will get back on social media, return to school in New Haven, Connecticut, this fall, and decide on what the future remains. For now, though, all of that is far from his mind. He just completed one of the most dominant runs in figure skating history, after all — one that includes three world championships, six U.S. titles and the redemptive tour de force from Korea to Beijing to capture his first gold medal.
For now, he's reflecting on his journey to Olympic champion, one that began at 3 years old on a practice rink in Salt Lake City in the shadow of the 2002 Winter Games. Even after transferring from West High to California to continue his training as a teenager, Chen never forgot his Utah roots.
"Looking back, knowing that I grew up out of an Olympic town, through Salt Lake City, through the 2002 Olympics," Chen told NBC during a studio interview. "It means the world to me to have the opportunity to be here."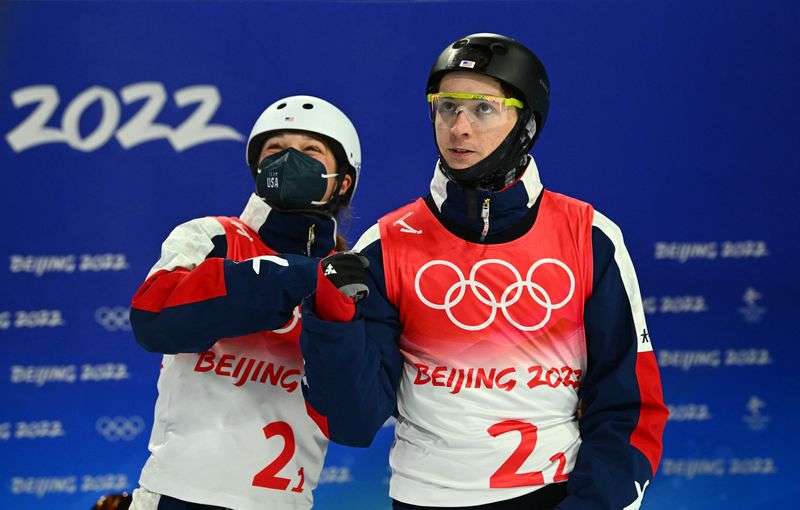 Chen wasn't the only Utahn to win a gold medal this week in the Olympics.
The United States' mixed aerial team of Ashley Caldwell, Chris Willis and Justin Schoenefeld — who train in Park City — clinched Team USA's fourth gold of the Winter Games by holding off China, Canada and Switzerland on Thursday.
"I couldn't be more excited," said Caldwell, a University of Utah graduate who nailed a back full-full-full for a score of 88.86 in her third Olympics. "This is my fourth Games, and I've been in the hunt for a gold medal my entire career. To do it with these guys is incredible. Chris has been like a brother to me forever, and Justin is the love of my life, so that really. helps."
Lillis added a team-high score of 135, while Schoenefeld — who studies at Utah Valley — finished with a score of 114.48.
Former Westminster College student Kristen Santos finished fourth in the women's 1,000-meter short track final Friday at Capital Indoor Stadium in Beijing.
The No. 2-ranked woman collided with Italy's Arianna Fontana during the A final and sent both barreling into the mats on the final lap. Fontana was assessed a penalty after the race, and Santos awarded fourth.
"That's part of the sport, I've been penalized more times than I can count," Santos said in the mixed zone after. "I can't be mad at anyone for that. We're all going out there and trying our hardest, no one is trying to get disqualified, no one's trying to mess anyone else up, we're just trying to do the best we possibly can."
University of Utah student Maame Biney, who is the first Black woman to represent Team USA in short track, qualified for the quarterfinals and finished 10th overall in the distance with a career-best finish in an individual race.
"I'm super proud," Biney said. "I did everything I was supposed to do but my legs just gave out … It's all good, it's OK."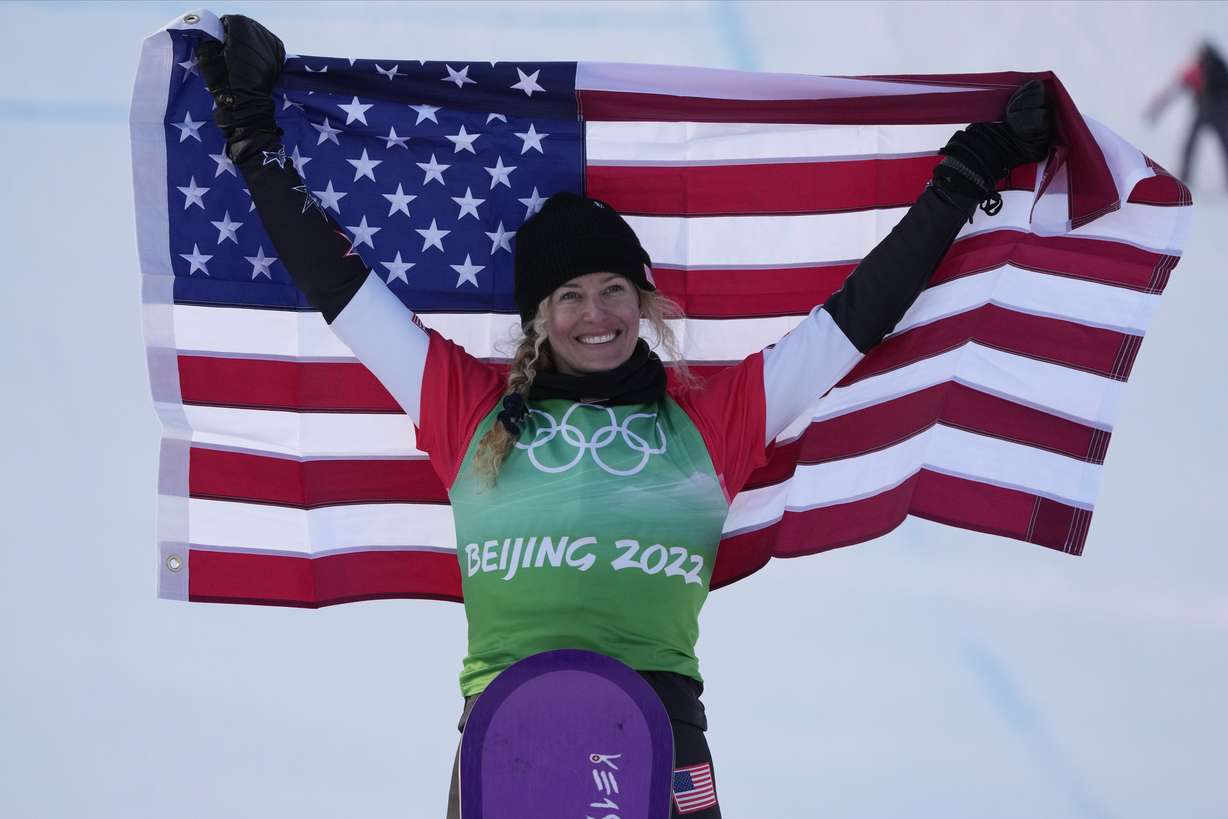 After finally ending a 16-year journey with her first Olympic gold in snowboard cross, former Westminster College student Lindsey Jacobellis will try to double her haul Friday night in the mixed team event.
Jacobellis, who prior to Wednesday was perhaps best known for her premature celebration that cost her the gold during the 2006 Turin Games, will be joined by Salt Lake City native and Westminster graduate Faye Gulini in the mixed team event.
Gulini will be paired with Jake Vedder, and Jacobellis with Nick Baumgartner in the quarterfinals, which start at 7 p.m. MST, with finals tentatively scheduled for 7:50 p.m. MST on NBC and Peacock.
×
Related stories
Most recent Olympics stories