Estimated read time: 7-8 minutes
This archived news story is available only for your personal, non-commercial use. Information in the story may be outdated or superseded by additional information. Reading or replaying the story in its archived form does not constitute a republication of the story.
AT THE GAMES — From the moment Nathan Chen first waded onto the ice at the Salt Lake City Sports Complex wearing his too-large skates and a yellow coat down to his ankles, Stephanee Grosscup knew he was going to be something special.
She even went home and said those very words after she taught the 3 1/2-year-old Utah native his first lesson in the shadow of the Winter Games in Salt Lake City. When Chen's mother asked her if her son "might have a future" in the sport two years later, Grosscup laughed; the answer seemed so obvious.
"He's still such a good friend on many levels," said Grosscup, the former Salt Lake 2002 choreographer who coached Chen off-and-on until he moved to California to train with his current coach Rafael Arutunian in high school. "But he had this dream at such a young age to be an Olympian, and to see his dream manifest itself has been so incredible and so inspiring.
"I feel so humble and lucky that I had the opportunity to be a part of his journey."
On Wednesday night, Chen's journey hit a high note when his future met his present.
Just 48 hours after setting a world record in the Olympic short program and skating to an all-time Elton John classic, Chen blasted off to Olympic gold, landing five quads to score a personal-best 218.63 during the free skate competition and waltzing to the top of the podium at the Capital Indoor Center at the Beijing Winter Games.
The Salt Lake City native clinched his first Olympic gold with a total score of 332.60, a personal record.
"It's just a whirlwind right now. But I'm so happy," Chen told NBC moments after his final skate. "That program is a lot of fun to skate, and in the end, I just had a blast out there. I'm grateful."
Japan's Yuma Kagiyama finished second with a scorching 310.05. The 18-year-old laid down the gauntlet in the penultimate routine, putting up a 201.93 final with a technical score of 107.99. Japanese countryman Shoma Uno nailed the bronze with 293.0.
Fellow American skater Jason Brown — the 2015 U.S. national champion and close personal friend of Chen since the two skated at youth nationals in 2007 — finished sixth.
"He deserves it," Brown said in the mixed zone after his skate. "I've gotten to compete with him over the last four years — at all the world championships, every national championship, the Grand Prix. There is no one more deserving. He worked so hard. He's so unbelievably talented. I'm so proud to be a teammate."
It might not be his last gold in Beijing, either. Chen played a key role in leading Team USA to silver in the team event behind the Russian Olympic Committee, but the team medal ceremony has been delayed indefinitely due to "legal issues" from the ROC camp related to reports of doping linked to 15-year-old Russian starlet Kamila Valieva.
If the Russian's team title is invalidated, that would elevate the Americans to gold — and double Chen's total haul.
With the individual win, the 22-year-old Chen became the first American man to win a gold medal in figure skating since Evan Lysacek at the 2010 Vancouver Games. The two are part of an exclusive list — only six other American males make the list, and just one in the past 34 years.
Make it two.
Dick Button in 1948 and 1952, followed by Hayes Alan Jenkins and David Jenkins in the next eight years. Scott Hamilton 1984, and Brian Boitano four years later. Lysacek most recently, 12 years ago, after which he called Chen "the best figure skater of his generation" in an NBC promo that aired earlier Wednesday.
The son of two Chinese immigrants born in the shadow of the Intermountain West in Salt Lake City, who continued to stay true to his Utah roots even after moving to California as a teenager to train and eventually winding up on the East Coast for college, returned to his parents' homeland to break U.S. figure skating's big drought.
"You can't imagine what it would feel like. It's amazing," Chen said, before addressing his lineage. "My mom was born here (in Beijing), and of course I have that family connection. I'm glad I had that opportunity."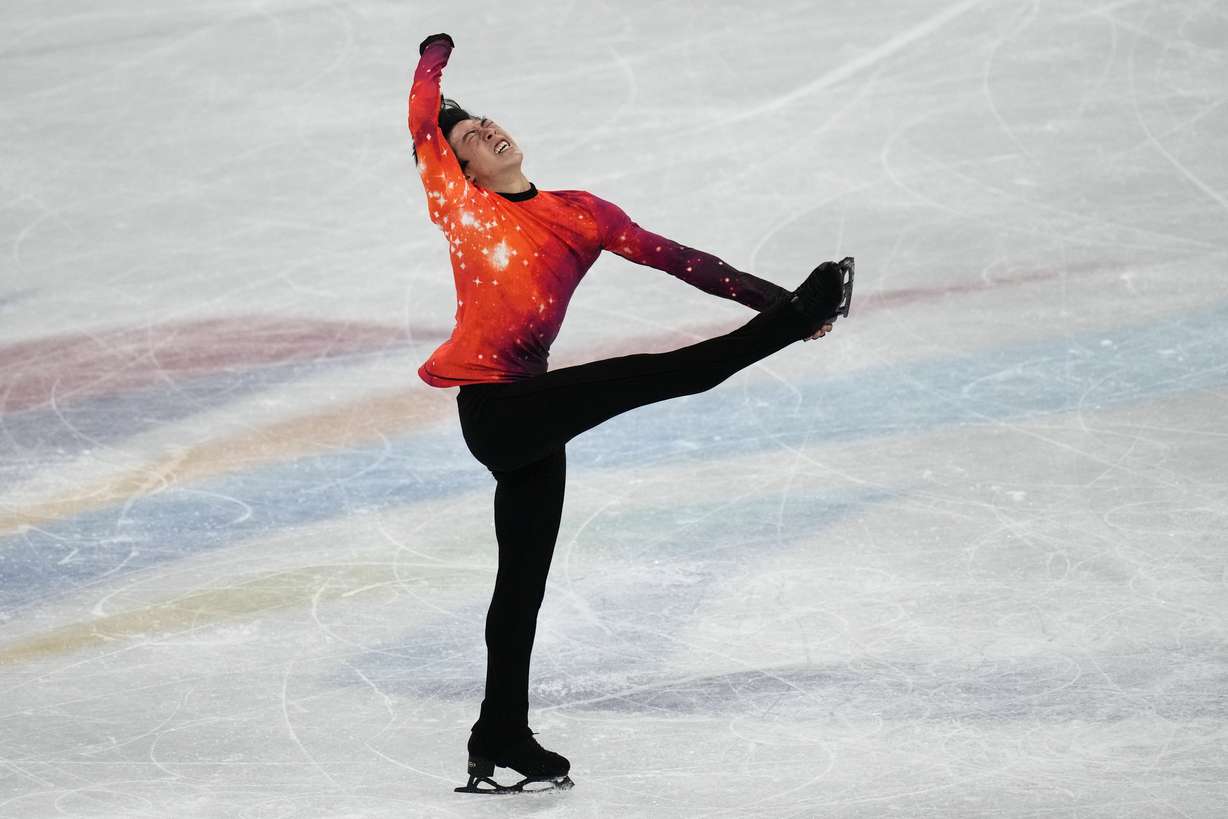 The three-time world champion will go for a fourth title in March in Montpelier, France. If he manages to do what he's done every year since 2018 (the 2020 championships were canceled due to COVID-19), Chen will become the first four-time world champion from the United States since Scott Hamilton from 1981-84.
But first, there was the matter of Olympic gold — something he's been dreaming of his whole life, but specifically since tasting heartbreak four years ago.
The Yale undergraduate has lost just once — last year at Skate America — since falling during the short program at the Pyeongchang Games in 2018. It was a moment that dashed the then-18-year-old Chen's medal chances, and one he's been forced to relive over and over again in interviews and mixed zones across the globe as he's put on a dominant four years since.
Did it bother him? Maybe, but Chen never showed it. Competitive as ever, despite his calm and stoic presence on the ice, Chen answered every question, every inquiry and every reminder of 2018 with class and dignity.
"Everything in life happens for a reason," Chen's coach Arutunian told Olympics.com after Tuesday's practice session. "And if you make right decisions after something happens … that's, I think that's what he did."
Chen could do no wrong on his worldwide barnstorming tour since the miscue in Korea.
Beyond the three world titles, he's won six U.S. national championships — the most recent only a month ago — and put in arguably his best performance of the stretch most recently at Skate Canada.
That is, his best until Tuesday night in Beijing, when Chen laid down a perfect quad flip, cruised with ease through a triple axel, and finished with a quad lutz-toe loop that added 21 points to finish with a world-record score of 113.97 and take a five-point advantage into the free skate.
As he pumped his first and bowed to the crowd as he skated off the ice, his body language seemed to say it: Quit asking about Pyeongchang.
"Nathan is not one that likes to dwell in the past," Grosscup told KSL.com. "He likes learning from it, but doesn't want to relive one of the worst skates of his life in Pyeongchang. He's really risen from the ashes, got up, and rode forward."
All Chen had to do Wednesday night was not fall to secure his first-ever Olympic gold.
He did much more than that.
Skating to Sir Elton John's "Rocket Man" — the legendary pop star who shouted out his performance on Twitter — Chen opened with a beautiful quad flip, recovered well from his first salchow attempt before a perfect quad lutz that nailed him 16.59 points. He finished off with a quad-toe, half-loop with a single flip and a triple lutz that gave him enough to overtake Kagiyama for the gold medal.
"After I finished the last jump, I thought I was close," Chen told NBC. "Of course I was thinking about that mistake. Overall, just so happy."
The moment fulfilled a lifelong goal for Chen, who in addition to skating also played the piano, ice hockey, gymnastics and performed with Ballet West — all by the time he won his first youth national championship at 10 years old.
Chen, who grew up largely in the public eye, has finally fulfilled the dream he set out nearly two decades ago.
"In PyeongChang, he was 18 years old. He didn't have much international experience, but just a young boy's dream of wanting to win the Olympics," Grosscup said. "It was a green dream on some levels."
×
Photos
Related stories
Most recent Olympics stories