Estimated read time: 5-6 minutes
This archived news story is available only for your personal, non-commercial use. Information in the story may be outdated or superseded by additional information. Reading or replaying the story in its archived form does not constitute a republication of the story.
PROVO — Somewhere in the 809-mile trip between Santa Clara, California, and the return home to Provo, something broke with the BYU men's basketball team.
Mixing it with the powerhouse that has become Gonzaga, the No. 2-ranked team in the country and No. 1 team in KenPom's predictive metrics, was like mixing water with lead.
Chet Holmgren had 20 points, 17 rebounds, six assists and five blocks; and Julien Strawther added 19 points and five rebounds as the Zags cruised to their 29th consecutive win in West Coast Conference play with a crushing 90-57 rout of BYU, handing the Cougars their worst loss since a 34-point setback to Gonzaga back on Feb. 23, 2019.
Andrew Nembhard supplied 15 points, four rebounds and four assists; and Drew Timme opted for 13 points and five rebounds for Gonzaga, which improved to 19-2 overall with an 8-0 mark in WCC play with the Zags' 12th-straight win.
The win extended a series record to 23-7 all-time and sent the near-capacity crowd of just under 19,000 that included close to 6,000 students who camped out since Thursday night home with disappointment and longing for answers.
Get in line, kids. The season's ultimate test continues for BYU basketball, which once pursued a No. 7 seed in the NCAA Tournament and now finds itself in "Next Four In" territory by ESPN's Joe Lunardi — at best.
Losing to Gonzaga isn't a mark of dishonor. Losing by 33 at home after giving up losses to Santa Clara, Pacific and San Francisco is, shall we say, slightly troublesome?
"They're clearly a really, really good team," BYU coach Mark Pope said of the Zags. "They're well deserving of their ranking and they played great tonight. They're really good in every way. Terrific showing by them and we'll continue to be a work in progress trying to get better."
Gideon George had 14 points before fouling out after 19 minutes to lead BYU (17-8, 5-5 WCC), which lost its fourth-straight game for the first time since 2014 and pushed its NCAA Tournament hopes closer to the edge.
Alex Barcello added 9 points and five assists, and Seneca Knight — who started for the first time since Dec. 11 in place of an injured Te'Jon Lucas — supplied 13 points and six rebounds.
Statistically, the Cougars were never supposed to hang with the Zags. And despite the 2:04 of lead time, BYU trailed about as wire-to-wire as they come against Mark Few's machine.
Only when the Cougars trailed by 30 points, which they did when Nembhard secured a 3-pointer with 1:58 left in the first half, did any sense of competition return to the Marriott Center.
It didn't matter, though, as the Zags did what they've done nearly 30-straight times to a team from the WCC, since a 91-75 loss in front of a sold-out Marriott Center on senior night celebrating Yoeli Childs, TJ Haws and a handful of former BYU players now enjoying professional careers.
Childs wasn't walking through the Marriott Center ticket office Saturday night, nor was Haws, Jake Toolson or the rest of that class. If they had, they might have sat courtside next to New York Jets quarterback Zach Wilson and Washington Commanders wide receiver Dax Milne — and been equally stunned by the two-week trajectory of the program.
"We're doubting and we're wondering a lot. We need to get better," said Pope, who hasn't lost four consecutive games since finishing 17-17 with Utah Valley in 2016-17 — his second season as a Division I head coach. "We're really being tested, and we're going to have to find some new, creative answers. We've got to reinvent ourselves a little bit.
"We can do some good things. We have good players. We're just going to have to find a better way to do it."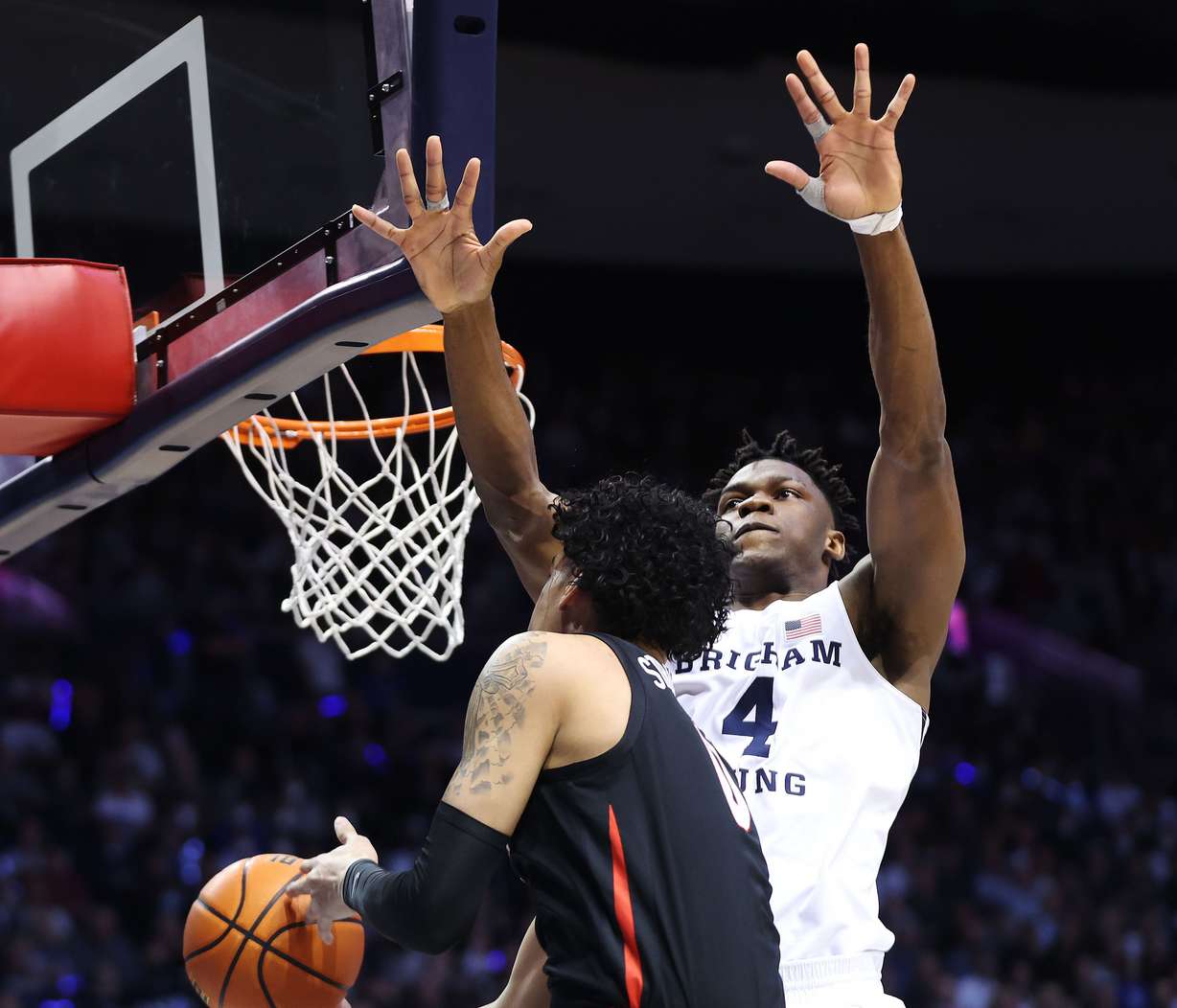 Armed with the seventh different starting lineup of the season and an army of students equipped with new white bucket hats, thunder sticks and the fury of 72 hours spent sleeping outside the Marriott Center in tents, the Cougars made it tough on the visiting Zags early. The near-capacity crowd erupted after George buried a 3-pointer to go up 5-0 in the opening minutes.
But as it usually is with these Zags, the lead was incredibly short-lived, as Strawther drained his own deep three with 16:14 on the clock to cap a 12-0 run before the first media timeout.
Riding a three-game losing skid — three times the length of any other BYU faced in the coach Pope era — the Cougars' job was always going to be difficult. And it got more difficult when Lucas showed up Saturday evening in street clothes.
The graduate transfer from Milwaukee who averaged 10.4 points and 4.4 assists per game was out after suffering an injury and ensuing head and neck pain in Thursday night's loss to San Francisco, though Pope seemed hopeful it wouldn't be a long-term issue.
"He's doing good," Pope said, "but he's got a little bit of neck pain and head pain, so we held him out tonight."
Regardless, BYU continued to experiment to try to break its current funk, one that also included road losses to Santa Clara and Pacific.
It takes a perfect game and a little luck to beat Gonzaga, though the Cougars were the last team in the West Coast Conference to do it 28 games ago on Feb. 22, 2020. On this particular Saturday night, BYU had neither, shooting just 25% from the field, 4 of 15 from three, and trailing for all but 3:11 en route to a 47-23 halftime deficit.
Holmgren had 13 points and 10 rebounds at the break for the Zags, and Strawther added 10 points and three boards.
Besides George, only Barcello and Spencer Johnson had made multiple shots at halftime, and they both had 4 points at the break. As such, much of the second half including bouts of searching and investigating, from Barcello to George to Johnson to young players like Fousseyni Traore, Hunter Erickson and even seldom-used Trey Stewart.
The Cougars continue looking for answers.
None came. With five games left in the season, including a road game Feb. 19 at Saint Mary's sandwiched between a defacto and home-and-home series with LMU and Pepperdine, the search for answers continues.
Better come quick.
"At this point, where we are right now, it's one game. It's Thursday. That's always the way we are, but for us right now — it's not even Thursday. We don't practice on Sundays, but we'll meet Monday morning at 8 a.m. and we're going to start again reinventing ourselves."
×
Photos
Related stories
Most recent BYU Cougars stories