Estimated read time: 5-6 minutes
This archived news story is available only for your personal, non-commercial use. Information in the story may be outdated or superseded by additional information. Reading or replaying the story in its archived form does not constitute a republication of the story.
Ford re-entered the compact truck market in 2022 with its new Maverick model. Road & Track notes it is Ford's first new pickup offering since 1983. I did a test drive over a few days earlier this month and I love this truck – a lot.
My first exposure to compact trucks came in 1979 when I was working on a groundskeeping crew at BYU. The school had a fleet that included Datsuns and Chevys. Those trucks got hammered day after day and I was impressed with all they could do given their small stature.
Compact trucks were extremely popular in the 1970s and 1980s and into the 1990s, but In the ensuing years people switched to larger trucks. The Ford F-150 became the most popular vehicle in the nation and the standard by which all other trucks were measured.
With the introduction of the 2022 Ford Maverick, it's possible small trucks will again become a thing. It certainly has a lot going for it. In fact, the January issue of Car and Driver reports, "For those of us who fondly remember the mini-truck craze of the 1980s and '90s, the Maverick feels like the beginning of something big."
I had the Maverick for five days and drove it from Farmington to Pleasant Grove and from Utah Lake to Tibble Fork. It drove and handled great, whether it was on freeway pavement or gravel roads in the mountains.
Here are some of the reasons I think the Ford Maverick has a chance to unseat its larger sibling as the country's most popular vehicle.
Low price
The base price for the XL model is just $19,995. For that low price you get a 2.5-liter hybrid engine (191 horsepower), a crew cab with seating for five, an 8-inch touchscreen compatible with Apple and Android, a rear-view camera and more. It has a 1,500-pound payload and a 2,000-pound towing capacity.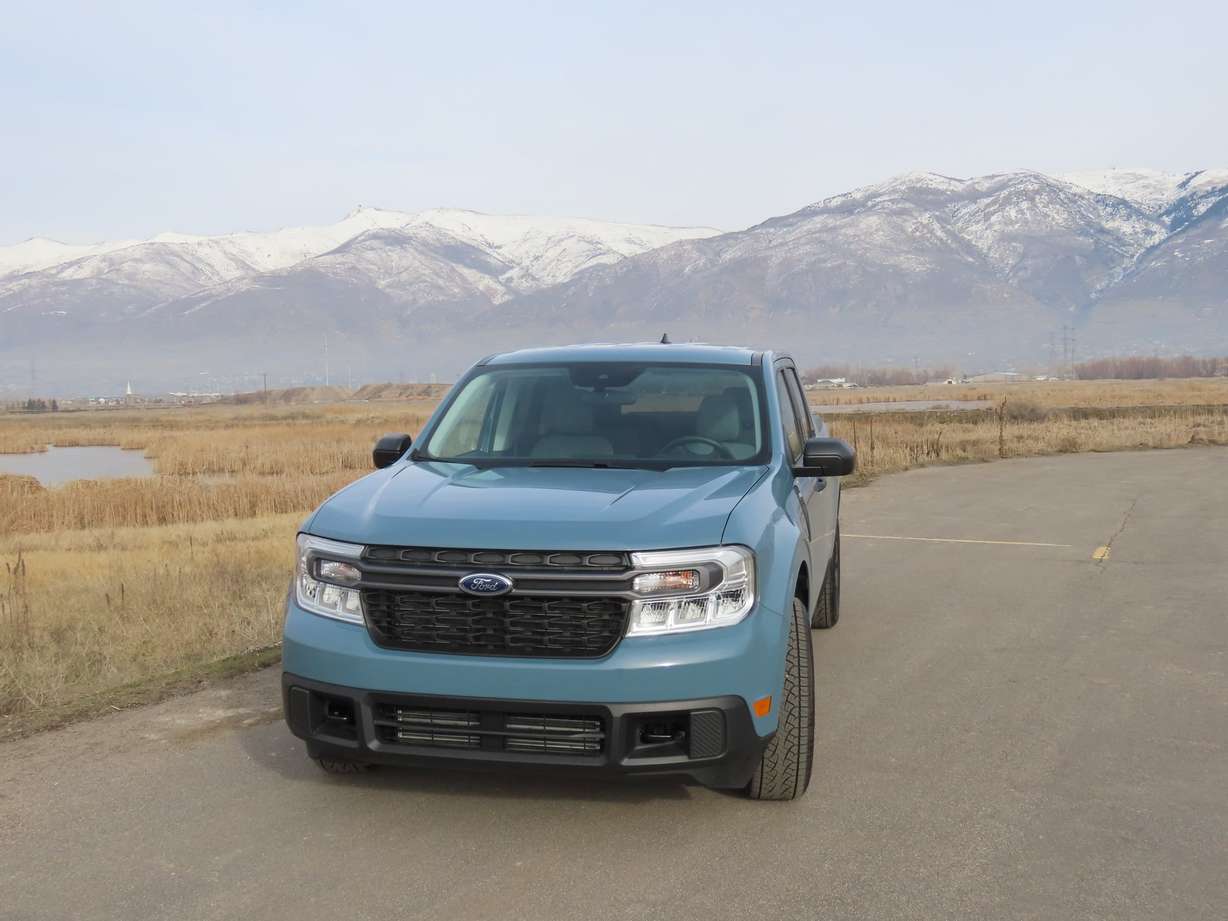 My test drive truck was the XLT model with the all-wheel-drive package including the 2.0-liter EcoBoost engine. Optional equipment included the tow package, an off-road package, the Co-Pilot360TM safety package and a spray-in bed liner. The EcoBoost engine ups the horsepower to 250 and the towing capacity to 4,000 pounds. With those options, the sticker price on the truck I tested was $28,280.
Also available for $2,500 is a luxury package that includes things like remote start, heated seats and steering wheel,
A Lariat version is available with a starting price of $25,860 topping out at about $37,000 with virtually all available options.
Lots of practical applications
With most new pickups priced in the $40,000 to $50,000 range, it's difficult to overestimate the appeal of a truck that costs half as much. The XL base model is going to be attractive to fleet customers who want trucks for businesses like painting, pest control, yard care, small construction jobs, etc.
That doesn't even count homeowners with weekend projects who need to haul stuff or tow trailers, but don't truly need a full-size truck. As Car and Driver explains, "Maverick turn(s) back the clock to the days when a four-banger Chevy S10, or an Isuzu, or a Ranger, could take care of your small-scale landscapers and fishermen and college kids who wanted a truck but not a truck payment."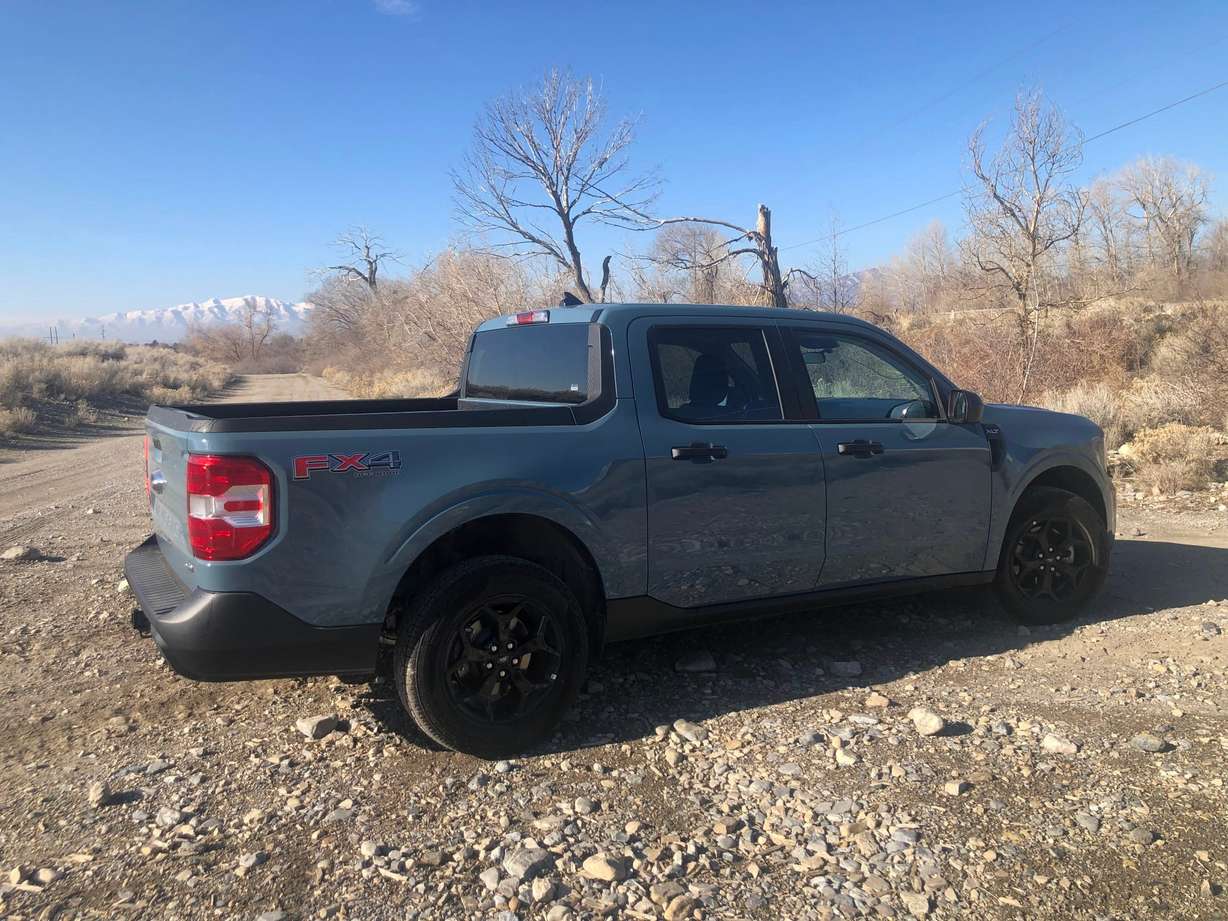 If you're uncertain whether the short (4.5 feet) bed of the Ford Maverick can handle your gear, check out the photos with this article where Motortrend shows the vehicle's flexbed filled with a wide range of stuff.
And while four-wheel or all-wheel-drive is the standard for trucks in Utah, that isn't the case across much of the country where hills and dirt roads are scarce and snow rarely falls. Heck, I regularly drive Utah backroads and almost never need to use my truck's four-wheel drive. For most people who only need truck capabilities occasionally, the front-wheel-drive version should do nicely.
Fuel economy and more
In addition to being economical to buy, the Ford Maverick costs less to operate. The EPA mileage rating for the 2.5-liter hybrid is 42 city/33 hwy/37 combined. For the all-wheel-drive 2.0-liter version the numbers are 22 city/29 hwy/25 combined.
While I love big trucks, they have some downsides. I don't like trying to park them in parking garages or other tight spaces. And while they've got good power, they lack the responsiveness and sporty feel of smaller vehicles.
The Ford Maverick was fun to drive. It had plenty of zip when accelerating and merging onto the interstate. Driving on wet and somewhat slick pavement in American Fork Canyon it handled the curves with never a hint of slippage.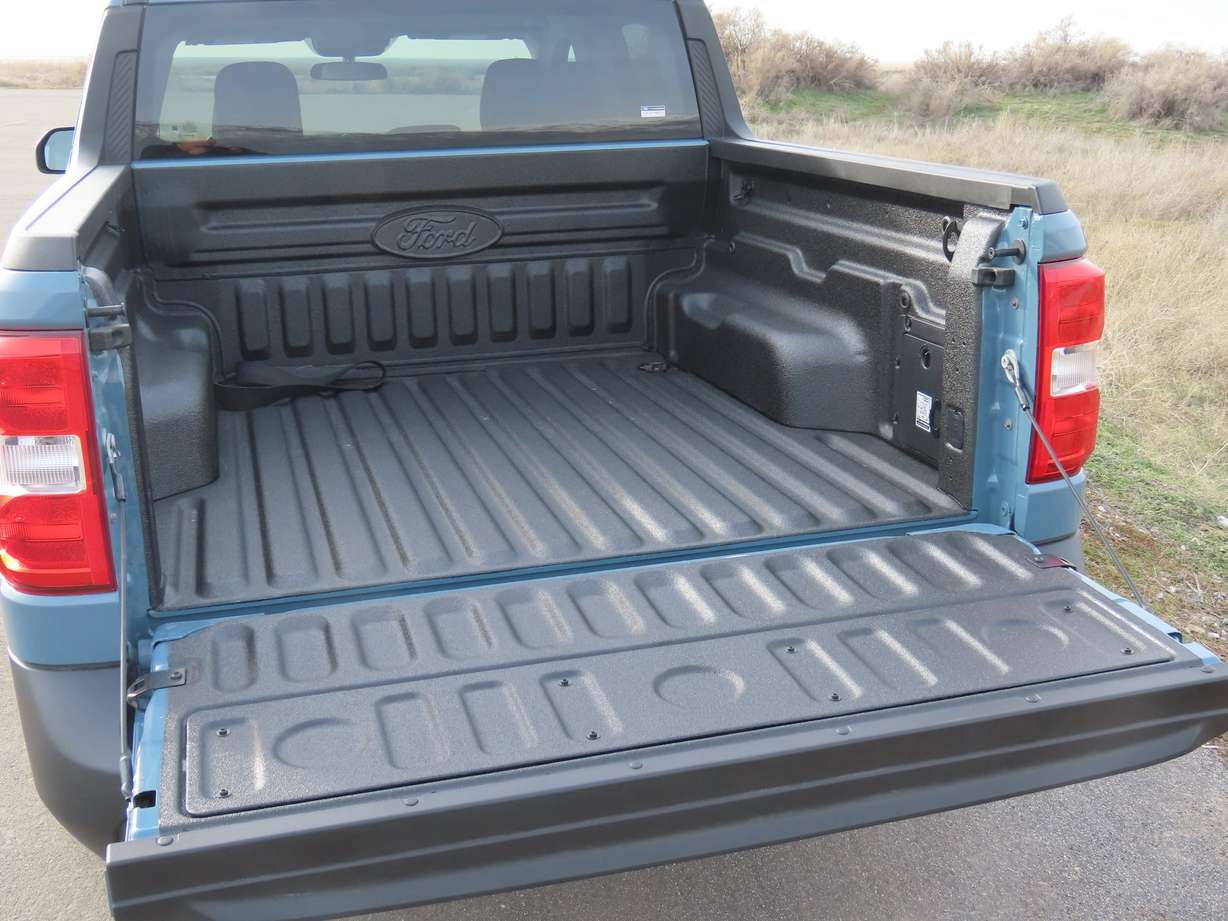 When doing research for this article I read many articles and reviews and they were universally positive. For example, a review in Motortrend states, "Despite its relatively modest underpinnings, the Maverick is shockingly capable. With a stubby little 4.5-foot bed, it can haul as much as 1,500 pounds, and it features integrated slots to allow owners to DIY their own bed dividers, bike racks, and other accessories."
A review by Edmunds.com reports, "The Ford Maverick may be small, but it's no city runabout. From the way it drives to its few-frills interior, the Maverick feels like a truck first and foremost. This is a compact pickup for towing and hauling with confidence — just at a smaller size and lower price point than other trucks on the market."
Way back in the early 1990s, I owned an Isuzu mini pickup. It was a basic two-wheel-drive, manual transmission model with no frills — not even air-conditioning. It was my favorite vehicle to drive and I used it for hunting, fishing and everyday hauling and I was perfectly content with it.
The 2022 Ford Maverick is light years ahead of what I owned back then and I'm confident it is going to be very popular with drivers who need the utility and convenience of a truck but don't want to pay the hefty price that comes with most of today's pickups.
Take a test drive of your own in the 2022 Ford Maverick at a local dealership or go to BuyFordNow.com and see why this little truck could be the next big thing in the automotive space.
×
Photos