Estimated read time: 4-5 minutes
This archived news story is available only for your personal, non-commercial use. Information in the story may be outdated or superseded by additional information. Reading or replaying the story in its archived form does not constitute a republication of the story.
Smooth. Sleek. Simple.
Those are the words I use to describe the 2022 Nissan Altima. After test driving the AWD model for a weekend, I reluctantly returned the keys. Getting the chance to drive a brand-new car for the weekend is always a treat, but this car left me with a longing I don't always experience.
Edmunds.com says, "It has a distinctive sense of style, its front seats provide long-distance comfort, its standard engine supplies a good blend of performance and efficiency, and you can get an Altima with all-wheel drive."
Here are a few reasons why I enjoyed driving the 2022 Nissan Altima AWD, and why I think you would, too.
Smooth ride
Though Utah's roads are far from a seamless drive, you would never notice the uneven asphalt or snow-induced potholes while driving in the 2022 Nissan Altima. On one occasion, there were four people in the car as we drove about an hour to our destination. All of the passengers remarked on the smoothness of the ride—even those sitting in the backseat.
Car and Driver's review also mentions the great driving experience. They say, "Surprisingly, the top-of-the-line Platinum model we drove had more cornering grip than the 2019 BMW 330i xDrive we tested. The Nissan also had a comfortable ride that prevented any shudders over undulating pavement."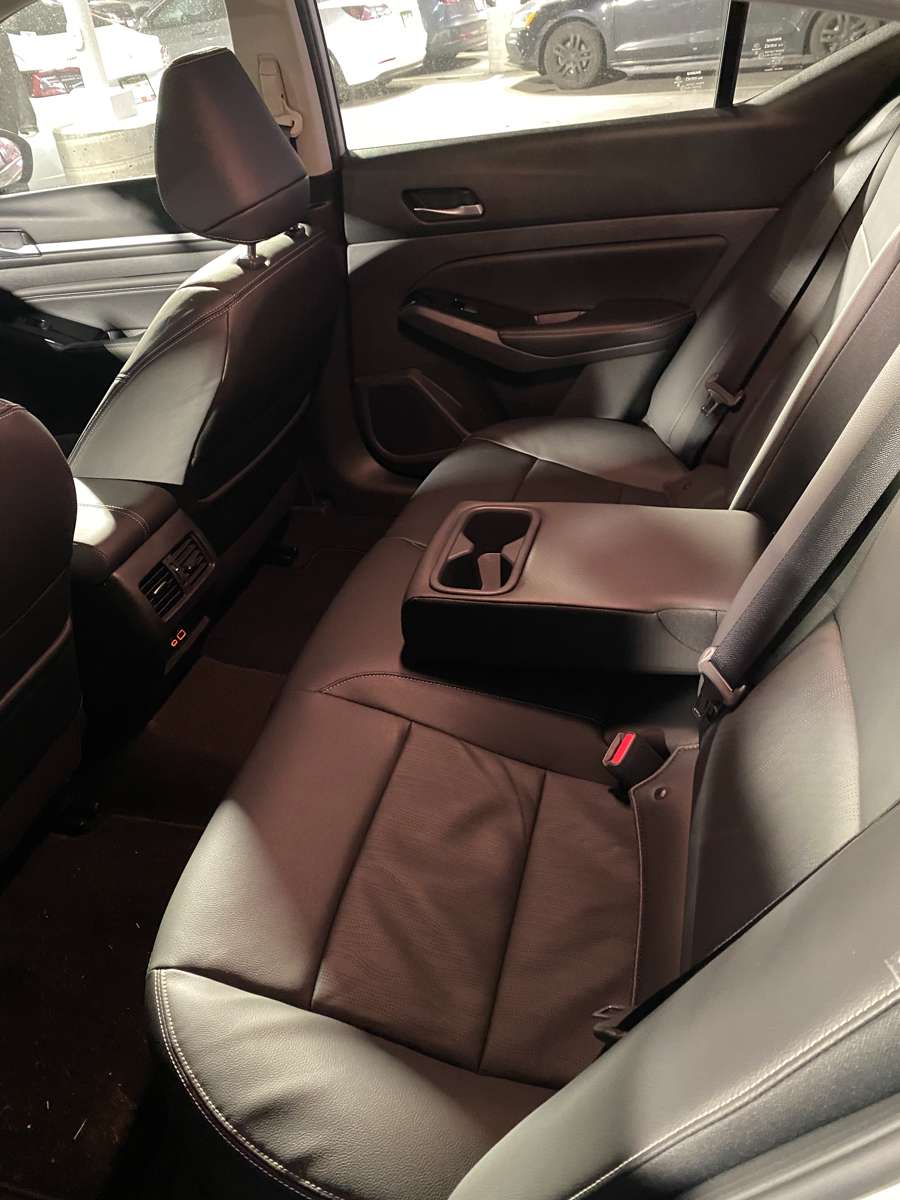 Comfortable for your passengers
Whether you're a small family, a sporty couple or a social single, there is plenty of room both in the backseat and the trunk for all of your necessities. If you're going to be driving the carpool or taking a roadtrip, your passengers will be comfortable in the roomy backseat. If you have two people in the backseat, you can fold down the middle seatback for extra cupholders and space.
AWD performance
The model I drove featured all wheel drive, making the 2022 Nissan Altima AWD a great car to have for Utah's winter months. We effortlessly zipped up Parley's Canyon on our way up to Heber City—and it made far less noise than my personal sedan does.
I didn't feel any monumental effort from the car to climb the hills either. In fact, you'd think we were driving on flat interstate road, based on the handling of the 2022 Nissan Altima.
When we pulled over to take some photos in the snow, the car handled the mud and snow exceptionally well. In fact, it reminded me of other test drives I've done in much bigger cars that are equipped for off-roading.
Kelly Blue Book reports the Platinum version of the 2022 Nissan Altima (the car I drove) gets about 25 mpg in the city and 35 mpg on the highway.
Simple, yet inclusive dash design
As any of my passengers can attest to, I really loved the interior of this car. The simple and inclusive dashboard design gives you everything you need and nothing you don't.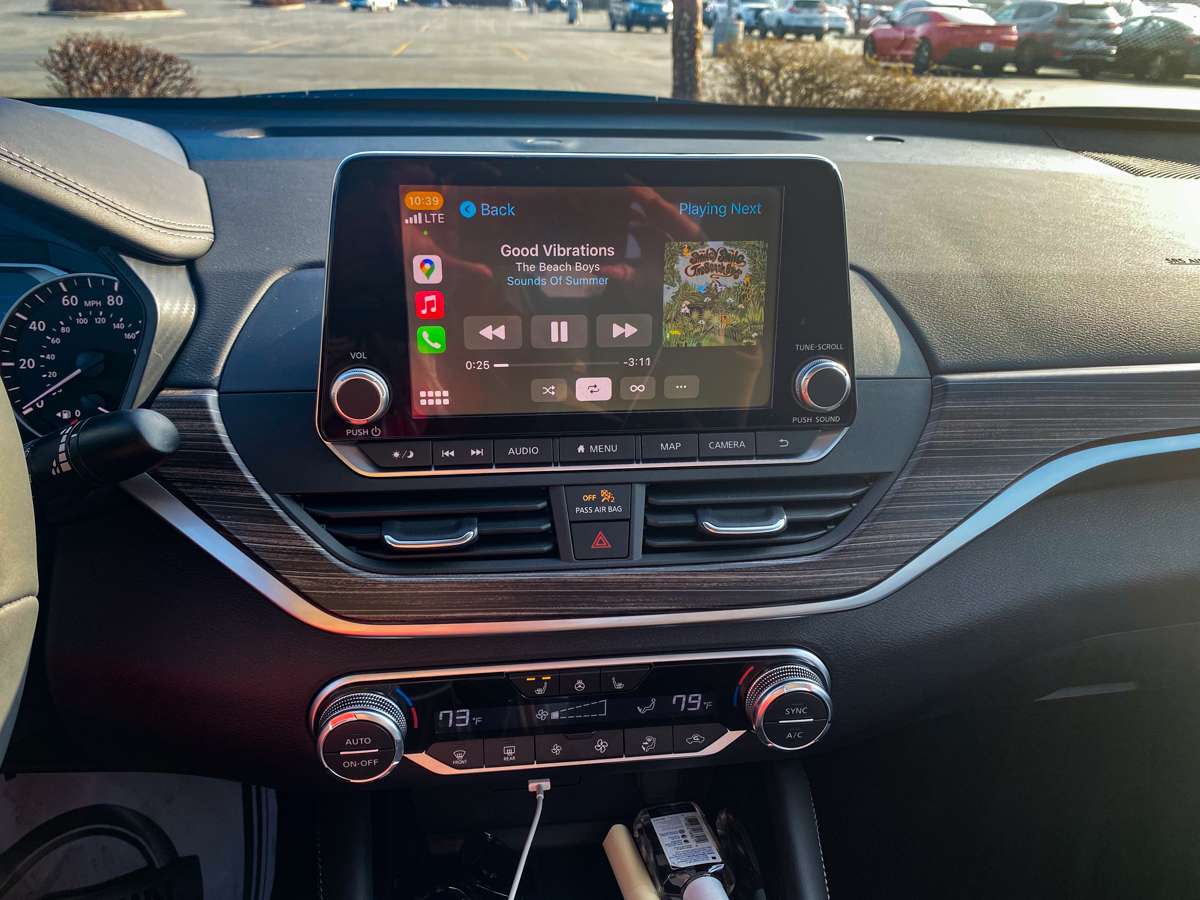 You'll get an 8-inch screen complete with Apple CarPlay and Android Auto. You can see the song/podcast/chapter of whatever you're listening to right behind the steering wheel. This is also where you can change your display and view your fuel economy, odometer, and other vehicle information.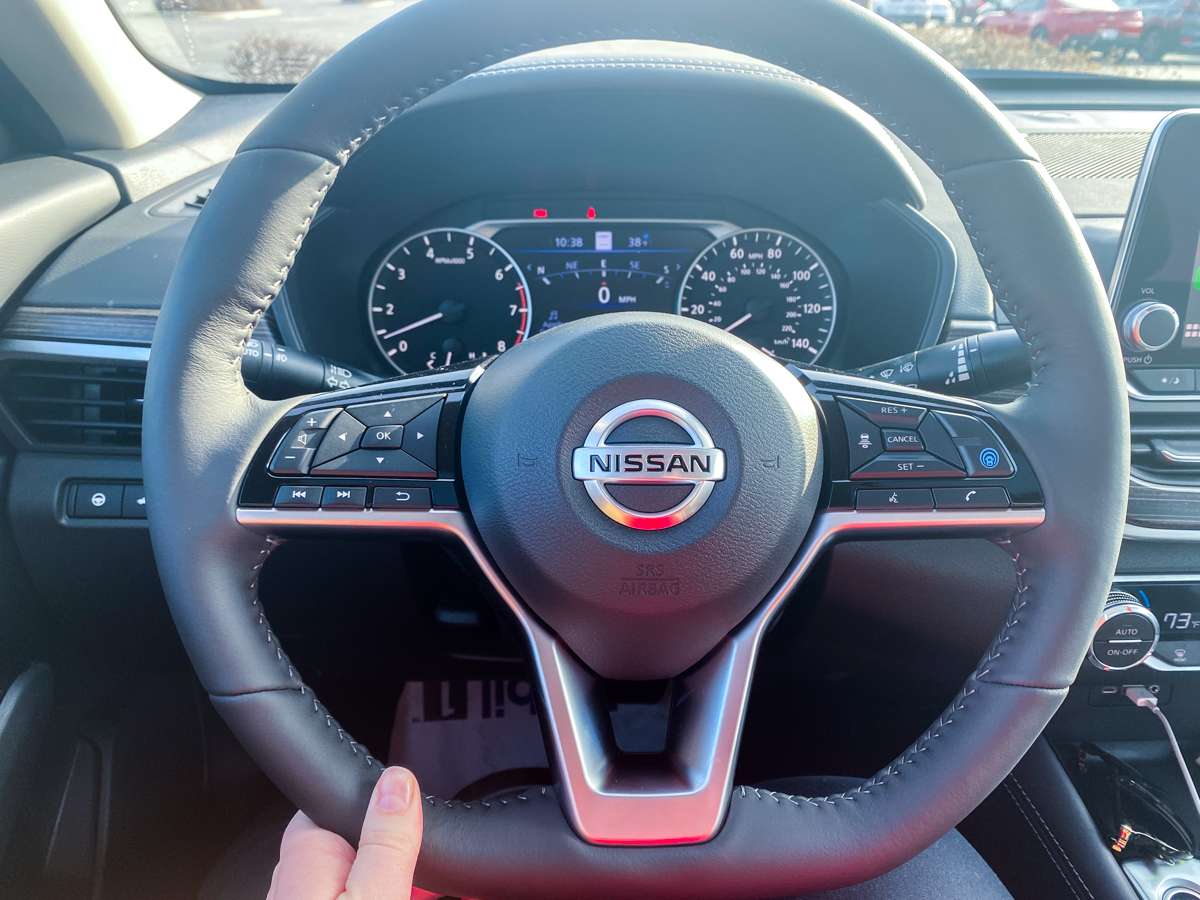 I appreciate the speed limit information the car displays next to your speed—it's great for long stretches when you don't notice a speed limit sign or changes.
The console area has plenty of space for your lip balm, a stray business card, hair scrunchies, that orphaned chopstick, and whatever else you tend to collect in your car. In the tucked-away space of the USB port and charging port, a small light comes on at night. Not only was it oddly comforting, it was helpful if you needed to plug something in.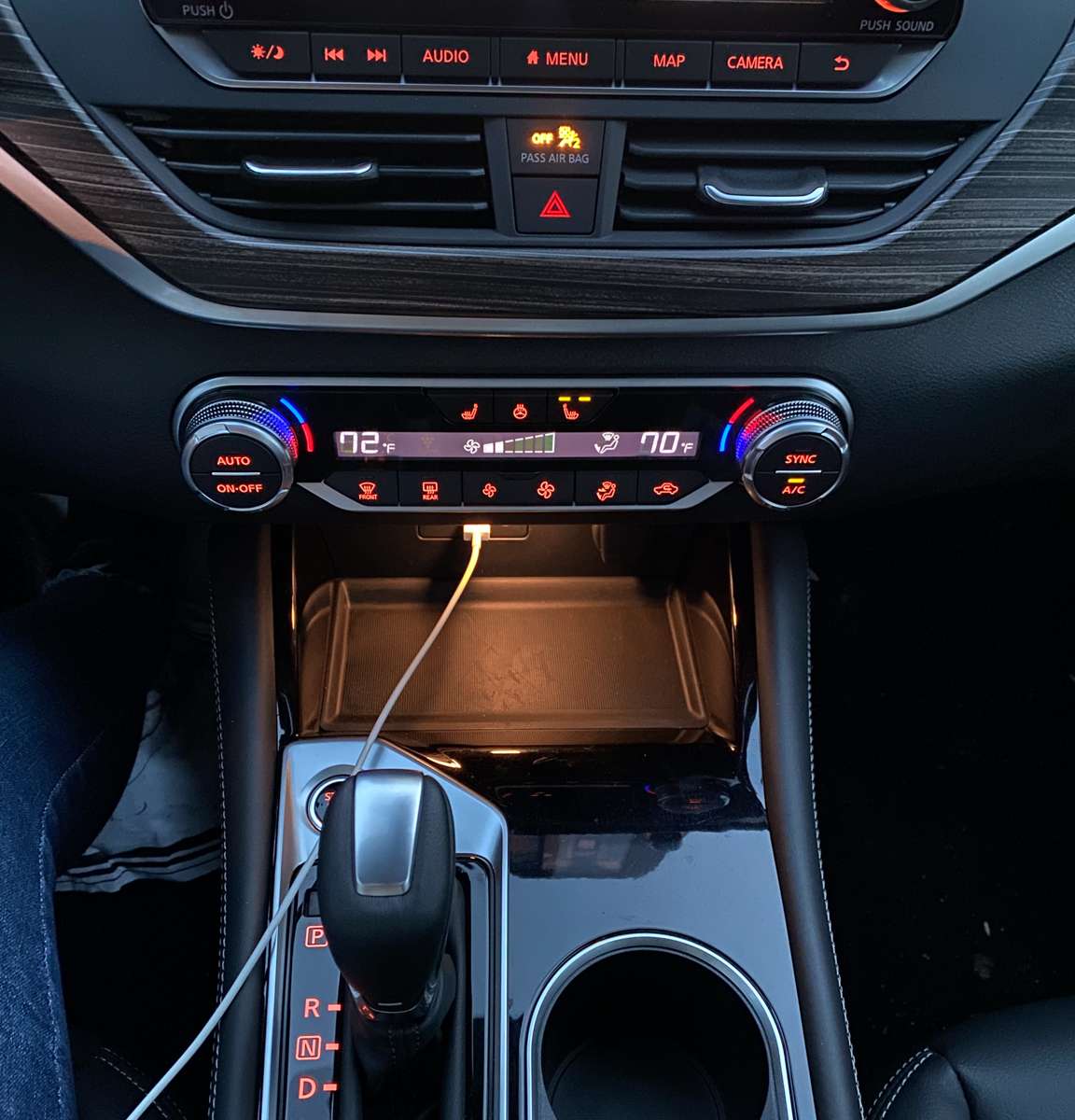 Safety features
The modern safety features aren't something to gloss over—Nissan's Driver Assist and safety technology are something of a marvel. The ProPILOT Assist feature allows you to relax comfortably in traffic or on the freeway. Just push the button, set the distance you'd like to stay back from a car in front of you, and let the car do the work.
The 2022 Nissan Altima will even come to a complete stop in traffic and then start back up when things start moving again. It also keeps the car in the center of the lane for you.
One of my personal favorite features of Nissans is the Intelligent Around View Monitor, or simply put, a birds-eye-view camera. When you're backing out of a tight space or trying to parallel park without hitting that trash can on the curb, this feature is amazing. You can see the car and the space around it from above, so you know the car's parameters exactly.
It sure takes the nervous sweat out of parallel parking. (And that's what it's all about, right?)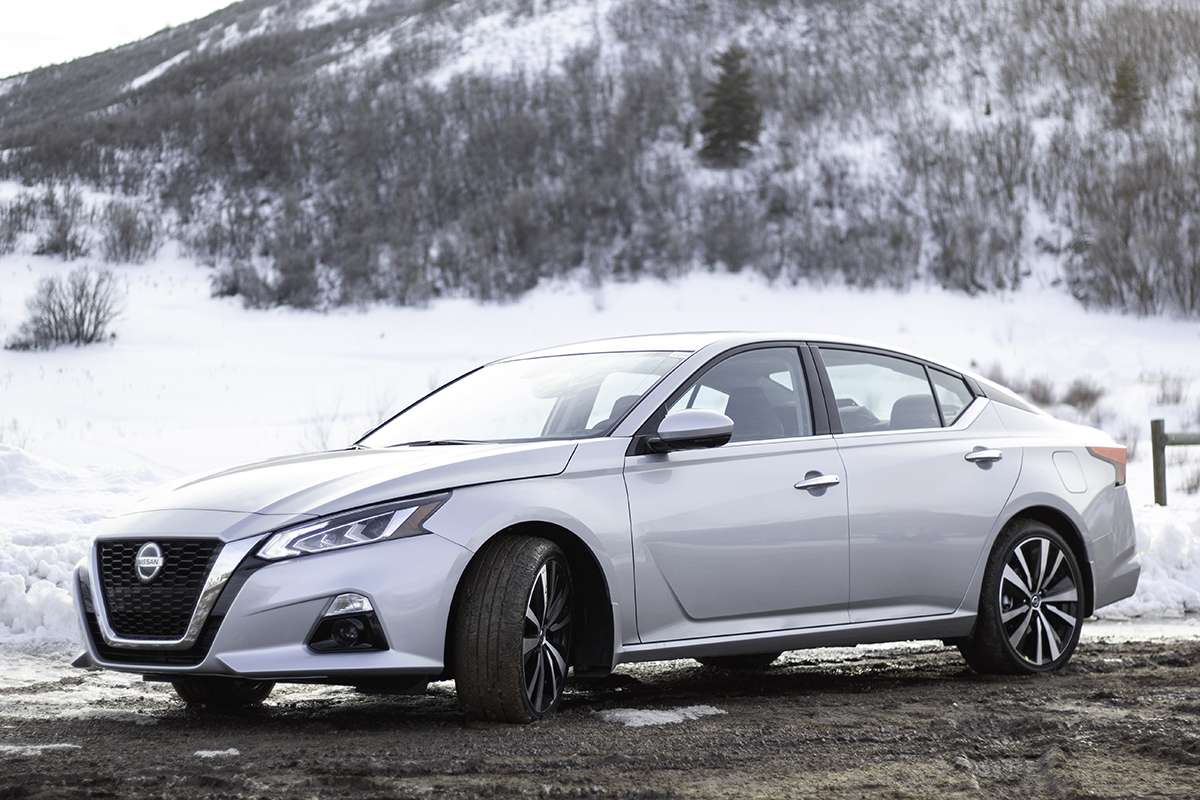 Test drive a 2022 Nissan Altima today
If you're ready to simplify your driving experience and upgrade to a performance car, head over to your local Nissan dealer today. Give the 2022 Nissan Altima a test drive and see why it should be your next purchase.
×
Photos