Estimated read time: 4-5 minutes
This archived news story is available only for your personal, non-commercial use. Information in the story may be outdated or superseded by additional information. Reading or replaying the story in its archived form does not constitute a republication of the story.
PROVO — Monday's basketball game between BYU and San Diego should've been like any other.
The two longtime West Coast Conference rivals — at least, 24 times since the series began in 2010 and every year since the Cougars joined the conference in 2011 — have played plenty of close, meaningful and event contentious contests over the past decade.
But Monday's was just a little bit different and might have BYU set up to go somewhere it's never gone before.
In a game set just two days after the same two teams met in San Diego, Shaylee Gonzales poured in 20 points, five rebounds and five assists, and Paisley Harding supplied 16 points, five rebounds and four assists to help No. 16-ranked BYU roll to a 70-48 win over the Toreros for their eighth-straight victory Monday night in the Marriott Center.
Lauren Gustin added 10 points and 13 rebounds for the Cougars (16-1, 6-0 WCC), her ninth double-double of the season in BYU's eighth-straight win and second over San Diego in three days.
But this one was different. Not only were the Cougars and Toreros (10-8, 2-4 WCC) playing back-to-back games due to scheduling adjustments caused by the COVID-19 pandemic, but the adjustments affected one of BYU's top rivals since joining the conference.
The two teams had exchanged two- and three-game winning streaks since BYU had won four in a row in 2016 and 2017, but USD had the most recent edge with wins in 2020 and 2021. So while the numbers may not scream "roadblock" — the Cougars improved to 17-8 all-time with Monday's win — the mental barricade of facing a head coach Cindy Fisher-led team was there.
"We've lost to San Diego probably more than anyone else the last few years," BYU coach Jeff Judkins said. "Cindy's used to try to play like us and we'd win every time, so she changed her style to compete against us and Gonzaga. So this was good, because we played a team we've struggled with when some of these guys were sophomores and freshmen. To be able to come in as seniors and execute is a very good thing for us; it gives them a lot of confidence.
"We're going to have to play like this. There will be teams in the NCAA Tournament that play like this. I think this experience will help us out a lot."
This one wasn't in doubt for long, though. BYU opened the game on a 10-0 run and never looked back, jumping out to a 12-7 lead after the first quarter rolling behind 10 points and seven rebounds from Gustin to a 35-19 halftime advantage.
The Cougars' offense is efficient, at least in depth. If WCC leading scorer Gonzales, doesn't hit you, then Judkins can turn to Harding.
Defend those two guards, and Gustin will go to work inside. And on down the row: Tegan Graham, Maria Albiero, and Sara Hamson — the 6-foot-7 senior who had 6 points, three rebounds and two blocked shots off the bench — have all had breakout games.
But more potent might be its defense, one that has held opponents under 70 points for the entirety of its current eight-game run.
"Tonight we won the game because of our defense," said Judkins, whose team held San Diego to 36% from the field and 1 of 12 from 3-point range.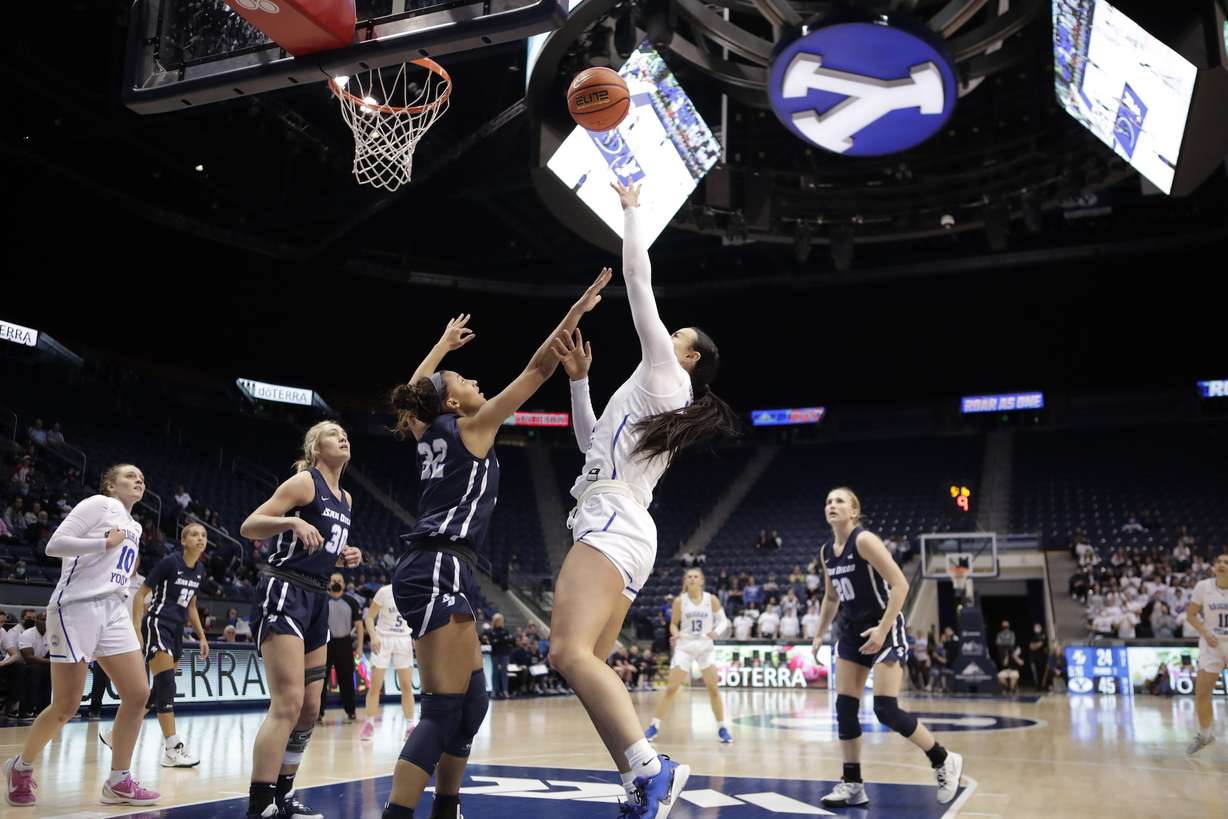 It's the kind of depth reminiscent of some of the best teams in women's basketball. And indeed, by several metrics, BYU ranks among the best of them.
The Cougars inched up to No. 16 in the latest Associated Press Top 25 on Monday, tying a program high (set this season) and setting a program record with the ninth consecutive week in the top 25. BYU also ranks 14th nationally in the NCAA's official NET ratings.
And while the program may not have the brand recognition of South Carolina, Stanford, Tennessee, North Carolina State or UConn, it's getting there. In Charlie Creme's latest bracketology for ESPN.com, the Cougars are projected as a No. 3 seed in the NCAA Tournament.
Even bigger, that would mean BYU would host the first two rounds of the tournament — something that hasn't happened since the tournament set up subregional sites in 2003.
There's a lot of basketball left to be played, starting Thursday and Saturday against Santa Clara and San Francisco. The Broncos (9-6, 3-1 WCC) are the third-best team in the conference, trailing only BYU and Gonzaga — so it should give the Cougars their biggest WCC test of the season before a road showdown with the Zags on Feb. 5.
"I'm super excited. I love playing these home games, love our fans, and I love getting these good teams coming in here," Gustin said. "I'm already eager for tomorrow's practice to start scouting them. We're lucky to have such a great atmosphere for our home games. I'm pumped and excited that we're playing ball."
×
Photos
Most recent BYU Cougars stories