Estimated read time: 6-7 minutes
This archived news story is available only for your personal, non-commercial use. Information in the story may be outdated or superseded by additional information. Reading or replaying the story in its archived form does not constitute a republication of the story.
AROUND THE SHIELD — The Dallas Cowboys and San Francisco 49ers once held a storied history of postseason classics, but the two franchises hadn't faced off in the postseason in 26 years, so one might be forgiven for forgetting.
In the first playoff game between the two sides since Jan. 15, 1995, the Niners' defense found itself on the right side of history.
Elijah Mitchell and Deebo Samuel each scored a rushing touchdown, and the 49ers held the Cowboys to just 77 rushing yards in successfully defending a 23-17 win on Wild Card weekend at AT&T Stadium in Arlington, Texas.
But the biggest question mark out of the Niners' camp also came on defense — specifically from former BYU linebacker Fred Warner, who finished with five tackles.
But it was the San Francisco middle linebacker who suffered a non-contact ankle injury midway through the fourth quarter with the Niners clinging to a 23-10 advantage. Two plays later, Dak Prescott scrambled to his left for a 5-yard touchdown that added seven more to the Cowboys' total with 8:08 remaining.
San Francisco held on, but at what cost, after Warner did not re-enter the game?
"I think it's similar to what he did earlier in the year," 49ers coach Kyle Shanahan said of Warner's injury. "But we're not sure yet.
"He's got a chance."
Warner previously sustained an ankle injury Nov. 28 against Minnesota. After missing a week, the former BYU star returned Dec. 12 against Cincinnati and has been among the top tacklers in the league ever since.
Warner did not return to the game, but he was spotted on the sideline during the remainder of the fourth quarter and even celebrated the win with quarterback Jimmy Garoppolo and his teammates on the field.
He wasn't the only member of San Francisco's defense to go down with an injury. Jordan Willis suffered an ankle injury, and defensive star Nick Bosa was put in concussion protocol, Shanahan confirmed after the game.
That followed inactive streaks of linebacker Marcell Harris (Achilles), safety Talanoa Hufanga (knee) and defensive lineman Maurice Hurst (calf). With the report from the athletic training staff piling up, holding one against the Cowboys was no small feat.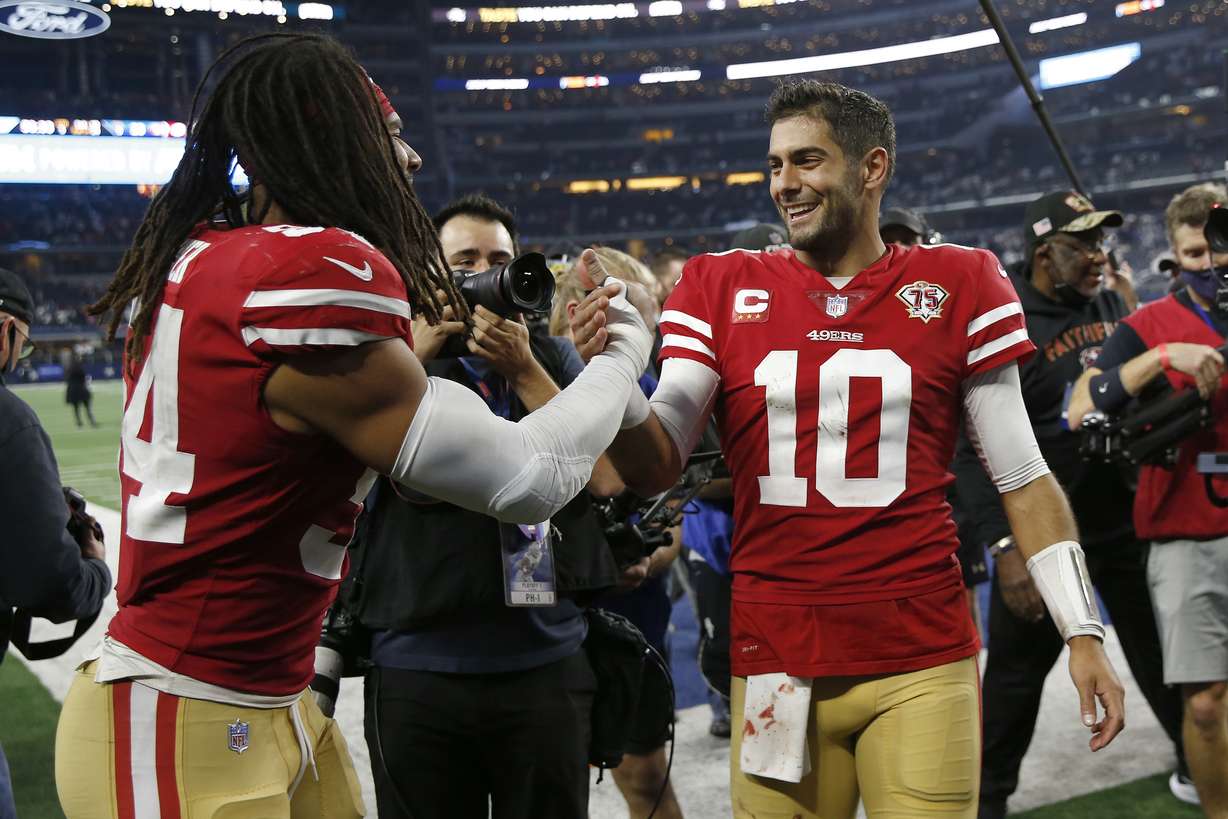 "I think it says so much about our guys all year, to lose two of our best players, our captains, and to be able to protect a lead like that when we're missing a middle linebacker and your best pass rusher," Shanahan said. "Guys have been stepping up in their place, and you're seeing that, too."
The Niners get one fewer day to recover, too. They'll face the NFC top-seeded Green Bay Packers at 6:15 p.m. MST Saturday at Lambeau Field (FOX, FOX Deportes).
Will Warner be there? One player who believes he will is his younger brother Troy, the former BYU defensive back who is currently on the Tampa Bay Buccaneers' practice squad.
"My bro a soldier!!" he tweeted Sunday night, which was followed up by their father Fred Sr. with the inscription, "That bloodline" and a pair of flexing emojis.
Fred Warner himself followed that up late Monday morning with his own optimism, adding he'll be "good to go" against the Packers.
"Sorry for the scare yesterday everyone, I appreciate everyone showing love and support for me and the fellas," he tweeted. "We'll be good to go. Huge win, onto the next."
Shanahan said Monday that Warner was diagnosed with a low-grade ankle sprain, but wouldn't commit to playing him Saturday.
"We'll evaluate him and see as the week goes," Shanahan said. "The initial scare was it could have been (a high-ankle sprain). So, we got good news on that. He had something similar to this earlier in the year, but we'll evaluate him here on (Tuesday)."
Here's how other former high school and college football standouts from the Beehive State performed in the opening weekend of the 2022 NFL Playoffs.
Locals in the NFL Playoffs: Wild Card round
LA Rams 34, Arizona 11
Cardinals (11-7)
Leki Fotu, DT, Utah/Herriman: Made one tackle, one quarterback hurry on defense.
Rams (13-5)
Matt Gay, K, Utah/UVU/Orem: Kicked field goals of 37 and 46 yards, four extra points, and seven kickoffs on special teams.
Terrell Burgess, S, Utah: Made five tackles on defense.
Eric Weddle, S, Utah: Reserve safety played sparingly on defense.
Buffalo 47, New England 17
Bills (12-6)
Star Lotulelei, DT, Utah/Bingham/Snow College: Reserve defensive lineman made one tackle, tallied first career playoff sack in 20 defensive snaps, two on special teams.
Zack Moss, RB, Utah: Reserve running back played six offensive snaps with one carry.
Taron Johnson, CB, Weber State: Starting nickel made five tackles in 38 defensive snaps.
Patriots (10-8)
Kyle Van Noy, LB, BYU: Starting linebacker totaled three tackles in 54 defensive snaps, three on special teams.
Cincinnati 26, Las Vegas 19
Bengals (11-7)
Jalen Davis, CB, Utah State: Inactive for Wild Card round.
Raiders (10-8)
Andre James, OL, Herriman: Starting center played all 77 snaps on offense.
Dallin Leavitt, S, Utah State/BYU: Reserve safety made two tackles in five defensive snaps, 23 on special teams.
Jackson Barton, OT, Utah/Brighton: Inactive for Wild Card round.
Tampa Bay 31, Philadelphia 15
Buccaneers (14-4)
No locals on the active roster.
Eagles (9-9)
Sua Opeta, OG, Weber State/Stansbury: Starting right guard played all 66 offensive snaps, and one on special teams.
San Francisco 23, Dallas 17
49ers (11-7)
Fred Warner, LB, BYU: Starting middle linebacker made five tackles in 59 defensive snaps before exiting the game with an ankle injury.
Mitch Wishnowsky, P, Utah: Averaged 44.8 yards per punt with one touchback and one punt downed inside the 20 in nine snaps on special teams.
Cowboys (12-6)
Francis Bernard, LB, Utah/BYU/Herriman: Reserve linebacker made one tackle on special teams in 24 defensive snaps in return from COVID-19/reserve list.
Simi Fehoko, WR, Brighton: Inactive for Wild Card round.
Dalton Schultz, TE, Bingham: Starting tight end caught team-high seven passes for 89 yards in 58 offensive snaps, and received 10% of the Nickelodeon Valuable Player vote.
Kansas City 42, Pittsburgh 21
Chiefs (13-5)
Daniel Sorensen, S, BYU: Reserve safety made four tackles in 36 defensive snaps, 18 on special teams.
Zayne Anderson, DB, BYU/Stansbury: Reserve defensive back made one tackle in 20 snaps on special teams, six at cornerback.
Marcus Kemp, WR, Layton: Reserve receiver made one tackle in 25 snaps on special teams, with five snaps on offense.
Darwin Thompson, RB, Utah State: Inactive for Wild Card round.
Steelers (9-8-1)
Miles Killebrew, S, Southern Utah: Reserve safety made one tackle in two defensive snaps, added a tackle in 22 snaps on special teams.
×
Related stories
Most recent NFL stories