Estimated read time: 5-6 minutes
This archived news story is available only for your personal, non-commercial use. Information in the story may be outdated or superseded by additional information. Reading or replaying the story in its archived form does not constitute a republication of the story.
AROUND THE SHIELD — Eric Weddle didn't have any intention to return to the NFL, and even less just a year and a half after retiring with the Los Angeles Rams.
The former Utah star was enjoying his post-football career, one that included playing taxi driver for his children's football, soccer and volleyball practices and getting a five-on-five basketball game together with several friends.
For a while, the only time the former 14-year NFL safety thought about football was when he was coaching his son's Under-12 team, the RB Broncos whom he proudly proclaims went 11-1 and won their Ute Conference championship this past season.
But Rams defensive coordinator Raheem Morris called him last week and asked, "Have you been getting fat?" The conversation eventually turned toward coming out of retirement, and Weddle couldn't say no.
If the last team he played for needed him, whether it was on the active roster, practice squad, or simply to carry water bottles, he was going to be there.
"Once you play as long as I did, football becomes who you are, right?" Weddle told Los Angeles media during a 45-minute video call a day after signing with the Rams' practice squad. "Even though I haven't been playing football, I still train like I'm playing football — even if it was never a remote possibility over the last year and a half.
"This is by no means me having an itch. It was just an opportunity of a lifetime. Knowing myself, where I'm at physically and mentally, how great I feel — I've lost some weight, taken some toll off my knees and my back — I train like a mad man. … it didn't take much persuading, honestly."
At first, Weddle thought the Rams were just calling him to try to get some film help. Even as a busy father, he's watched almost every LA snap of the past season — and quite a few of the Rams' Monday Wild Card opponent Arizona Cardinals, as well (6:15 p.m. MST, ABC/ESPN).
He knew that Cardinals quarterback Kyler Murray is "one of the best quarterbacks in the league, obviously," and that defending him started with his feet and his touch, but extended to his deep ball and a host of weapons on the perimeter — even without leading receiver DeAndre Hopkins.
Weddle can still break down film with the best of them, and he's in as good of shape as he can be without the day-to-day rigors of NFL practices. But he's not being brought to Los Angeles just to hang out on the practice field and chum it up with some of his former teammates and a handful of fellow former Utes like Terrell Burgess and Matt Gay, who only remember him as a professional athlete.
Weddle wants to play, too.
"If I wasn't going to play, I wouldn't be here," said Weddle, who selected jersey No. 20 shortly after signing his practice-squad deal, a formality after being out of the league as long as he was. "I think I'm obviously going to have a role. But the checks, seeing routes, that stuff is second nature. The reason you come to the practice squad first is that it gives them an idea.
"At this point, we're building the game plan as if I'm going to be out there. That's the case until something arises."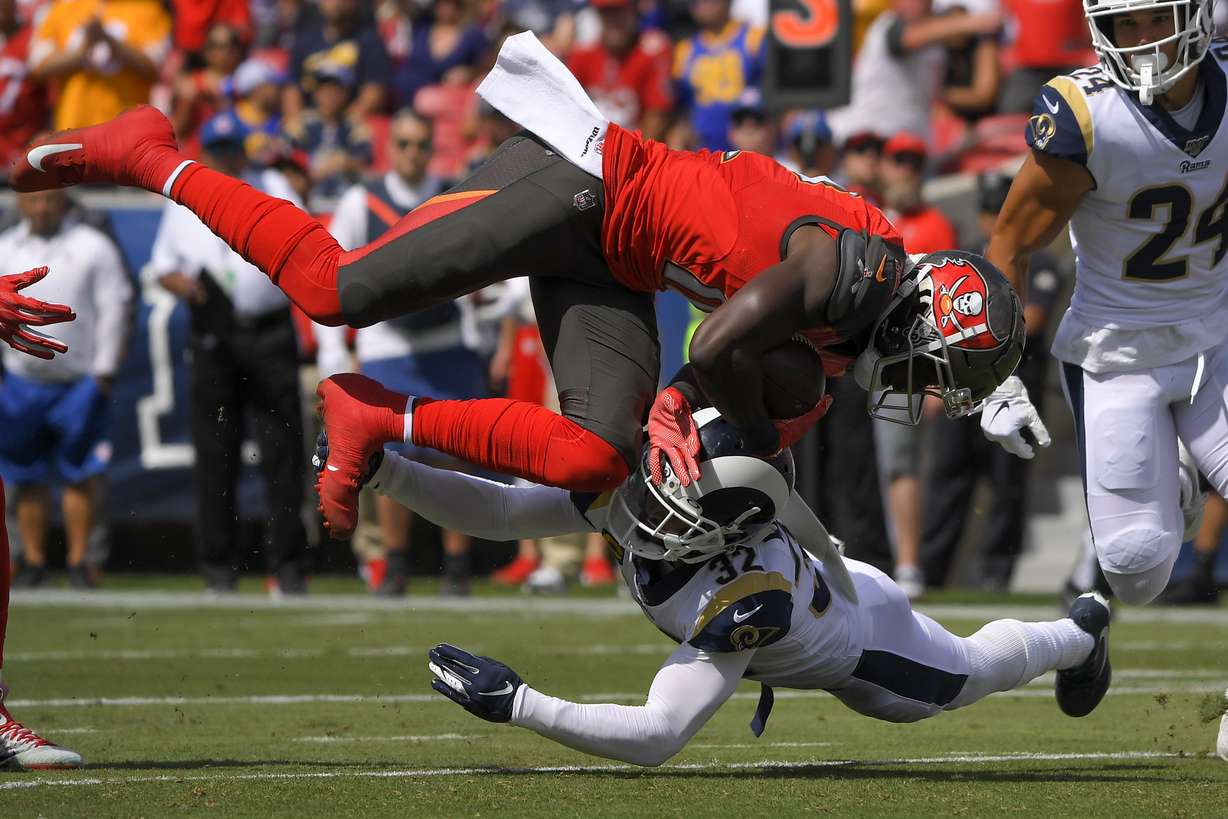 The Rams (12-5), who won the NFC West for the first time since 2018, believe Weddle can help them, too. Safety Jordan Fuller has been ruled out for the season with an ankle injury, and Taylor Rapp is in the NFL's concussion protocol.
"Obviously, with Jordan going down, we had some things to do at that safety position," said Rams coach Sean McVay, who is two years younger than Weddle. "For a guy who takes care of himself, so smart, he can bring such a positive vibe in here. What his role is to be determined, but it's been great having Eric back around. I love Eric, and a lot of guys love having him back around.
"When we called him, I said this guy is crazy enough to think about it — and he certainly is."
McVay and Weddle have kept in touch over the past year, speaking frequently and texting back and forth, even while Weddle was living in Utah and doing some side work with the University of Utah.
So who better to sign to a contract than a six-time Pro Bowler with 29 career interceptions but with just one playoff appearance since 2013 and a former second-round draft pick out of Utah — albeit, from the 2007 draft? The Rams didn't make the playoffs in Weddle's lone return season to Los Angeles, either, making the week's arrangement feel right.
"It's like the Pro Bowl up here. Me and Eric Weddle were in the AFC West for a very long time, and I'm very familiar with the type of player he is," said new Rams teammate Von Miller. "It's like the Pro Bowl here with Eric Weddle, Jalen Ramsey, Aaron Donald. We've got everybody over here."
Weddle believes the Rams have "all the pieces to go all the way." If he didn't, he never would've signed that contract. His expectation is to play Monday night, and then to win.
"I don't need to be anything more than who Eric Weddle is," he said. "That's getting people lined up, doing what I do, making tackles.
"If every guy does that, it will be good enough. We're that good. You don't need to do more than what you are coached to do."
Locals in the NFL Playoffs: Wild Card
Las Vegas Raiders at Cincinnati Bengals
Kickoff: Saturday at 2:30 p.m. MT (NBC, Peacock, Universo)
Raiders (10-7)
Andre James, OL, Herriman
Dallin Leavitt, S, Utah State/BYU
Jackson Barton, OT, Utah/Brighton
Jeremiah Poutasi, OT, Utah (practice squad)
Bengals (10-7)
Jalen Davis, CB, Utah State
Xavier Su'a-Filo, OG, Timpview (injured, designated to return)
New England Patriots at Buffalo Bills
Kickoff: Saturday at 6:15 p.m. MST (CBS, Paramount+)
Patriots (10-7)
Kyle Van Noy, LB, BYU
Harvey Langi, LB, BYU/Bingham (injured reserve)
Bills (11-6)
Zack Moss, RB, Utah
Star Lotulelei, DT, Utah/Bingham/Snow College
Taron Johnson, CB, Weber State
Philadelphia Eagles at Tampa Bay Buccaneers
Kickoff: Sunday at 11 a.m. MST (FOX, FOX Deportes)
Eagles (9-8)
Sua Opeta, OG, Weber State/Stansbury
Noah Togiai, TE, Hunter (injured reserve)
Buccaneers (13-4)
Troy Warner, S, BYU (practice squad)
San Francisco 49ers at Dallas Cowboys
Kickoff: Sunday at 2:30 p.m. MST (CBS, Paramount+, Nickelodeon, Amazon Prime Video)
49ers (10-7)
Fred Warner, LB, BYU
Mitch Wishnowsky, P, Utah
Cowboys (12-5)
Dalton Schultz, TE, Bingham
Simi Fehoko, WR, Brighton
Francis Bernard, LB, Utah/BYU/Herriman
Bradlee Anae, DE, Utah (practice squad)
Pittsburgh Steelers at Kansas City Chiefs
Kickoff: Sunday at 6:15 p.m. MST (NBC, Peacock, Universo)
Steelers (9-7-1)
Miles Killebrew, S, Southern Utah
Chiefs (12-5)
Daniel Sorensen, S, BYU
Zayne Anderson, DB, BYU/Stansbury
Marcus Kemp, WR, Layton
Andy Reid, HC, BYU
Darwin Thompson, RB, Utah State (practice squad)
Arizona Cardinals at Los Angeles Rams
Kickoff: Monday at 6:15 p.m. MST (ABC/ESPN, ESPN2, ESPN Deportes, ESPN+)
Cardinals (11-6)
Leki Fotu, DT, Utah/Herriman
Kylie Fitts, OLB, Utah (injured reserve)
Rams (12-5)
Matt Gay, K, Utah/UVU/Orem
Terrell Burgess, S, Utah
Eric Weddle, S, Utah
Jonah Williams, DE, Weber State (practice squad)
×
Related stories
Most recent NFL stories