Estimated read time: 5-6 minutes
This archived news story is available only for your personal, non-commercial use. Information in the story may be outdated or superseded by additional information. Reading or replaying the story in its archived form does not constitute a republication of the story.
PROVO — In a West Coast Conference rock fight that featured KenPom's 12th-ranked team in adjusted defensive efficiency, BYU didn't throw first against Saint Mary's.
But the Cougars did throw second, third and, ultimately, last.
Te'Jon Lucas scored 10 points, Alex Barcello added 8 points, eight rebounds and four assists, and BYU held Saint Mary's scoreless for more than 10 minutes in the first half to pull away for a 52-43 win in the Gaels' WCC opener Saturday night at the Marriott Center.
Trevin Knell scored 9 points for the Cougars (14-3, 2-0 WCC), including BYU's only 3-pointer in 13 attempts, and Seneca Knight added 8 points and four rebounds.
Lucas walked into the postgame press conference sporting a Stele hat as part of a name, image and likeness deal with the St. George-based company, and another that he offered to head coach Mark Pope. But he might as well have put a hard hat on his head for the defensive grind that was the Gaels in their first game since Dec. 28.
"Give Saint Mary's credit; for the whole 40 minutes, it was a rough one," Lucas said. "We were throwing blows back-to-back for 40 minutes. They fought hard. But at the end of the day, we came out and knew what was expected. … We settled in and were able to run our offense. But they're a tough, physical team."
Fousseyni Traore added 9 points and 11 rebounds for the Cougars and became the first BYU freshman with double-digit rebounds in consecutive games since Yoeli Childs in 2016-17.
Matthias Tass led a Saint Mary's squad that shot just 29% from the field with 13 points and 15 rebounds, and Alex Ducas added 10 points for the Gaels (12-4, 0-1 WCC). The Gaels outrebounded BYU 42-36 but committed 19 turnovers that turned into 12 points the other direction for the Cougars, who committed 13 turnovers themselves.
It wasn't a perfect defensive performance, by any means. But it wasn't too far off, either.
"I thought defensively, we were near-flawless, with a couple of exceptions like the last 10 minutes on the glass," Pope said from underneath the flat brim of his new hat. "But that's what Saint Mary's is: a great, physical, grind-it-out team.
"I thought Alex Barcello was tremendous on the defensive end, and Te'Jon is such a huge IQ defensive player."
BYU committed three turnovers in the first 2:05 of game play, and Saint Mary's raced out to a 7-0 advantage early. But then the Cougars flipped the visitors' game plan on its head.
The Gaels crossed the 10:48 mark of a lengthy scoring drought as Lucas stretched the Cougars' lead to 13-7 with back-to-back scores with 6:15 left. Saint Mary's committed eight turnovers as BYU took advantage of a 13-2 run before Tass broke the drought late in the half.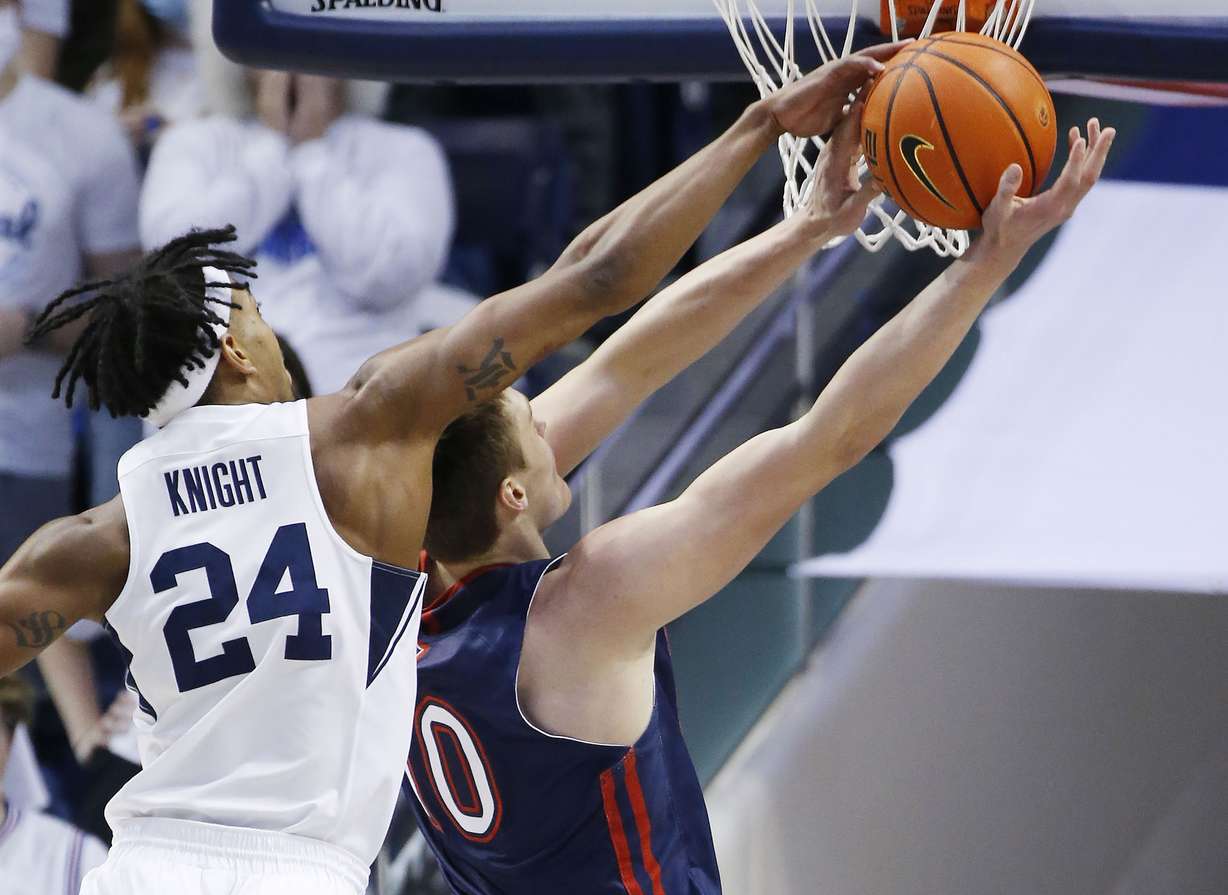 Perhaps more impressively, the Cougars did the defensive damage with a largely reserve-laden lineup, with Knight, Gideon George, Spencer Johnson and Atiki Ally Atiki coming off the bench to combine with Traore in holding Saint Mary's scoreless for nearly 11 minutes.
"Our efficiency offensively and defensively with Seneca and Spence on the floor was really special. We had a lot of length on the floor, and I thought those guys were terrific," Pope said of the duo that combined for 10 points and six rebounds off the bench. "Both Gideon and Seneca gave us a huge lift on the defensive end. We finished the game with seven assists, and it's probably a miracle we got to seven.
"But Seneca is such an important piece of our team; tonight was a place where he was going to give us something we don't have. You saw that in the first half — and then Gideon made some huge plays. They helped us a lot."
By that point, the damage was done. The Gaels trailed 28-16 at halftime while shooting just 27% from the field (7-of-26), including 1 of 9 from 3-point range, with 10 turnovers. By comparison, the Cougars' 43% capped by Traore's buzzer beater felt like a blistering offensive pace.
It was the second time this season BYU held an opponent under 20 points in a half, and the first since an 81-49 win on Nov. 16, 2021, over Oregon in the Phil Knight Invitational.
Naturally, after that first half, the Gaels opened the second half making 5 of 7 from the field, including a pair of 3-pointers. But BYU shot 66.7% in the first five minutes to keep the lead at double digits 38-28 with 15:44 to go.
BYU was held scoreless from the field for more than five minutes down the stretch of the second half. But Saint Mary's could never get closer than a 7-point deficit while shooting just 31% with 16 turnovers.
Knell, who hit the Cougars' only 3-pointer on their first score of the game, ended the drought with an and-one play with 4:11 remaining to go up 48-39, and the Gaels scarcely threatened again to lift BYU to a win in its first of three-straight top-40 teams, and the only one played on the road before trips to Gonzaga and San Francisco next week.
On a night where the Cougars made just 1 of 13 3-pointers, the Cougars topped the No. 40 team in the NCAA's NET rankings going away in a game where both teams combined to score 95 points — or 22 fewer points than Gonzaga in its WCC-opening 117-83 win over Pepperdine.
"We showed in the beginning of the year that without our shot falling, we still have a chance to win," Lucas said. "Some teams live and die by the three, and we just find ways to win.
"I'm not concerned with it. … They'll eventually start falling if we take great shots."
×
Photos
Related links
Related stories
Most recent BYU Cougars stories