Estimated read time: 5-6 minutes
PROVO — By the time BYU basketball had returned home from Hawaii, with its third-place finish in the Diamond Head Classic, and had maneuvered Fousseyni Traore's giant oar trophy that came with the freshman's spot on the all-tournament team into the plane's storage bin, the Cougars were able to take a step back and look at their body of work.
With only one game left in nonconference play and none against Division I opponents — a home tilt against D-II Westminster on Wednesday night (7 p.m. MST, BYUtv) is all that remains — the Cougars had built up quite the body of work.
An 11-3 overall record is no reason to snooze, let alone one from a team that played all but five of those games away from home. That includes a 3-1 mark on the road, and a 3-2 record in neutral-site games with three of those contests coming at the holiday tournament in Honolulu.
Add to it the fact that Mark Pope rearranged the deck chairs while trying to find a new way to play with the loss of centers Gavin Baxter (injury) and Richard Harward (cardiovascular issue), and it's easy to see why the Cougars are as optimistic heading into the best West Coast Conference slate they've seen under Pope, with four teams in the top 50 of the NCAA's latest NET rankings.
"I'm not gonna lie: even with Rich and Gav and everything going perfect, I would've been like, 'Let's go.' I mean, come on," Pope said. "We had a chance to be an 80% winning team, and that's really, really hard to do in college basketball, especially playing the schedule we played."
The Cougars are 6-1 against NCAA Tournament teams from last year, including home wins over Cleveland State, San Diego State, Texas Southern and in-state rival Utah State to go along with neutral-site victories over Oregon and Liberty.
Not even losses to Creighton — a returning NCAA Tournament participant that held off BYU in South Dakota — and Vanderbilt, which came on a late flurry from SEC preseason player of the year Scottie Pippen Jr., and Utah Valley, which wrapped up nonconference play ranked 78th in the NET following a road win over Washington, derailed the season.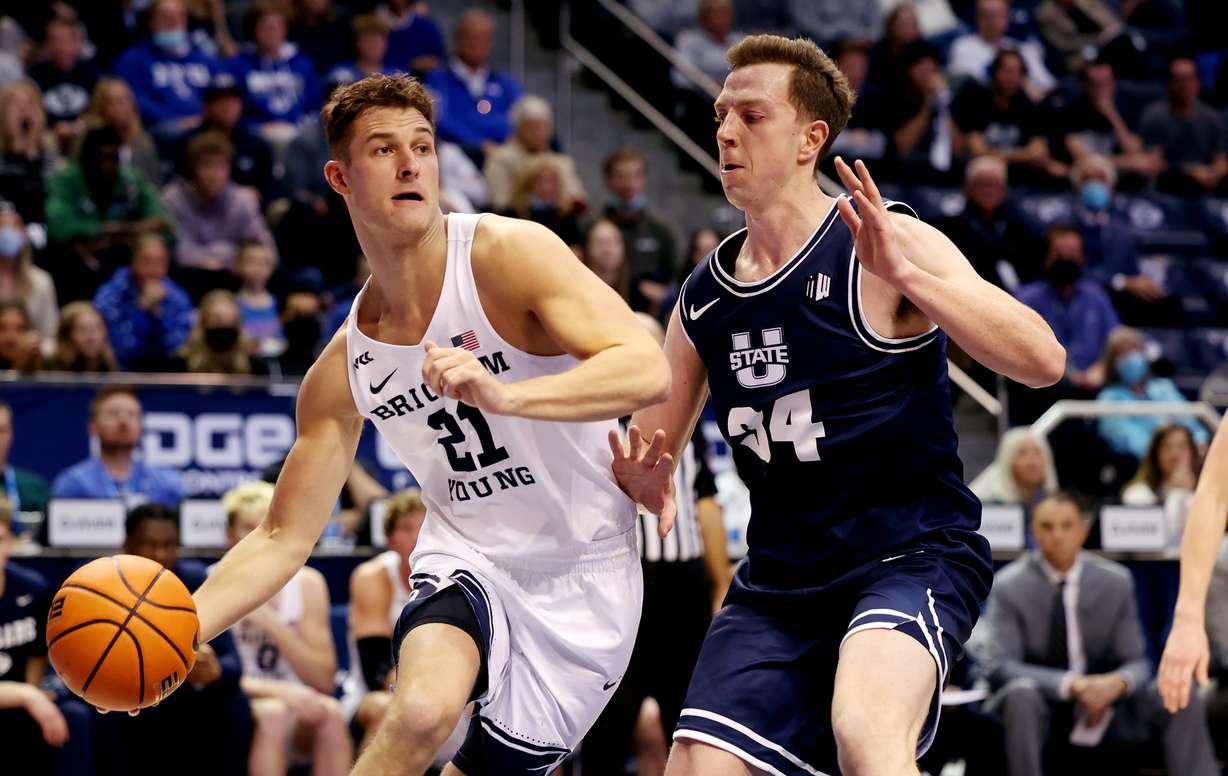 "I couldn't be more proud of what these guys have done. It's really staggering," Pope said. "We're super excited about it, and we believe that we've got a massive amount of work to do. Our conference has elite-level teams in it. … We're going to have three Quad 1 games in our first five in conference. Think about that; that's super cool that we're even close to that."
Ranked No. 30 in the NCAA's latest NET ratings that spent time in the Associated Press Top 25 as well, BYU is 1-0 in Quad 1 games and 4-3 in Quad 2 contests, including a pair in Utah Valley and Creighton that have flirted with Quad 1 status during the early part of the season. Vanderbilt, the lowest-rated team with a win over BYU, ranks 84th in the NET.
Of course, crucial to the Cougars' strong start has been the steady play of Alex Barcello, who leads the team with 17.9 points and 3.1 rebounds per game, and the emergency of Traore, whose inaugural double-double in an 80-75 win over Liberty boosted the Gresham rom Bamako, Mali to 8.0 points and 7.5 rebounds per game.
Barcello is currently the program's all-time leader in 3-point percentage, and just 17 points away from becoming the 52nd player in BYU history with 1,000 career points. He's also tied with former BYU great Andy Toolson for the 12th most 3-pointers in his career with 141, and 17 behind Matt Carlino for No. 10 all-time.
But BYU has also found other players to figure out how to win in the absence of Baxter and Harward, two seniors who were expected to be key contributors — if not starters — when the season began.
There's Te'Jon Lucas, the Milwaukee transfer with a team-best 5.2 assists to go along with his 10.0 points per game as he's played most of his minutes in the same backcourt as Barcello. Caleb Lohner has played multiple positions — from small-ball center to big-man wing — while totaling 7.4 points and 7.0 rebounds.
And Trevin Knell, the former Cal signee from Woods Cross, has found his shooting stroke again, subbing into the starting lineup for the past seven games to average 6.8 points per game while shuffling with Spencer Johnson, Gideon George and Seneca Knight as the Cougars' top players off the bench.
"I feel really good about what we've accomplished," Knell said. "We definitely hit some bumps in the road. But nothing has set us off from our goal of competing for a spot in the NCAA Tournament and all of our championships.
"Every game is a huge stepping stone for us. We're just excited to get better every day."
Of course, with the challenge of nonconference play nearing the past, another approaches — WCC play, and the specter of COVID-19. Led by No. 5 Gonzaga, the league features four teams in the NET's top 50, the best in Pope's three seasons as head coach, and five in the top 100.
But the Omicron variant has already taken its toll on the WCC's opening weekend, putting San Diego's men's and women's basketball programs on pause through the New Year and postponing BYU women's basketball's WCC opener to Saturday. On Tuesday, Santa Clara men's basketball also postponed its conference opener against Pacific due to COVID-19 issues in the program, as well.
Pope said that no unvaccinated player is in COVID-19 protocols at BYU, and vaccinated players are under a looser standard of testing than their unvaccinated counterparts — most conferences require testing of them when symptoms are displayed.
A tough schedule only gets tougher as conference play begins, and moreso with the Omicron variant on the loose.
"We've been playing a really tough schedule, with eight of the last nine games away. I think that helps us prepare for conference play," Knell said. "The WCC is a great conference. We've got a lot of athletes, a lot of shooters. I feel like this schedule has really help us prepare (for league play)."
How to watch, stream and listen to BYU basketball
BYU (11-3) vs. Westminster (5-6)
Marriott Center, Provo
Tipoff: 7 p.m. MST
TV: BYUtv
Streaming: BYUtv.org
Radio: BYU Radio Sirus 143, 89.1 FM/KSL 1160 AM, 102.7 FM
Series: BYU leads, 1-0
About the Griffins: Seventh-year head coach Norm Parrish, the former Salt Lake Community College coach with over 400 wins who accumulated a record of 93-69 at Hawaii and Utah, has led Westminster to a 5-6 record in 2021-22, including a 3-2 mark in Rocky Mountain Athletic Conference play. Yusuf Mohamed is one of three Griffins to score in double figures, averaging 17.3 points per game while shooting 57.3% from the floor, 47.1% from three and 74.2% from the foul line.
×
Related Stories