Estimated read time: 4-5 minutes
It's one of life's greatest paradoxes that "the most wonderful time of the year" is also the most chaotic and stressful for many people.
According to an American Psychological Association survey, 31% of men and 44% of women felt extra stressed during the holiday season. Pressure to create the perfect Christmas, anxiety over family gatherings or worrying about finances are just some of the many triggers that take a mental toll in December.
And your kids feel it, too. Research from the Journal of Family Psychology found that parents can pass their feelings on to their children — even when they try to hide them. That means simply putting on a happy face and pretending everything is fine isn't going to bring the yuletide joy you hoped for.
"Do the work to take care of yourself, align your priorities (and then act accordingly), and actually enjoy the holidays with your family," says Nicole Stevens, a regional director at Utah Behavior Services. "Your kids don't care about doing every possible activity—they care about spending time with you, even if that's family movie night at home."
Learning how to manage stressful holiday circumstances is the best thing you can do for your kids (and yourself). Here are a few tips you can try to keep things as holly and jolly as possible around your house this year.
Stick to a schedule
With so many fun activities and events that happen during the holidays, it can be easy to overbook and overwhelm your family if you aren't careful. The Early Childhood Learning & Knowledge Center points out that just like adults, children feel more confident and secure with consistent and predictable daily activities.
As much as possible, try to stick to their regular bedtimes, schedules and routines to maintain a sense of order and stability. (This is a good one to remember for yourself, too.) When big events or activities pop up on the calendar, tell your children about the plans ahead of time so that they know what to expect.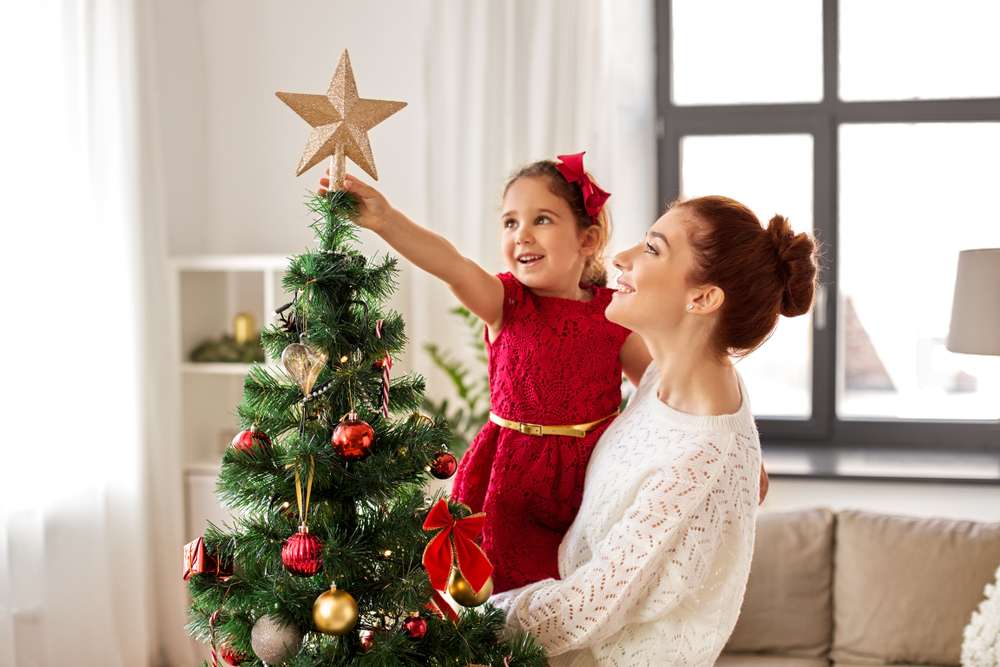 Set reasonable expectations
The better you are at accepting the fact that things won't always go your way, the happier you'll be — especially during the holidays. In an article for Psychology Today, social psychologist Amie M. Gordon, Ph.D., suggests not only accepting but expecting that things will go wrong. Maybe you'll burn the turkey. Maybe the kids won't like their gifts. Maybe you'll get sick and miss the annual family Christmas party. Life happens.
The best thing you can do is to let go of unrealistic expectations of a perfect holiday and learn to embrace whatever comes. Gordon recommends focusing on the positive and creating little moments of joy whenever you can.
Practice gratitude
The human brain is hardwired for negativity (this is called "negativity bias"). According to psychologist Rick Hanson, this comes from millions of years of evolution and primitive ancestors who constantly fought threats to survive. The antidote to this tendency is to focus on gratitude.
The Mindfulness Awareness Research Center of UCLA found that gratitude changes your brain's neural structures, making you feel more happy and content. Feeling grateful also triggers feel-good hormones that improve your mental and physical health. So, when you start to notice yourself slipping down a negative path, redirect your brain to all the good things in your life.
Feel your feelings
This one may feel counterintuitive, but in order to feel true joy, it's important to process any negative emotions and make the conscious decision to make a change.
"The quickest way past a storm is through it—the same is true of your emotions," says Stevens. "Feel what you're feeling, and then make the intentional choice to do something about it. Take a walk, play a game, blast some music, whatever works for you."
Learning to expect that things will go wrong is one thing, but working through those things is another. Don't judge yourself for feeling sad, angry, fearful, etc., it's all part of being human.
Take time to serve as a family
Want to take your mind off your problems? Focus on somebody else. A study published in the Clinical Psychological Science journal found evidence that helping others can reduce stress. Luckily, service opportunities abound this time of year, so grab your family and find ways to help those in need.
Reach out to a professional for help if needed
Whether it's during the holidays or any other time of the year, everyone experiences stress, sadness, or worry to some degree. If you find that these feelings interfere with your day-to-day life, there's no shame in reaching out to a professional for help.
With multiple treatment centers throughout Utah as well as in-home and telehealth options, Utah Behavior Services can meet your family's needs in any season. UTBS is dedicated to helping families find joy in being a family through high-quality, evidence-based behavioral health and mental health care services.
Give yourself the gift of mental health this holiday season. To learn more or to schedule an appointment, visit utahbehaviorservices.com today.
×