Estimated read time: 4-5 minutes
This archived news story is available only for your personal, non-commercial use. Information in the story may be outdated or superseded by additional information. Reading or replaying the story in its archived form does not constitute a republication of the story.
Depression, anxiety, loneliness, and stress are emotions many of us have been feeling during the COVID-19 pandemic. Now add the birth of a new baby to the mixture and you have elevated levels of postpartum distress in women and men. The same pressures and demands on new parents' physical, mental, and emotional health have only been exacerbated since early 2020.
Jamie Hales, LCSW, is a licensed clinical social worker at University of Utah Health who counsels women and couples during pregnancy and postpartum to address perinatal mood and anxiety disorders. Hales has seen a major increase in requests for therapy and medication management during the pandemic, and she is not surprised by the higher demand for those services.
"This round of parents, who have had babies over the past 20 months, are much more isolated than a lot of families have been in the past," Hales said. "We've had quarantines and, for a long time, we were not able to get young kids the vaccine. Also, moms and dads have not been able to access as much social and emotional support. I think especially during the early months of the pandemic, people weren't having their parents come over since older adults were more at risk. So, we don't see as many people coming in to help new parents in their homes these days."
Other pre-pandemic resources like parent-baby playgroups and new parent meet-ups suddenly disappeared amid safety concerns. Flying grandparents in for a few weeks to meet baby and help with daily chores and infant care also became impossible or severely curtailed. "We know that all these social interactions are very helpful at mitigating or helping people mitigate that perinatal depression and anxiety," Hales says.
Even before the pandemic, Hales was counseling more men who were dealing with depression and anxiety surrounding the birth of a new baby. The latest statistics show about 1 in 7 moms suffers from some form of perinatal depression compared to one in ten dads. While there have been advances in extending leave for the birth parent, paid family leave has been harder to achieve as a component of most employees' benefits.
Hales says her male clients would definitely benefit from extended time with their partner and new baby. "We have seen that people who do have a significant chunk of time after the baby is born can not only be there to support their spouse or partner but also have that time to bond with baby. That is huge."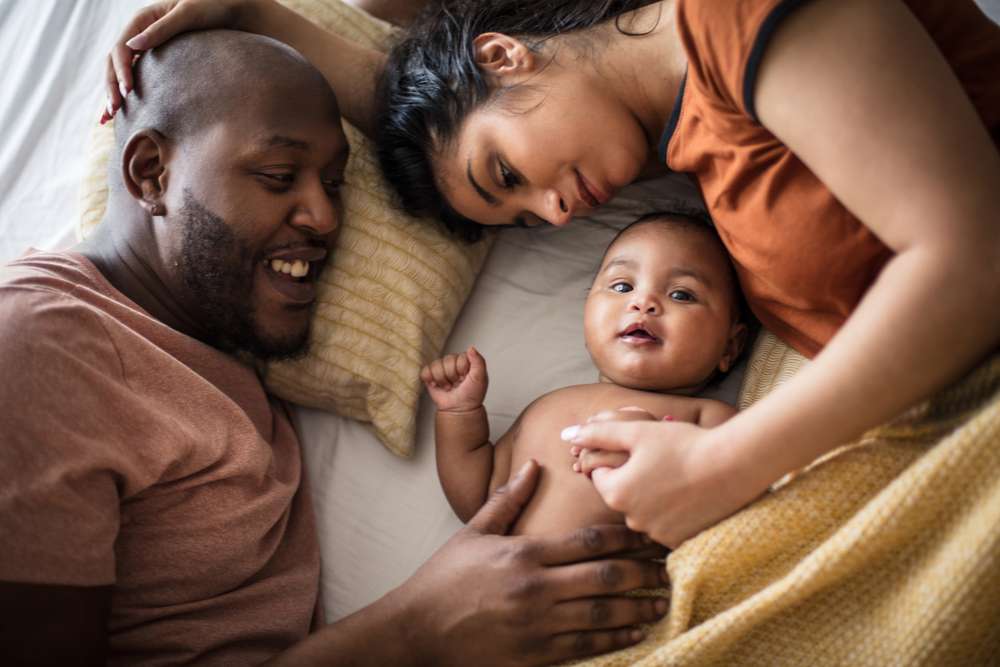 The signs and symptoms of postpartum depression can look different in men than in women. "Some of the things we see most often with dads who are struggling with perinatal mood disorders are increases in conflict and irritability," Hales says. "Increased use of alcohol, that's a big one. There is also lots of isolating, which has been compounded by the pandemic, but [postpartum anxiety] makes it worse."
A major stressor for new dads is the pressure to be a good provider for a growing family. But a return to work so soon after baby's birth can trigger one of the issues that aggravates most cases of perinatal anxiety: a lack of sleep.
"You see increased fatigue, and I think that's a big piece of where that irritability and feeling easily overstressed comes from," Hales says. "It puts more emphasis on not only what you have to deal with back in the work environment but what you are dealing with in the home environment too."
The evolving relationships in a family after baby comes home can also be a source of anxiety. Hales describes the situation this way: "Everyone is tired and worried. It's stressful, but it's also so wonderful. [Mom, dad, or partner] are kind of on a pendulum between these really low lows and big highs. Being able to get social and emotional support, not only in the postpartum period but leading up to having the baby, can be helpful in terms of talking through some of these issues before baby gets here."
One of the tools Hales likes to use to foster better mental health during pregnancy and after a baby's birth is a wellness chart focused on the acronym SUNSHINE. It promotes:
Sleep
Understanding
Nutrition
Support
Humor
Information
Nurturing
Exercise
Social workers like Hales can provide the understanding, support, and information pieces as part of their services. They are critical to parents' and baby's health. "I think it is really helpful for people to have a safe space to be able to talk about how they're feeling and to understand there's nothing shameful in struggling during this time period with who you are and how this all fits together," Sales says. "It's important to understand you are not weird because you are not 100 percent enjoying this. It's really hard."
It is and will continue to be challenging for today's parents to navigate the mental and emotional pitfalls of welcoming a new baby into a post-pandemic world. The process requires time, patience, and a commitment to caring for both you and your baby. After all, no matter your role in this new child's life, it is important to be healthy and present for them throughout the journey.
×