Estimated read time: 4-5 minutes
SALT LAKE CITY — Bojan Bogdanovic quickly glanced behind and saw Donovan Mitchell trailing him. With the Jazz leading by 30-plus, it was time for some fun.
Bogdanovic lobbed the ball off the glass for Mitchell, who rose high and slammed it in with both hands.
If Friday's inexplicable loss was the wake up call, Saturday showed what a fully engaged Jazz team could still look like.
Turns out, they're still pretty good.
The Jazz played their best game of the season, smashing the Pelicans 127-105 at Vivint Arena to improve to 13-7 on the year.
Through 20 games, Utah has the best offense in the league and sits third in the West — not bad, right? To the team, though, it's been a slog at times; nothing has felt easy or free flowing or fun.
In the huddle before Saturday's game, the players had a simple message for each other: Stop making this so hard and just enjoy being on the court again.
"Everybody is so tight and stressed," Mike Conley said. "We weren't having as fun as we were last season."
Some deep breaths and a day's worth of reflection did wonders. The Jazz were a new team Saturday; check that, they simply were back to their old selves: extra passes, quick decisions, fast shots.
𝓯𝓪𝓷𝓬𝔂 with it!@44bojan ➡️ @spidadmitchellpic.twitter.com/7CI9yN2JsX

— Utah Jazz (@utahjazz) November 28, 2021
Less than 24 hours after coach Quin Snyder more or less said his team had played self centered, the Jazz responded.
"Tonight was more of that atmosphere where guys were just being selfless," Conley said. "Running and boxing out and people were cheering for the smallest things on the floor."
Snyder's message was received.
Utah jumped out to a 14-point lead after the first quarter and led by 29 points midway through the second quarter. At one point the Jazz were ahead by as many as 42 points.
So what was different?
To Snyder, it was the approach to the game. There was an emphasis and a resolve to play as and for the unit as a whole.
Jordan Clarkson described it with a pass he received in the corner. When he caught it, he initially thought to himself, "Yeah, I'm gonna put this up." But in the corner of his eye he saw that Rudy Gay had a an even better look, so he swung the ball, which led to one of Gay's four 3-pointers on the night.
That was how the Jazz played Saturday. They got up the court quickly and swung the ball freely — it was beautiful basketball; it was fun.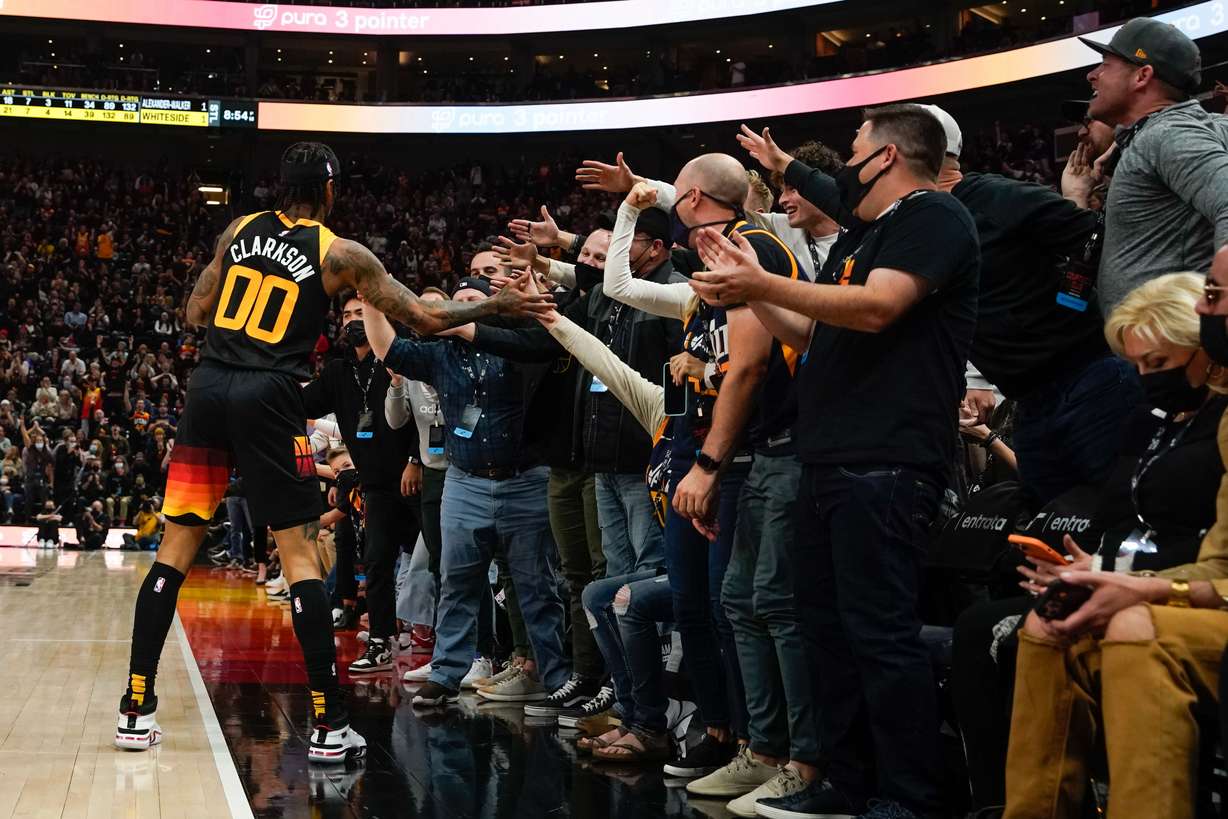 "We're not a selfish team, but I think we as people can have that," Snyder said. "That's probably our nature to think about ourselves. Tonight we're thinking about our teammate and thinking about the team. That's one of the beautiful things about this game; when the whole is greater than the sum of the parts. That's what it felt like tonight."
Mitchell didn't try to shoot his way out of his slump, Clarkson wasn't trying to correct what has been a poor first month of the season, Rudy Gobert wasn't concerned about getting touches, and due to that and more, everything clicked.
"We can't lose our resolve to do those things because we're individually not getting something out of the game that we want to," Snyder said. "It has to be a collective mindset."
Mitchell finished with 21 points, seven rebounds and seven assists, while Clarkson and Conley both had 20 apiece.
And no matter how smooth the offense looked, it helped that the open shots went in. As good as the Jazz played, they benefited from a massive 3-point discrepancy.
The Jazz were 20 of 35 from 3-point range. New Orleans? The Pelicans missed its first 20 3-point attempts and finished 8 of 35; that's a 36-point advantage on 3-point looks. You're gonna win a lot of games with those types of numbers.
But to Utah, it wasn't just luck.
"If we hadn't made a 3-pointer all game but we guard like that, we would have been in a good position to win the game anyway," Mitchell said.
The Jazz got right on Saturday. It was to that purpose that Conley played in his first back-to-back series of the season. With Royce O'Neale out with a sprained ankle and the Jazz trending in a bad direction, Conley felt like it was important to be part of the solution.
He wanted to help the team have fun again.
As he celebrated Mitchell's highlight reel dunk, it was clear that had been accomplished.
×